WSOP Updates - Event #8, $1,000 NLHE w/ Rebuys - Chu Makes First WSOP Cash a Winner's Tale
Earl Burton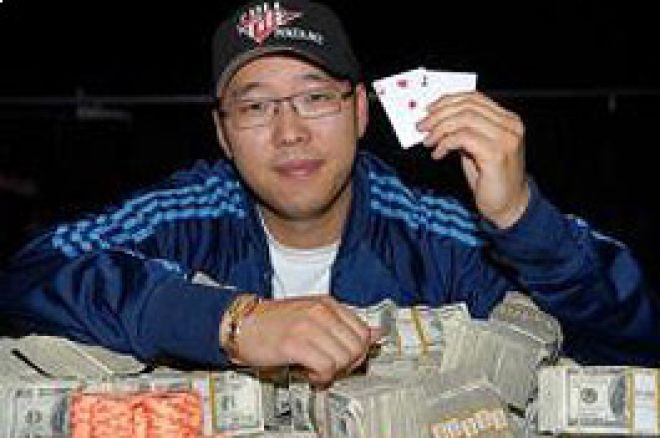 The $1000 No Limit Hold 'Em (w/rebuys) Event #8 reached the final table on Thursday afternoon with a very tough lineup. Event #8's 844 runners had combined to build a purse of over $2.5 million, with the top prize of $585,774 and the gold WSOP bracelet to be claimed by one of the following:
Seat 1 – Second-year WSOP player Michael Chu – 605,000
Seat 2 – Shane 'Shaniac' Schleger – 299,000
Seat 3 – 45-year poker veteran Tommy Vu – 663,000
Seat 4 – 1995 Main Event final tablist Dolph Arnold – 499,000
Seat 5 – WPT event winner / WSOP bracelet holder Maciek 'Michael' Gracz – 880,000
Seat 6 – At his second WSOP final table, Robert Aron – 310,000
Seat 7 – Germany's Jan '50 Outs' Von Halle – 225,000
Seat 8 – WSOP newcomer Barry Cales – 551,000
Seat 9 – WSOP bracelet owner Amir Vahedi – 1,300,000
Play began after a short delay as ESPN readied its cameras – the final will be televised at a later date. On Hand 11, a short-stacked Jan Von Halle decided to make a stand after Dolph Arnold limped in from earlier position. Michael Chu, in the big blind, made the 148K call and Arnold released his hand. Chu had caught Von Halle in a complete steal attempt, as Chu tabled
and Von Halle could only show 9-2. An ace on the flop moved Chu further ahead and, once the turn and river blanked off, Von Halle was eliminated from the proceedings in ninth place, earning $34,196.
It would take another 22 hands before the next elimination would take place. Just before a break and raise in the levels, Tommy Vu raised to 70K and was met with an all in by Robert Aron from the small blind. Aron's 154K gave the pot odds to Vu to make the call and, at the start, Vu (Q-10 off) was down to Aron (A-Q off). The board didn't cooperate with Aron, however; the J-5-4 flop missed them both, but a nine on the turn gave the open-ended straight draw to Vu. When the
landed on the river, Vu had hit his runner-runner straight and Aron was the unfortunate victim of a bad beat, finishing in eighth place and taking home $46,862.
With the increase in action to 15K/30K with a 4K ante, the lesser-known players had their moments. Barry Cales doubled up through Michael Gracz, then Dolph Arnold doubled up twice, first through Gracz and then through Amir Vahedi. This catapulted Arnold into second and left Vahedi on the ropes. On Hand 47, Shane Schleger doubled up through Chu and simultaneously eliminated Vahedi in seventh place ($63,327) when Vahedi couldn't complete an open-ended straight draw against Schleger's flopped pair of aces.
Never able to come back from doubling up Arnold, Gracz was the next player to leave the ESPN Final Table stage. On Hand 50, Gracz moved all in from early position (for 230K) and was called from Vu in the big blind. Vu showed pocket kings, catching Gracz stealing with
. The board of
gave Gracz a flush draw but, when the turn and river didn't bring the spade, Gracz exited with sixth place and $84,858 for his efforts.
It would only take another thirteen hands to determine who would finish in fifth place. After the blinds moved up to 20K/40K with a 5K ante, Shane Schleger (who had just doubled up Cales through a bad beat two hands earlier) moved all in from under the gun for 165K and found a willing participant in Chu in the big blind. 'Shaniac' once again had the edge with his A-Q off over Chu's K-10 off and, once again, the board would not be kind to Schleger. A ten on the flop gave Chu all the help he needed and, when no queen or ace appeared on the turn or river, an unlucky Schleger exited in fifth place, worth $111,455.
The four remaining players battled 35 hands before the next break arrived. Upon returning, the chip stacks stood as such:
Seat 1 – Michael Chu – 2,205,000
Seat 3 – Tommy Vu – 950,000
Seat 4 – Dolph Arnold – 1,640,000
Seat 8 – Barry Cales – 525,000
At this point, the stacks were deep in relation to the 20K/40K blinds, part of why the knockout pace slowed. The next big hand occurred after the blinds were raised to 30K/60K (with 5K antes), when Vu doubled through Chu when he hit a re-suck, runner-runner flush on Hand 97 after starting ahead; Cales then doubled through against Arnold two hands later, dodging Arnold's open-ended straight draw with top pair, which balanced the stacks out across the table almost equally.
On Hand 102, Vu raised to 160K from the button and was called by Arnold in the small blind. Cales took it up to 410K from the big blind and, after both Vu and Arnold called, the three saw a flop of K-9-3 rainbow. Arnold checked and Cales fired a 150K bet, only to have Vu make it 450K. Arnold immediately got out of the way and, after deliberating, Cales released his hand as well. The pot vaulted Vu over three million chips and crippled Arnold to under 100K. Dolph Arnold was eliminated three hands later by Vu, earning $157,050 for his work.
At this point, Vu held a 3:1 lead over his other two opponents, but he wouldn't be able to keep it. After the blinds increased to 40K/80K and a 10K ante, Cales took a pot of 850K off of Vu on Hand 111 but, on Hand 128, Vu limped from the button and Cales completed his small blind to 80K. Chu made it 330K from the big blind and, after Vu released his hand, Cales moved all in for 790K more. Chu nearly beat Cales into the pot with his call and tabled pocket queens, while Cales was caught with
. When the board blanked off, Barry Cales' busted bluff meant his run was ended at third place, worth $235,575.
Heads up, Vu held a small edge:
Tommy Vu - 2,915,000
Michael Chu - 2,405,000
Chu chipped away at Vu and took control on Hand 132. After Vu limped from the button, Chu raised to 280K and Vu called. On a 9-8-3 rainbow flop, Vu casually waved his hands at the table and said, "All in." Chu put his tournament life on the line in an instant, showing his J-10 for an open-ended straight draw. Vu was ahead at this point with his
, but Chu had fourteen outs twice to take the hand and stay alive. The turn brought a blank, but a
river filled Chu's jack-high straight for the pivotal pot.
The end came six hands later. Vu moved all in pre-flop and Chu called. Vu's
was slightly behind the A-3 off-suit of Chu and, when the board came
, he had fifteen outs to return the favor to Chu. This time, though, there would be no spade on the turn or river and Michael Chu earned the $585,744 first-place money for his first World Series triumph.
PLAYERS — EARNINGS
1. Michael Chu – $585,744
2. Tommy Vu – $364,761
3. Barry Cales – $235,575
4. Dolph Arnold – $157,050
5. Shane Schleger – $111,455
6. Michael Gracz – $84,858
7. Amir Vahedi – $63,327
8. Robert Aron – $46,862
9. Jan Von Halle – $34,196
The 27-year-old Chu, originally from Seoul, South Korea, still plans to return to Los Angeles and his job as a stock trader despite his victory. It was Chu's first-ever WSOP cash, and he achieved the best possible return on his investment, never needing to make a re-buy in the event. Be sure to check out our interview with Michael in the event's Video Gallery.