WSOP Stories: Day Three is Money Day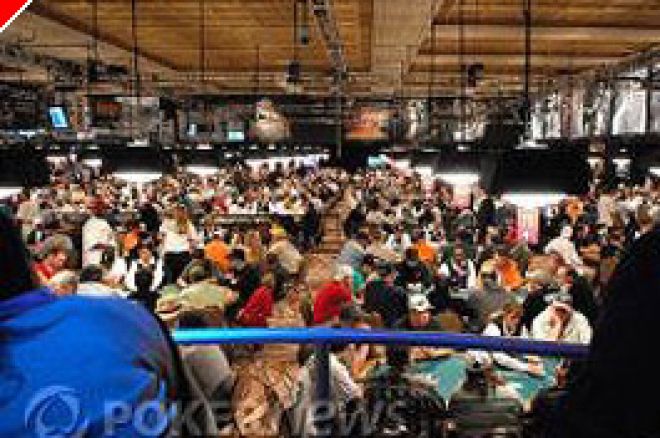 Day Three will have a combined starting field of 797 players, with this year's Main Event paying 621 players. Six former WSOP Champions will start today: Carlos Mortensen, Scotty Nguyen, Huck Seed, Robert Varkonyi, Chris Ferguson, and Berry Johnston.
With the stack distribution and blind levels, the field should safely shed the needed 176 players to make the money before today's dinner break. The players will start their Day Three with forty one minutes left of level twelve. With 400 antes and 1500/3000 blinds, twenty-three players will have less than ten times the big blind; one hundred and ninety-seven players will start out with an "M" (calculated using one round's sum of blinds and antes for a player) of ten or less.
There will be the dreaded and time-consuming "bubble zone," where play will virtually come to a halt. As the payouts are flatter this year, the leap between bubble and minimum pay is steeper than last year, providing even more incentive for short stacks to hold on. Last year's minimum payout was $10,616 versus this year's minimum payout of $20,320. It is not known whether Harrah's will go hand-for-hand when we approach the bubble or round-for-round, as they did for last year's record bubble field. But either way, expect a lull before the bust-out storm when we reach sixty-nine tables.
Today's combined field still sports many notables, many with enviable stacks. Gus Hansen will start today as chip leader, with 622,300 chips against the field average of 159,548. Bill Edler, who scored his first WSOP bracelet this year, will be wielding a stack of 486,700. A number of online phenoms start today in good position; Sorel Mizzi, Cory Carroll, Carl Olson, Cliff Josephy and Jared Hamby will all start with better than average stacks.
But a starting stack is just that. Stay tuned for PokerNews.com's 'Live Reporting' Day Three coverage to see where the chips move after they "shuffle up and deal."