WSOP Stories: Jeff Madsen Gracious in Prop Bet Loss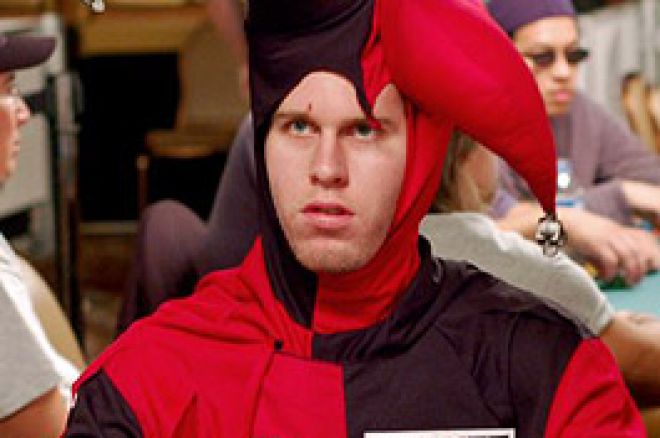 Jeff Madsen, the 2006 WSOP double bracelet winner, has demonstrated he is a gracious winner. On Friday, Madsen proved he is equally gracious when it comes to a loss. No, Madsen didn't bust out of his Day One of the Main Event; he survived the day with a healthy stack. He did, however, lose a prop bet, resulting in his having to wear a court jester's costume as he played.
The prop bet involved the relative performance of Joe Sebok, Gavin Smith and Madsen during the WSOP preliminary events. Each player could play up to 20 events. Using a point system based on finishing position and buy-in amount, the winner and two losers would be determined. The winner was Sebok, who had an enviable five WSOP cashes this year, including 11th and 14th -place finishes. As winner, Sebok will get to wear a king's robe and crown during his play and get carried into the Amazon ballroom by his court jesters for every day he is still in the Main Event.
Madsen was an obvious target of the media on Friday. As cameras and reporters flocked to his table, he managed the attention with poise. He offered up a wry smile when Liz Lieu called out from an adjacent table, "Jeff, I think you look adorable."
It remains to be seen how the slightly more gregarious and outspoken Gavin Smith will bear the weight of his jester's hat. Also unknown is just how many days Smith and Madsen will literally have to bear the weight of Sebok into the tournament area. Of course Sebok, like every other player in this year's WSOP Main Event, is hoping they'll have to ferry him all the way to a final table.