WSOP Stories: Split Winners Mean Big Bucks for WSOP Darfur Fundraiser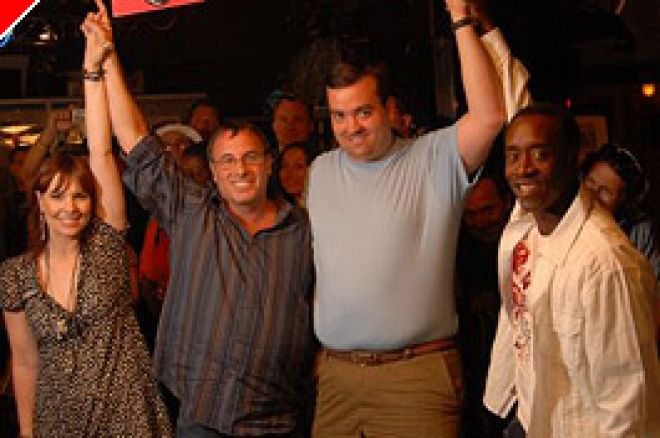 'Ante Up for Africa,' the WSOP fundraiser headlined by Don Cheadle and Annie Duke designed to raise funds for Darfur relief efforts, succeeded beyond its expectations when the final two players in the field, Dan Shak and Brandon Moran, spontaneously decided to donate all of their prize winnings to the relief fund's cause. Shak and Moran became official co-champions of the event, but the real winners were the people of Darfur, who will receive over a half million dollars through this single day's effort.
A celebrity-heavy field of 167 players were on hand for the July 5th event, with the proceeds going to the two designated 'Ante Up for Africa' charities — the Enough Project and the International Rescue Committee. Hollywood made its presence felt as well, as the 167 players included Ben Affleck, Jason Alexander, Hank Azaria, Matt Damon, Brad Garrett, Willie Garson, Mekhi Phifer, Adam Sandler and many others. Other luminaries included Charles Barkley, Andy Bloch, Justin Bonomo, Doyle Brunson, Chris Ferguson, Ted Forrest, Phil Hellmuth, Jamie Gold, Joe Hachem, Barry Greenstein, Howard Lederer, Katja Thater, Jennifer Traniello and many, many others. Each player paid a $5,000 entry fee, with a portion of that fee dedicated to the Ante Up for Africa cause.
18 players "officially" cashed in the event, though much of the prize money was donated back to the day's cause, including the $368,738 by Moran and Shak, the sum of the first- and second-place payouts. The final results:
1.* Dan Shak $243,893 (Tied For 1st)
1.* Brandon Moran $142,845 (Tied For 1st)
3. Carl Westcott $98,206
4. Per Hildebrand $68,176
5. Dimitry Mazur $51,538
6. Kathy Sarborn $39,769
7. Pete Mueller $31,653
8. Alvarado Wong $23,537
9. Thomas Keisler $17,044
10. Jason Alexander $12,174
11. Jordanna Schutz $12,174
12. Andrew Batkin $12,174
13. Molly Hellmuth $10,551
14. Cody Leibel $10,551
15. Holly Stroud $10,551
16. Brandon Adams $8,928
17. Mona Tilson $8,928
18. James Karol $8,928