WSOP Updates – Event 45, $5,000 NLHE (6H) – Bill Edler Triumphs in Short-Handed Final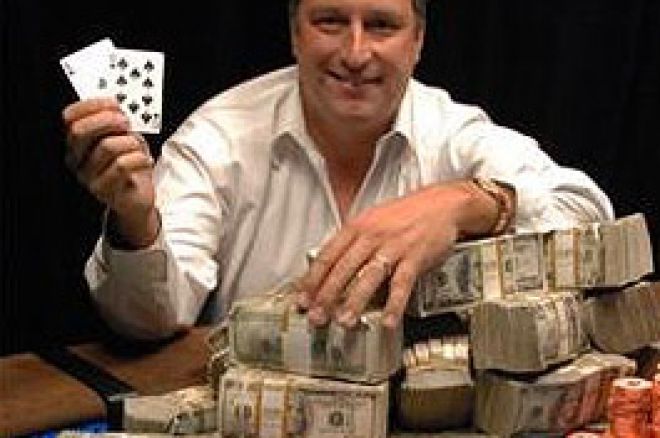 Bill Edler came from the being the shortest of the six starting chip stacks to claim the winner's bracelet and a first-place check of $904,672 in Event #45, $5,000 Six-Handed No Limit Hold 'Em. Edler triumphed over Alex Bolotin on an afternoon that started out with Bolotin and Erik Friberg well ahead of a final six that included Edler and Day One leader Russell 'Dutch' Boyd. The chip stacks and seating draws for the final looked like this:
Seat 1: Greg Pohler — 655,000
Seat 2: Alex Bolotin — 2,010,000
Seat 3: Gioi Luong — 570,000
Seat 4: Bill Edler — 535,000
Seat 5: Dutch Boyd — 705,000
Seat 6: Erik Friberg — 2,795,000
Action began after twin delays — the first due to the record-setting attendance in Event #49, the $1,500 NLHE freezeout, and the second after the temporary disappearance of Gioi Luong, who couldn't be located when it was time for the cards to be dealt. It was perhaps an omen for Luong, who became the first player to depart. Luong, the Tunica WSOP Circuit winner, was eliminated eight hands into play when he pushed with
and found a caller in Alex Bolotin with
. The board unfolded
, with the ace on the turn pairing Bolotin and assuring the knockout. Luong collected $110,860.
Meanwhile, Edler pushed all-in several times in the opening hands, capturing several pots and escaping the cellar. He pushed again on Hand 12, with
, but this time Dutch Boyd waited with
. Edler's needed ace dropped on the turn of a
board, and when the river missed Boyd's slim redraw chance, a third of the final table had been pared away. Edler was well over a million chips, while Boyd, the only one of the six to have previously won a WSOP bracelet, collected $169,369 for finishing fifth.
Erik Friberg also chipped up in the early action, topping 3,000,000 in chips. Like Edler, though, another of the early short stacks moved into contention. Greg Pohler also gained some ground early, then doubled through Friberg to jump to nearly 2,500,000 in chips and into the lead. On the double-through, Pohler held pocket tens and led out for 500,000 after a
flop, only to see Friberg push over the top with A-4. Pohler called and was pleased, and faded Friberg's outs when the
turn and
river fell.
The hand, though, was the first of several where the shortest stack doubled up. Edler doubled through Pohler moments later, winning an A-Q vs. A-J showdown. Friberg was next, doubling through Bolotin to stay alive by spiking a king on the river for a straight, this after getting the chips in behind with Q-10 to Bolotin's A-J. Friberg made the push after a jack on the turn gave him the open-ended straight draw, while the same card gave Bolotin top pair/top kicker, which didn't hold up. Bolotin, though, doubled through Pohler a few hands later.
The shuffling left Pohler back on the short stack with 1,200,000, with friberg a little higher and the others over 2,000,000. And with the blinds increasing, Pohler tried to steal his way back with
, only to find Friberg waiting with
. Chips in, the board soon displayed
, and Pohler was the fourth-place finisher, with a check for $232,669.
Friberg's big knockout briefly pushed him back into the lead, but Edler took down a large pot a few hands later, one of four pots in a row that Edler claimed, to take the lead himself. Edler padded that by winning another five hands in succession a dozen or so hands later to open a gap. Then Friberg and Bolotin collided, leaving Bolotin almost even with Edler in chips beginning heads-up play, and Friberg on the rail with $345,582, third-place money. Friberg moved all in for just over a million in chips with
, and Bolotin called with
. The board offered
, initially giving Friberg a few extra outs before sealing the knockout with Bolotin's made diamond flush.
Heads-up play lasted 13 hands. Edler continued his aggressive play and captured the first big pot on Hand 98, just four hands in. After a limp and check pre-flop, the flop came
; Edler bet the pot and Bolotin called. Edler checked after the
turn and Bolotin checked behind, and Edler fired out 450,000 after the
river. Bolotin called again, but mucked after Edler showed
for the full house, and Edler raked the 2,100,000 pot. Edler chipped up on the following hands to open up a 5:2 margin.
Edler, though, needed a second final-table break to put the title away. On Hand 107, Edler made a pre-flop raise and Bolotin moved all-in. Edler tanked for several minutes before making the call, and was in poor shape when he did, showing
to Bolotin's
. The flop, however, arrived
, pairing Edler's ten, and when the
turn and
river fell, Edler's title was in the books. Bolotin won $504,686 for his runner-up showing, while Edler collected $904,672 and his first WSOP bracelet for the victory.
Final Standings and Payouts:
Bill Edler $904,672
Alex Bolotin $504,686
Erik Friberg $345,582
Greg Pohler $232,669
Dutch Boyd $169,369
Gioi Luong $110,860