WSOP Updates, Event 47, $2,000 NLHE – Double Comeback Gives Blair Rodman Title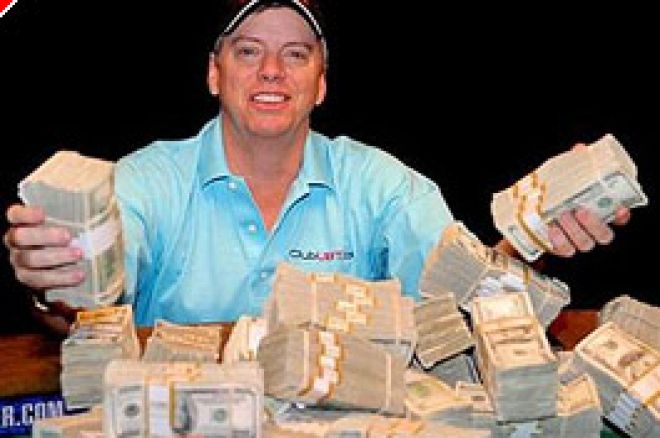 Blair Rodman surged from the middle of the pack at a powerful final table on Sunday, to beat out Amato Galasso for first place in Event 47 -$2,000 No Limit Hold em. Rodman is no stranger to WSOP final tables — this was his twelfth — but he takes home his first WSOP bracelet and prize money of $707,898 for the win.
Rodman didn't present an immediate danger at the start of play on Sunday. He began with a stack of 712,000 — less than half of leader Stan Crawford's 1,498,000. The final table was assigned as follows:
Seat 1: Mark McKibben — 643,000
Seat 2: David Schnettler — 267,000
Seat 3: Klein Kim Bach — 1,120,000
Seat 4: Joe Pelton — 681,000
Seat 5: Blair Rodman — 712,000
Seat 6: Steve 'Stan' Crawford — 1,498,000
Seat 7: Amato Galasso — 1,165,000
Seat 8: Anna Wroblewski — 1,137,000
Seat 9: Roland de Wolfe — 961,000
'Stan' Crawford jumped from the gates and expanded his lead by knocking out Mark McKibben in the third hand. From the small blind, McKibben moved all in on
, while Crawford called with
. McKibben needed help, but the board
didn't bring it, instead giving Crawford the full house. McKibben was sent out in ninth place with a prize of $42,655.
The next several hands saw Anna Wroblewski mixing it up and winning several pots. In the Hand 19, though, Rodman pushed with
. Wroblewski tanked, then called with
. Rodman doubled up, avoiding elimination when an ace flopped, with the final board showing
. This pushed Rodman past the million-chip mark, but he was still considerably behind Crawford, who led the pack at 2,155,000.
With blinds at 20,000/40,000 David Schnettler was in peril, short-stacked at 220,000. Schnettler went all in on
, but ran into Rodman's
and needed to improve. Rodman instead caught an unneeded ace on the river, the board showing
, and Schnettler departed with $55,637 in eighth-place money.
Next, Rodman took on Joe Pelton, who went all in on
. After several minutes, Rodman called with
, and was rewarded when the
board gave him two pair, kings and sevens. Pelton cashed $74,183 for his seventh-place effort.
Roland de Wolfe was the next to go, in Hand #51. He looked good going all in on
against Amato Galasso, who tanked before calling with
. A-Q was unlucky for de Wolfe, as a board of
gave Galasso the club flush and sent de Wolfe to the rail in sixth place with $98,293. Galasso took the lead with over 2,000,000 in chips.
After being crippled in a big hand with Galasso, early leader Crawford was knocked out in fifth place after going all in on J-8. Bach called with A-10 and the board didn't improve either hand, giving Bach the pot with an ace high. Crawford cashed $135,384. Meanwhile, Bach was on the move — in the very next hand he eliminated a short-stacked Wroblewski when his A-9 topped her K-4. She earned $192,876 for fourth place.
With only three players remaining, the stacks were nearly even. After four unremarkable hands, things got interesting in Hand #72. It started out slow—Rodman and Galasso limped in, Bach checked. After the
flop, Galasso folded as Rodman bet and Bach called. Betting after the turn
and river
brought Rodman all in. Bach showed
for the full house, deuces full of nines, but Rodman flipped over
for the higher full house, nines full of deuces, ending Bach's run at the bracelet and sending him home with third-place winnings of $289,314.
Heads-up play began with Hand #73 with Rodman ahead, 5,550,000 to Galasso's 2,600,000. After twenty hands, Galasso took the lead and continued to chip at Rodman's stack, reducing it at one point to 1,730,000. Rodman struck back in Hand #135. With
, Rodman moved all in for his last 1,165,000 after a flop of
, forcing Galasso to fold his
.
A dozen hands passed until the next big action occurred. Betting after a flop and turn of
brought Rodman all in. Galasso called with
for top pair and Rodman showed
for the flush draw. The river
made Rodman's flush and doubled him up to almost five million, giving him the lead for the first time in 50 hands. Another 20 hands passed with little action, then Rodman moved all in on two consecutive hands — holding pocket nines, then pocket deuces, prompting Galasso folds.
About ten hands later, Rodman moved in again with
. Galasso called and was again ahead with
, but the flop brought
, and Rodman moved in front with the pair of jacks. The turn
opened up chances for wheel straights and the chop, but the river was the
, leaving Rodman's jacks in front. Galasso cashed $448,808 for his second-place finish, while Rodman collected the $707,898 winner's money and the bracelet.
Final Standings and Payouts:
1. Blair Rodman — $707,898
2. Amato Galasso — $448,808
3. Klein Kim Bach — $289,314
4. Anna Wroblewski — $192,876
5. Steve 'Stan' Crawford — $135,384
6. Roland de Wolfe — $98,293
7. Joe Pelton — $74,183
8. David Schnettler — $55,637
9. Mark McKibben — $42,655