WSOP Updates, Event 48, 2-7 Triple Draw – Rafi Amit Wins Lowball Bracelet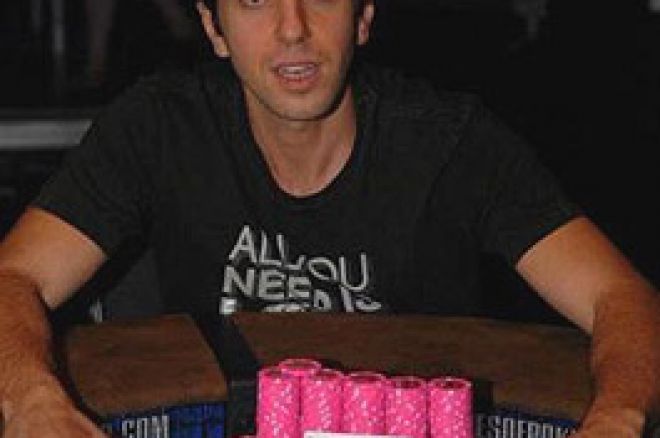 After a three-day tournament featuring some of poker's biggest names, Rafi Amit walked away with the bracelet in #48, the Deuce-to-Seven Triple Draw w/Rebuys after a surprisingly brief final table. The starting field of 209 players included many big names, but the finale included first-time final-table players (including first-time WSOP money winners) and one previous bracelet winner, Amit. He added his second bracelet after the short battle, needing only five hours to put away his five opponents to take down the bracelet, the Corum watch and the $227,005 first place money.
After a marathon second day of play which stretched until 5am on Sunday, the final table was delayed until 7pm. The seating assignments and chip stacks looked like this as play resumed:
Seat 1: Anthony Lellouche — 205,000
Seat 2: Lenny Martin — 133,000
Seat 3: Eugene Ji — 192,000
Seat 4: Mark Bartlog — 98,000
Seat 5: Rafi Amit — 374,000
Seat 6: Jon Shoreman — 518,000
Amit got off to an early start, taking down a large pot against Lenny Martin on the second hand. After drawing one card on the first draw and standing pat through the next two, Amit turned over 8-7-5-4-3 to cripple Martin and take the chip lead. Martin doubled through Jon Shoreman on the very next hand with a 9-low against Shoreman's 10-low, which, by taking some of Shoreman's second-place stack, gave Amit the chip lead.
Amit crippled Mark Bartlog a few hands later when Bartlog's third draw gave him a K-low and he couldn't call Amit's last bet. Bartlog was eliminated two hands later when he couldn't draw well enough to beat Lenny Martin's J-8-5-4-2. Bartlog finished in sixth place for $27,068.
20 hands and nearly an hour of back-and-forth play passed before another player was eliminated. In consecutive hands, Anthony Lellouche first crippled Eugene Ji and then sent him home in fifth place ($41,504). In the first hand, Ji took the betting lead but couldn't shake Lellouche, who showed a 10-7 to win a big pot and leave Ji with only 5,000 in chips. On the next hand, Ji made the 10-7 low, but it was beaten by Lellouche's 9-7-6-4-2, ending Ji's run.
Lenny Martin made a huge run in the middle hours of the final table, going from crippled on Hand #2 to chip leader at the end of Hour #2. After taking down four straight hands, Martin held nearly two thirds of the chips in play and eliminated Day Two chip leader Jon Shoreman at the end of the second hour of the final table. Shoreman, left short-stacked after drawing an ace on the final draw in a big hand against Anthony Lellouche, came up short against Martin with an 8-7 against Martin's 8-6. This hand put Martin over one million chips (total chips in play were roughly 1.5 million), and sent Shoreman to the rail in fourth ($57,383).
After a few more hands, players agreed to extend a 15-minute break by another 20 minutes so that Amit could play a little of the $10,000 Pot Limit Omaha tournament he was also entered in. Amit refocused on Triple Draw quickly when play resumed, eliminating Lellouche in third ($84,812). Amit took out Lellouche when Lellouche reraised all-in before the first draw and couldn't improve his hand significantly, finishing with a Q-6-5-4-2, far behind Amit's 8-7-6-4-3.
Amit started the heads-up match with a significant chip deficit, but slowly eroded Martin's lead as play wore one. After an initial feeling-out period where the big blind got a walk on several consecutive hands, Amit increased his aggression and began picking up pots. After a short break to discuss a possible chop, the two sparred for another 90 minutes before deciding a winner.
Amit and Martin swapped the lead several times before the chips finally went in for the last time. Amit reraised before the first draw, and then stood pat, while Martin took three on the first round. Martin called Amit after the first draw and then took two. Amit stood pat again, then bet out again. Martin called all-in and stood pat, and Amit also stood pat and revealed his pat 7-6-4-3-2, the second-best possible hand in Triple Draw. Second nuts was good enough for the win, as Martin revealed his own hand, a normally very strong 8-7 low. After being crippled on the second hand of the day, Martin's comeback ended with second place and his biggest cash to date, $128,120, while Amit took the Corum watch, the $227,005 prize money and his second WSOP bracelet.
Final Standings and Payouts:
1. Rafi Amit — $227,005
2. Lenny Martin — $128,120
3. Anthony Lellouche — $84,812
4. Jon Shoreman — $57,383
5. Eugene Ji — $41,504
6. Mark Bartlog — $27,068