WSOP Updates – Event 49 – Billivara Wins Largest Non Main Event Tournament Ever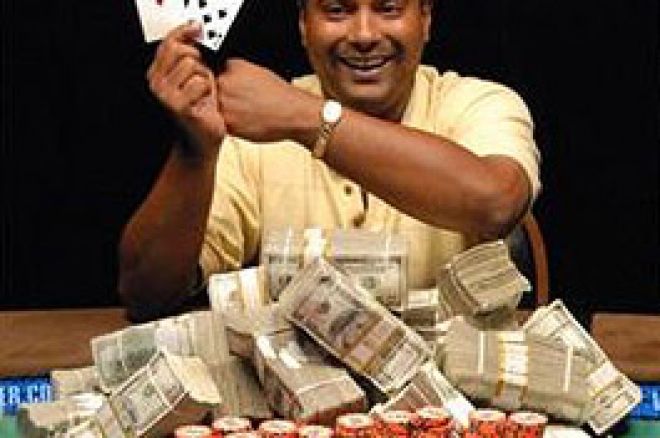 Monday has become a favorite day for sports lovers thanks to the NFL's Monday Night football, and although the NFL pre-season has yet to begin this year, for the returning nine players of Event #49, $1,500 No Limit Hold 'Em, Monday's action was like playing in the Pro Bowl, the Playoffs, and the Super Bowl all in the same day.
With the largest Main Event field in World Series of Poker history narrowed to the final nine competitors, the majority of the media's focus centered on Greg "FBT" Mueller. Although fourth in chips coming into the day's action, he was favored to take down the bracelet.
Seemingly unaware that many people were predicting that Mueller would win, his opponents showed little hesitation and even less fear of "the big man" as they repeatedly pushed their chips against him.
While the action focused on Mueller, short-stack Lewis Titterton moved on Leandro Pimentel but failed to improve against his flopped two pair of Aces and Tens. Titterton collected $45,162.
Then Full Tilt's Mueller hit the rail. After taking several brutal hits, one-right-after-the-other, Mueller's day ended when his trip Fours fell to Taylor Douglas' trip Fours with a bigger kicker. Mueller earned $55,914 for finishing eighth.
With Mueller no longer in the game, the remainder of the field took turns taking shots at one another. Ray Spencer was the first casualty of the post-Mueller action. After watching his stack shrink over the course of the day, Spencer pushed with King/Jack, but was dominated by Douglas' Ace/Jack. The flop brought an Ace, sealing Spencer's fate. He took home $79,270 for three days of play.
The next player to see his WSOP dreams dashed was Cort Kibler-Melby. After trading several big hands early in the action, Kibler-Melby pushed in the big blind position. Unfortunately, he ran into John Hunt's pocket Nines and failed to improve when the board blanked. He collected $96,775 for finishing sixth.
Although quiet throughout most of the early play, Duane Felix tried to be heard by moving all-in against Hunt with Ace/Deuce. Well behind Hunt's Ace/Nine, Felix failed to improve while Hunt nailed the Ace-high flush. Felix collected $131,184 for finishing fifth.
While many players have fan followings, few could match fourth place finisher Leandro Pimentel's rail on Day Two. Unfortunately for Pimentel, his final day of play would take place in front of a global audience on worldseriesofpoker.com and not in front of his life supporters. Despite making a noble effort, Pimentel busted after running into Chandrasekhar Billavara's pair of Aces with a Queen kicker. He took home $189,249.
Down to three players, the next to bust was John Hunt. After losing the previous hand to a pair of Jacks, Hunt's King/Four ran into Billavara's Queen/Jack. The flop came Jack/Nine/Ten with the Eight falling on the turn, giving Billavara the straight to eliminate Hunt. He earned $292,476 for finishing second.
Despite holding the chip lead throughout most of the day, Taylor Douglas met his match in Billavara. Although short-stacked, Billavara played aggressively and quickly shortened Douglas' stack. On the final hand, Billavara's Ace/Seven were good enough to beat Douglas' Queen/Nine when Billavara hit an Ace on the turn. Douglas failed to improve and only took home $467,101. Billivara collected $722,914 and a coveted WSOP bracelet for finishing first.