WSOP Updates – Event 50, $10,000 PLO – Robert Mizrachi Claims Omaha World Championship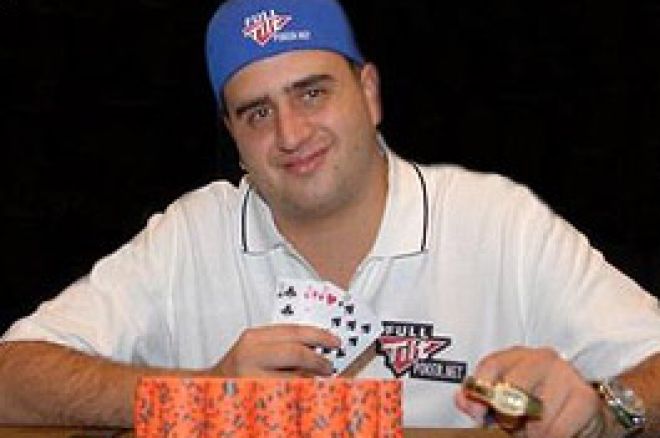 In one of the most star-studded final tables of this World Series, Robert Mizrachi outlasted poker legend Doyle Brunson, Patrik Antonius and others to become the first Mizrachi brother to secure a gold WSOP bracelet.
314 entrants started the field, including a giant of the game, Brunson, in search of a record-tying 11th WSOP event win. Brunson faced a tough final table, with Tommy Ly atop the leader board, Mizrachi in second, and other seats occupied by players including Antonius, Marco Traniello (at his third final table of the 2007 series) and Event #40 runner-up Rene Mouritsen. The chip counts and seating assignments were this as play began:
Seat 1: Doyle Brunson — 510,000
Seat 2: Patrik Antonius — 650,000
Seat 3: Marco Traniello — 420,000
Seat 4: Rene Mouritsen — 775,000
Seat 5: Tommy Ly — 1,895,000
Seat 6: Jonas Flug-Entin — 445,000
Seat 7: Steve Sung — 175,000
Seat 8: Stephen Ladowski — 360,000
Seat 9: Robert Mizrachi — 1,090,000
Steve Sung started the day extremely short stacked, and made his move on the second hand of the day, going all-in over the top of Marco Traniello on a flop of
. Traniello showed Q-Q-7-4 for a set of queens, while Sung had A-A-K-9 for an overpair with a gutshot redraw. No jack came on the turn or river and Sung was the first to depart, earning $50,177 for his second final table of the 2007 World Series.
Jonas Flug-Entin fell next, running his trips into Mizrachi's trips-with-ace-kicker after a flop of
. Mizrachi raised over the top of Flug-Entin's bet, and Flug-Entin called all-in with
. The turn and river brought no help, and Mizrachi eliminated Flug-Entin with
. Flug-Entin collected $69,363 for his third cash of the 2007 World Series.
It took less than an hour for Mizrachi to eliminate Stephen Ladowski in seventh ($92,975). Mizrachi called Ladowski's all-in with
on a flop of
. Ladowski turned over
, well behind Mizrachi's overpair. Ladowski caught up and passed Mizrachi when the turn brought the
for a set of threes, but Mizrachi hit a two-outer of his own when the river brought the
, giving Mizrachi a better set of tens to end Ladowsky's run. Ladowski's seventh-place finish was the best of his 2007 Series, and his fifth cash this year.
Mizrachi and Patrik Antonius remained active as the afternoon progressed, picking up small pots here and there and generally avoiding big hands, until Antonius tangled with Doyle Brunson for all of Antonius's chips. Antonius pushed all-in with top pair on a
board, and Brunson called with
, well ahead of Antonius'
. However, Antonius took the lead on the turn when it brought him the
, for two bigger pair, and the
river didn't help Brunson, who slipped to the bottom of the board after that hand.
Brunson picked up a few pots here and there for the next half hour before he and Antonius tangled again. Antonius again pushed into Brunson with top pair on a 9-high board, this time holding
on a flop of
. Brunson's
was ahead, but Antonius hit his flush on the
turn. An irrelevant
on the river sealed the big pot for Antonius.
Antonius put the final nail in Brunson's coffin on the next hand when he made two pair, sevens and threes, on a board of
. Brunson won $123,967 for his sixth-place finish, leaving Phil Hellmuth untied as the WSOP career bracelet leader.
Mizrachi held the chip lead for most of the day after reeling in Tommy Ly early, but tangled in a big hand with Rene Mouritsen midway through the final table. Mouritsen got all his chips in pre-flop with
and Mizrachi called with
. The flop of
made a king-high straight for Mouritsen, but left Mizrachi with outs to a heart flush that the
turn and
river missed. The pot catapulted Mouritsen to the chip lead and dropped Mizrachi back to the middle of the pack.
After doubling through Antonius, Mizrachi eliminated Marco Traniello in fifth place ($156,435) when he turned a Broadway straight holding
. Traniello called all-in holding
on a board of
, for a club flush draw and a set of twos. The river brought the
, and Traniello filled neither his flush nor his boat and was eliminated at his third final table of the 2007 World Series.
Ly was the only player left with less than a million in chips, and his short stack soon went in the middle of the table soon behind
. Rene Mouritsen called with
, and Ly received no help from the board of
. Ly was eliminated in fourth, his second cash in an Omaha event at the 2007 World Series and his biggest WSOP cash ever, $209,564.
Short stack Patrik Antonius flopped a royal flush against Robert Mizrachi a few hands later to double up, easily crushing Mizrachi's turned full house. The board read
, and Mizrachi was drawing dead on the flop with pocket tens against Antonius'
-x-x. That brought the three players within striking distance of each other, as chip counts were as follows:
Seat 2: Patrik Antonius — 2,300,000
Seat 4: Rene Mouritsen — 2,500,000
Seat 9: Robert Mizrachi — 1,450,000
Three-handed play continued for nearly two hours before Antonius fell in third. A big hand with Mizrachi crippled him when Mizrachi flopped a baby straight that Antonius couldn't outdraw, and Antonius moved all-in preflop a few hands later with
. Mizrachi called with
and when the board brought no help to either hand, Mizrachi added another scalp to his belt. Antonius collected $311,394 for his third-place finish, his highest WSOP finish ever.
Robert Mizrachi took a huge chip lead into heads-up play, with 4.685 million to Rene Mouritsen's 1.71 million, and took little more than ten hands to dispatch Mouritsen for his first WSOP win. On a flop of
, Mouritsen called Mizrachi's all-in with
for top pair and a flush draw. Mizrachi was way ahead with
, needing to dodge a diamond to hold on for the win. The turn card was the
, and the
on the river sealed Mouritsen's fate, eliminating him in second place ($464,877) and securing the Mizrachi family's first bracelet, plus a Corum watch and $768,889 for the win.
Final Standings and Payouts:
1. Robert Mizrachi — $768,889
2. Rene Mouritsen — $464,877
3. Patrik Antonius — $311,394
4. Tommy Ly — $209,564
5. Marco Traniello — $156,435
6. Doyle Brunson — $123,967
7. Stephen Ladowsky — $92,975
8. Jonas Flug-Entin — $69,363
9. Steve Sung — $50,177