WSOP Updates, Event 51, $1,000 S.H.O.E – Dao Bac Strikes Gold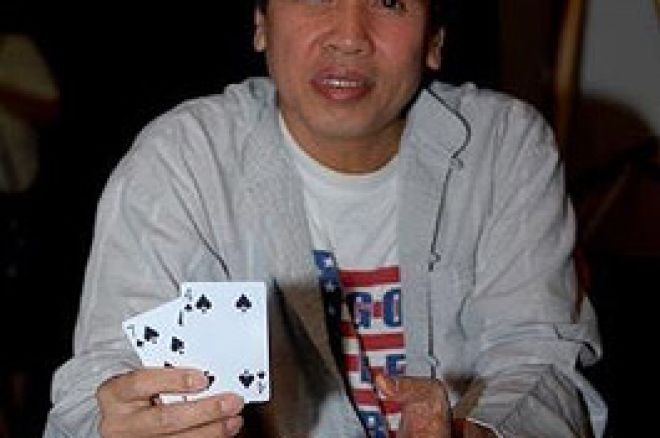 Eight players were on hand for Tuesday's final of Event #51, $1,000 S.H.O.E., the survivors of 730 entrants into the WSOP's last mixed-event tourney of the year. The final table lasted only six hours, but provided a lot of play as Dao Bac pushed forward from his second-place starting stack to take the lead, the bracelet, and the $157,975 payday for his first WSOP win.
Starting stacks and seat assignments were as follows:
Seat 1: Vladimir Shchemelev — 168,000
Seat 2: Chip Jett — 40,000
Seat 3: Dao Bac — 266,000
Seat 4: Imre Leibold — 250,000
Seat 5: Patrick Poels — 53,000
Seat 6: Raymond Davis — 235,000
Seat 7: Adam Geyer — 293,000
Seat 8: Michael Craig — 161,000
Chip Jett started the day on the short stack, and put all his chips to work early, doubling through Raymond Davis on the second hand of play when his
dominated Davis'
. A king on the flop gave Jett a little breathing room and kept his tournament alive.
Pat Poels was the only previous WSOP bracelet winner (with two) in the final, winning one in each of the last two World Series years (Omaha Hi/Lo in 2005 and Stud Hi/Lo in 2006). Poels started the day with the second-shortest stack and knew he needed to make a move early. Unfortunately, he was eliminated by Dao Bac when he got all in after a flop of
. Poels revealed aces for an overpair, but was far behind Bac's pocket threes for bottom set. Poels got no help from the turn and river and was eliminated in eighth ($11,957).
Poker author Michael Craig made his second final table and third cash of the 2007 World Series. Craig was very active in the Omaha Hi/Lo segment, raking and splitting several pots until he got involved in a big hand with Vladimir Shchemelev. Shchemelev raised preflop and Craig called from the big blind. After being checked following a
, Shchemelev bet out when the
came on the turn. Craig raised all-in and Shchemelev called; Shchemelev revealed
for top two pair and a good low draw, while Craig showed
for two pair, queens and sixes, plus the nut flush redraw. The river, though, was the
, and Craig collected his second seventh-place finish of the World Series, worth $15,943.
A half hour later, Jett sent Shchemelev to the rail in sixth ($20,793). Jett made a set of sevens in Stud Hi/Lo to scoop a three-way pot against Shchemelev and Dao Bac when neither opponent could muster more than two pair. Imre Leibold fell a while after, falling in the next round, Stud Hi. Leibold moved all-in over Adam Geyer's sixth-street raise, showing
. Geyer revealed (
)
(
) for a Broadway straight to eliminate Leibold (who mucked) in fifth ($26,572).
Raymond Davis went to the rail in the next level when he and Jett tangled in a three-way pot with Bac. Davis tossed in his last 11,000 on a flop of
, and Jett and Bac both called. Bac and Jett checked it down as the board finished out with the
. Davis and Jett both turned up unimproved A-K, but Bac's
made a straight on the river to bust Davis in fourth ($34,012).
Play slowed considerably as play went three-handed, with all three players surviving the next round of Omaha. Finally, in Stud Hi/Lo, Jett floundered in tree straight tough hands, ending with his elimination in third place ($55,801). His performance in this event matched his top WSOP finish ever, the 2005 $5,000 Stud Hi event, but left him still without his first bracelet. After tough laydowns in consecutive hands with Adam Geyer and Bac, Jett was all-in in Stud Hi/Lo with just a pair of queens for the high and no low. Geyer finished him off with two pair, aces and tens for the scoop, setting up heads-up action between Geyer and Bac, each vying for their first WSOP bracelet.
Both men were guaranteed their best WSOP finish ever, as this event marked Geyer's first World Series cash and Bac's first final table. Bac had three previous cashes, two in 2006 and one in Event #35 this year. Heads-up play lasted for a little more than an hour as Bac slowly chipped away at Geyer's stack. Once the game returned to Hold 'Em, the blinds were 15,000/30,000, with bets of 30,000/60,000, and neither man had many big bets left. Geyer survived his first all-in, doubling through Bac with
on a jack-high board, but busted on the next hand in seven place for $86,691.
On the last hand, Bac called Geyer's preflop raise, then raised on a flop of
. Bac check-raised Geyer again when the turn came the
, and Geyer was pot-committed to call. Geyer was in a commanding position with
over Bac's
, but the
on the river gave Bac two pair, the bracelet, a Corum watch and his biggest-ever cash at the World Series — $157,975.
Final Standings and Payouts:
1. Dao Bac $157,975
2. Adam Geyer $86,691
3. Chip Jett $55,801
4. Raymond Davis $34,012
5. Imre Leibold $26,572
6. Vladimir Shchemelev $20,793
7. Michael Craig $15,943
8. Pat Poels $11,957