WSOP Updates, Event 51, $1,000 S.H.O.E – Susie Genard Leads Day One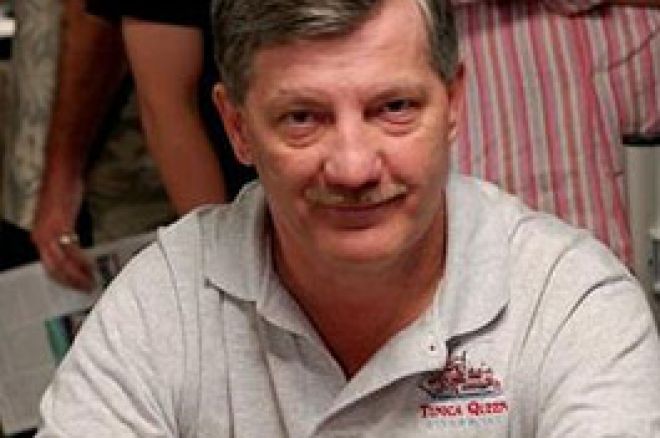 The mixed-game events at the World Series of Poker have drawn big fields and big names, and Event #51, $1,000 S.H.O.E. (Stud Hi, Hold 'Em, Omaha Hi/Lo, Stud Hi/Lo), was no exception. The field of 730 players included Daniel Negreanu, Jeff Madsen, recent double-bracelet winner Tom Schneider, Cyndy Violette and Shannon Elizabeth, all chasing the $157,975 first-place prize. As was expected, the going was slow in the limit mixed-game tournament, with only two tables' worth of players eliminated by the dinner break.
Action picked up after players returned, with blinds increasing rapidly and the knockout pace increasing. Among those departing were Elizabeth, Chad Brown, Schneider, Men 'The Master' Nguyen and Jason Newburger. Newburger went out on a particularly rough hand, when he made kings full of queens for a huge full house, but ran into his opponent's quad sevens. Worse, it wasn't in Omaha, the likeliest format for such a collision, but in Seven Card Stud instead.
Richard 'The Quiet Lion' Brodie exited during Hold 'Em play when he ran pocket sixes into pocket kings on a board of
to head to the rail well out of the money. Schneider's dreams of a third bracelet in 2007 ended not long after Brodie's departure.
As the game changed to Omaha Hi/Lo for the last time of the evening, enough players had been eliminated for play to move solely into the Poker Pavilion, putting all the players into the same room for the first time in the event. Erik Seidel made a big run right before the Omaha section of the night, busting two players when his pocket tens flopped a full house on a board of 10-9-9. Both players missed the turn and river and Seidel moved closer to the top of the board. Play halted for the day
Play halted for the day at a little after 3AM, after eliminating almost 600 players in the first day of play. 146 players remain, in search of the 72-player money bubble and the eight-player final table during Monday's action. The top chip counts beginning Day Two are as follows, with Susie Genard holding the overnight lead:
Susie Genard — 31,200
Barry Hartheimer — 30,300
Hooman Nikzad — 24,100
Jonothon Tore — 23,400
David Duran — 20,900
Doug 'Rico' Carli — 20,700
Curtis Rystadt — 20,400
Ali Eslami — 20,400
Jeff 'The Landlord' Campbell — 19,900
Michael Lemkin — 19,800
Other notable players eliminated in the first day included Lacey Jones, Chris Ferguson, Barbara Enright, Sabyl Cohen and Josh Arieh. Notables returning for Day Two include author Michael Craig, who is vying for his second final table of the 2007 Series, Seidel, Chip Jett, Mike Gracz, Dan Heimiller and Keith Sexton.
Join PokerNews.com's 'Live Reporting' of Event #51, $1,000 S.H.O.E., as action resumes at 3pm PDT in final mixed-game event of the 2007 WSOP.