WSOP Updates, Event 52, $1,000 NLHE – O'Connell, Williams, Alaei Early Leaders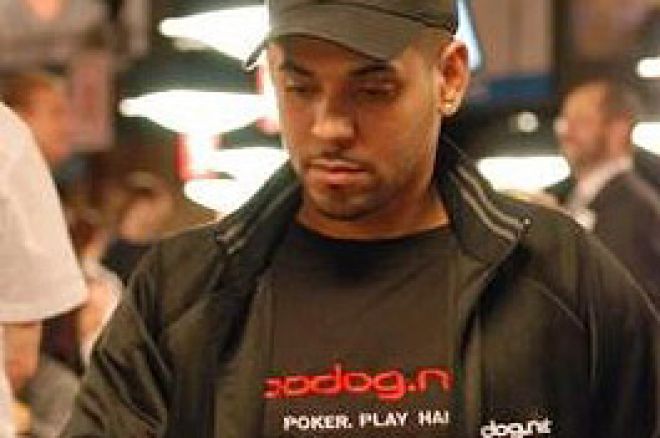 "Rebuy!" was the word of the day in Event #52, $1,000 No Limit Hold 'Em (with rebuys). The popular event drew 1,048 players, who combined to make 2,336 re-buys for a total prize pool of $3,226,609. After the first day of play, 112 players remained in the field. The top 99 places will pay, with a first prize of $742,121 and the coveted gold WSOP bracelet waiting.
Some of the big names to enter were Paul McCaffrey, Juha Helppi, Shaun Deeb, Eugene Todd, Nick Binger, John Juanda, Cyndy Violette, Jamie Gold, Tony Cousineau, Antonio Esfandiari, Tony Ma, An "The Boss" Tran, Erick Lindgren, Minh Nguyen, Jordan Morgan, John Gale, Humberto Brenes, Bill Chen, Jeffrey Lisandro, David Plastik, Nick Schulman, Adam Schoenfeld, Allen Kessler, Allen Le, Steve Billirakis, Sabyl Cohen, Berry Johnston, David Singer, Jonathan Little, Shannon Elizabeth, Mimi Tran, Jon Friedberg, and Scott Fischman.
Players began the event with 2,000 in chips and had the option of unlimited re-buys during the first two rounds of play with a 2,000 or 4,000 add-on at the end of the re-buy period after the second round.
"All in" might have been the second most popular saying of the day — the safety net of the re-buy had players shoving all in on all sorts of hands. Early in the event Justin "ZeeJustin" Bonomo called an all-in with a hand of 2-7. His opponent's A-4 looked good until Bonomo caught a deuce on the board to take the pot. Bonomo's hands didn't all turn out so well — he did his part to build the prize pool by re-buying 19 times. His diligence was rewarded, though, as he caught several good hands to secure his front of the pack position going into Tuesday's play.
Thomas Wahlroos also worked the safety net to his advantage when he called his opponent's all in after a flop and turn of A-10-8-6. Wahlroos showed A-3 while his opponent held the upper hand with A-9. His opponent asked, "You're gonna call all in when you know you're behind?"
Wahlroos said, "I have to," and his rationale was justified when the river brought a three, giving Wahlroos the pot with two pair. The strategy seemed to work for Wahlroos—at the end of the day he was still alive mid-field.
Kirk Morrison pushed in so frequently that he finally rubber-banded his 7,000-chip stack together. He made good use of the re-buy option, exercising it 15 times before calling it quits early in the day. Phil Gordon hit the rail shortly after re-buys ended when his pocket kings ran into Daniel Alaei's pocket aces; Alaei was also responsible for Joe Sebok's exit later in the day. Other early departures included Chris Reslock, Nam Le, Isabelle Mercier, and Jeff Madsen. Recent bracelet winner Bill Edler also went out early as did David Ulliott, Anna Wroblewski, Kathy Liebert, Barry Greenstein, Isaac Haxton, T.J. Cloutier, Captain Tom Franklin, Bill Gazes, David "The Dragon" Pham, Shannon Shorr and John Racener. Mike Matusow was at the front of the pack for most of the day before taking several late hits that sent him home.
Phil Hellmuth Jr.'s usual late arrival might have been strategically sound, saving him from a few re-buys. He surged early in pursuit of a possible 12th WSOP bracelet, but several difficult pots late in the day pushed him to the back of the field, though he only needs to outlast 13 players cash a record-setting 63rd time.
David Williams had a big day, finishing near the front of the field. He caught some good cards to get there; in one hand, his
went up against his opponent's
. The
flop was good for Williams, but a jack on the turn gave his opponent outs. The river delivered the third four, though, giving Williams the boat and eliminating his opponent. It wasn't all easy, though. Late in the day he was in a four-way pot with pocket jacks. He used his healthy stack to isolate, and the remaining opponent showed A-K. The jacks were good until a king spiked on the turn and Williams took a hit. Williams endured several smaller hits late, but kept his position at the top of the leader board, though Bryan O'Connell surpassed him late in the session to take the overnight lead.
The chip leaders after Day One:
Bryan O'Connell 229,600
David Williams 189,100
Daniel Alaei 169,100
Leo Wolpert 159,100
Chien Dinh 146,700
Paul McCaffrey 140,000
Steve Billirakis 139,900
Chad Batista 117,500
Andre Hawit 116,600
Carl Olson 110,500
When play resumes at 2pm PDT, the 112 Day One survivors will be in easy sight of the 99-player money bubble as they play toward the final nine. Visit PokerNews.com's 'Live Reporting' of Event #52, $1,000 No Limit Hold 'Em, for the latest reports.