WSOP Updates, Event 53, $1,500 LHE – Limit Hold'em Shootout Moves Into Second Round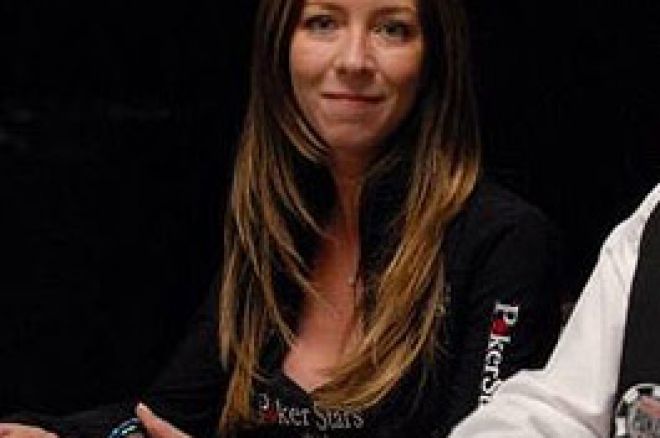 A sizeable field made the first day of Event #53, $1,500 Limit Hold 'Em Shootout, an enduring one. The first round of play, which took nine hours, saw 720 entrants trimmed to 72. The second round of play began Tuesday night and resumes today, with the third round, the final table, deciding the winner and $217,438 first-place money.
Lots of big names were in the field Tuesday, including Daniel Negreanu, David "Devilfish" Ulliott, Greg "FBT" Mueller, Nick Frangos, Michael Mizrachi, Erick Lindgren, and Jani Sointula. Also playing were Jennifer Harman, Andy Bloch, Joe Sebok, Bill Chen, Evelyn Ng, Brett Ritchie, Humberto Brenes, Paul Darden Jr., Dewey Tomko, Joe Tehan, Joe Cassidy, David Daneshgar, John Gale and Thor Hansen.
As is commonly the case with a pot-limit tournament, eliminations took some time. Max Pescatori was one of the first to go, however, after he ran into some bad cards. On a board of
, his opponent held
for quads, sending Pescatori out early in the first round. Scott Clements and Sabyl Cohen also busted out early, as did Marcel Luske and Amir Vahedi.
Other players eliminated in Round One were Anna Wroblewski, Allen Le, David "The Dragon" Pham, Juha Helppi, Barry Greenstein, Kathy Leibert, Mel Judah, Patric Martensson, Mads Andersen, Shannon Elizabeth, Men "The Master" Nguyen, John Phan, Erik Seidel, John Murphy, Bill Edler, Richard Brodie, Sabyl Cohen, Cyndy Violette, Annie Duke, Nam Le, David Plastik, and Tony G.
Jacob Elbaz dashed Miami John Cernuto's hopes of another bracelet when he eliminated Cernuto in heads-up play at the end of Round One. Jennifer Hartman came similarly close — she was one of the final three at her table before David Kerrigan sent her out. Chris "Jesus" Ferguson was knocked out by David Baker in heads-up play when a
board provided no help for Ferguson's
, and Baker's
took the pot.
After a flop and turn of
, Greg "FBT" Mueller was all in and showed Q-10 for two pair. His opponent flipped over A-J for the straight, though, and the river card couldn't help, ending Mueller's day. Nam Le didn't fare much better when he went all in pre-flop with
against pocket jacks, exiting when the
board left his hand unimproved.
Isabelle Mercier caught an excellent board to finish off her heads-up opponent and move on to Round Two. Her opponent went all in on
, and Mercier called with
. The flop came
, and the turn
made Mercier's flush. The
river was of no help to her opponent, and she moved on to the next round.
Round Two began at 9pm and progressed very slowly as players started the round with 30,000 chips and blinds were $200-400. Only 25 players were eliminated, leaving 47 to continue action on Wednesday. All players eliminated during Round Two receive the same payday, $6,634.
Among those eliminated during Round Two action before play was called for the night were Vincent Coletta, John Magill, Hooman Nikzad, Michael Mizrachi, Robert Donahue, Martin Rolwand, Dominic Ford, Joseph McGowen, David Kerrigan, Barbara Lewis, Randal Witt, Ari Lari, and Jean Gaspard.
Here is the complete list of players still alive in Round Two action, with none as of yet having secured their seat at the Round Three final table. The remaining players are sorted by table assignment and remaining chips:
(Table 1)
Nick Goodall 99,500
Marwan Abdel-Al 54,000
Todd Keikoan 38,000
Sondre Sagstuen 27,000
Dariush Imani 24,500
Jeffrey Siegal 22,500
Marek Kolk 4,500
(Table 2)
David Mosce 66,000
Isabelle Mercier 53,000
Stephen Buchanan 41,000
Craig Fishman 37,000
Diego Cordovez 31,000
Joe Tehan 23,000
Andreas Hagen 10,000
Sam Elduouse 9,000
(Table 3)
Anh Nguyen 75,000
Brian Hausen 51,500
Jason Newburger 45,500
Tony Cousineau 39,000
George Lind 35,500
Terrence Chan 23,500
(Table 4)
William Jensen 115,000
Tam Hang 55,000
David Baker 47,000
Jason Sagle 35,000
Steve Bibi 18,000
(Table 5)
Noah Boeken 76,000
William Chen 54,500
Bryan Spadaro 52,500
Andy Ward 43,000
Bertolla Sven 28,500
Thomas Tysziewicz 15,500
(Table 6)
Peter Smurfit 69,500
Bret Winograd 69,000
Shawn Buchanan 64,500
Ram Vaswani 36,000
Andre Boyer 31,000
(Table 7)
Gerald Rhoads 71,500
Micky Kalezic 69,500
Danny Noam 52,000
Raye Puckett 40,000
Jakrob Elbul 37,000
(Table 8)
Roy Winston 82,000
Paul Hersleth 82,000
Ishak Noyan 47,500
Victor Ramdin 33,000
Andreas Krause 25,500
Visit PokerNews.com's 'Live Reporting' of Event #53, $1,500 Limit Hold 'Em Shoot-Out, for the latest reports.