WSOP Updates, $10,000 Main Event, Day 1a – Tinten Olivier Leads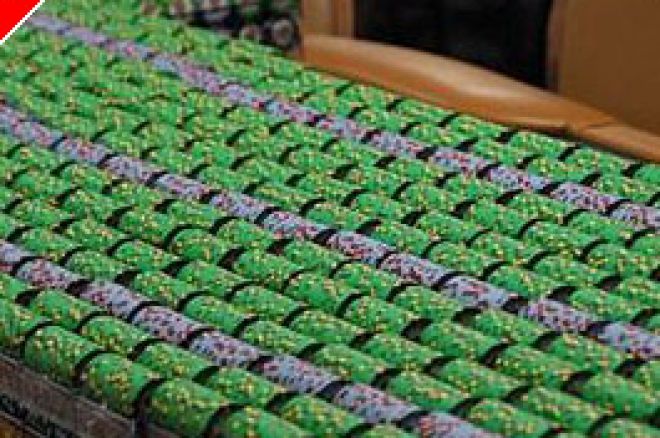 1,287 players started Day 1a in the 2007 World Series of Poker Main Event, less than the 3,000 people tournament officials had allowed for, but still more than entered the Main Event altogether in any pre-Moneymaker year. Among the players starting on Day 1a were former World Champions Amarillo Slim Preston, Bobby Baldwin, Huck Seed and 10-time WSOP bracelet winners Doyle Brunson and Johnny Chan, each two-time Main Event champions.
Of those, only Seed and Baldwin remained in the field at the end of the day's play, as approximately 450 players survived Day 1a after nearly 16 hours of action. Play ended for the night at almost 4am after a noon start, making the day an endurance test more than a footrace.
Matt Jansen earned the unfortunate title of first person eliminated in the 2007 Main Event, starting his tale, like so many others, with the words "I had pocket aces…" Jansen held
to George Dolorfan's
, and all the money went in on the flop of
. When the turn and river didn't bring a fourth heart to the board, Jansen was sent to the rail, his bracelet dreams dashed quickly dashed.
Jansen had plenty of company on the Day 1a bustout list, including some of poker's biggest stars. In addition to Preston, Chan and Brunson; Andy Black, Terrence Chan, Dewey Tomko and Marco Traniello were all eliminated on Day 1a. Among the survivors of the first day were Julian Gardner, Barry Greenstein, Tobey Maguire, Billy Baxter and 2007 WOP Player of the Year Tom "Donkey Bomber" Schneider. France's Tinten Olivier ended the first day as the chip leader with over 270,500 in chips.
The World Series Main Event always draws its fair share of celebrities, and this year was no exception, with the return of Tobey Maguire (Spider-Man), Brad Garrett ('Til Death, Ratatouille) and Ray Romano ("Everybody Loves Raymond"). Garrett's big moment came midway through the day when Romano was eliminated, resulting in a win for Garrett in their $2,000 last-longer bet. Garrett will donate his winnings to the Maximum Hope Foundation for families with terminally ill children. Romano was eliminated shortly after midnight when he ran Q-Q into pocket aces and failed to improve.
The Main Event also often features athletes (and their wives), this year including Janet Jones, wife of hockey legend Wayne Gretzky. Pittsburgh Penguins center Maxime Talbot won't be leaving the ice for the felt any time soon, telling reporters "I suck at poker," as he headed to the rail on Day One. The hockey star won his way into the Main Event by winning a tournament that included other hockey stars such as Martin Brodeur, Simon Gagne, and Sheldon Souray.
Phil Hellmuth is guaranteed to hold the record for most WSOP bracelets (11) for at least a year, as Chan and Brunson were both eliminated on Day 1a. Brunson was the first to fall, when he flopped top two pair with A-Q on a flop of
and his opponent called his all-in with a set of queens. No ace arrived on the turn or river, and the poker legend was eliminated. Johnny Chan's
did not improve against his opponent's trip tens, and he went to the rail midway through the first day as well.
Michael "The Grinder" Mizrachi will also have to wait at least a year to bring his first bracelet home and catch up to his brother Robert's WSOP victory count. All in pre-flop with J-J, Grinder was in trouble when his opponent flopped middle set on a board of K-8-6. No jack fell on the turn or river, and Mizrachi was eliminated.
Hearkening back to Joe Sebok's Main Event appearance in a bear suit (complete with diaper) for Day 1 of the 2006 tournament, Jeff Madsen lost a bet with Sebok and Gavin Smith and had to play Day 1 dressed as a court jester. Madsen survived Day One, and there's no word yet on if he has to wear a costume for Day Two.
The top ten players after on Day 1a of Event #55, the 2007 Main Event, are as follows:
Tinten Olivier — 270,500
John Dutchak — 209,600
Stephen Austin — 205,000
Michael Tureniec — 203,900
Aurelio Arcano — 166,000
Kitai Davidi — 164,700
Scott Yeates — 163,200
Dane Lomas — 161,800
Andrius Tapinas — 159,100
Alex Michaels — 155,500
Names of note high on the Day 1a leader board also include Lars Bonding, Julian Gardner, Brock Parker, Conor Tate, Cory Carroll, Billy Baxter and Joe Beever and Barry Greenstein.
Day 1b coverage begins at Noon PDT live on PokerNews.com. Visit our 'Live Reporting' section for up-to-the-minute coverage of the Main Event.