WSOP Updates, $10,000 Main Event, Day 1b – Dag Martin Mikkelsen Tops Pack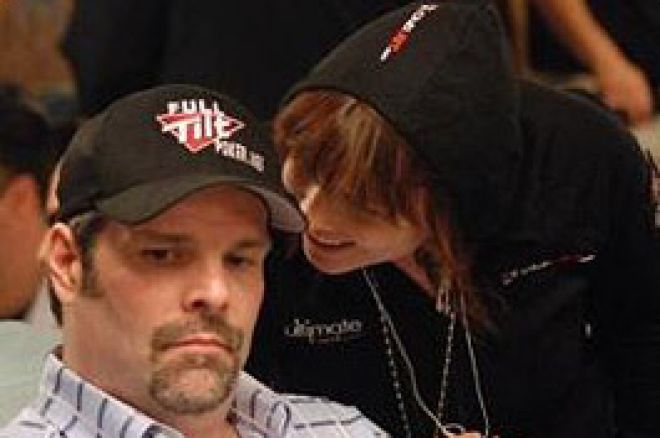 Day 1b of the 2007 World Series of Poker Main Event started off with 1,545 players, a couple of television celebrities, five former World Champions, two top players' moms, and a blind man. 14 hours later, the field had narrowed to less than 500 as tournament staff prepared the room for the third day of play. Current projections have the field around 6,000 total, a drop of nearly a third from 2006 numbers.
Notable players surviving Day 1b included all five former Main Event champions that started the day – Joe Hachem, Scotty Nguyen, Tom McEvoy, Berry Johnston and Dan Harrington all made it through to Day Two, with Nguyen and Johnston just outside the top ten in chips, not far off the lead held by Dag Martin Mikkelsen. Other players that survived the long day included Matt Matros, David 'The Dragon' Pham, John Duthie, Cliff 'JohnnyBax' Josephy, Evelyn Ng and Tony G.
Richard Lee and Doug Kim made it through Day 1b chasing Dan Harrington's feat of back-to-back final tables in huge fields. Lee and Kim finished 6th and 7th at last year's Main Event. Harrington made final tables in 2003 and 2004, a feat considered astounding considering the size of the fields those years. Robert Mizrachi, fresh off his first bracelet win in Event #50, survived Day 1b with a healthy stack while his brother Michael 'The Grinder' Mizrachi watched on the sidelines.
Moms were in the house as Jamie Gold's mother Jane and David Williams' mother Shirley both played in day 1b. Shirley Williams has one previous WSOP cash, in last year's Seniors' event, but this is the first Main Event for Jane Gold. Both women made it through to Day 2, and Shirley did while her son watched from the rail, as David Williams was eliminated before the dinner break.
Other notable players eliminated on Day 1b included eight-time WSOP bracelet winner Erik Seidel (who picked up his latest bracelet just days ago in the No Limit 2-7 Draw event), Isabelle Mercier, Kathy Liebert, Jennifer Harman, Justin Bonomo, Jeffrey Lisandro, Howard Lederer, Annie Duke, Paul 'Beanie" Nobles and Kevin "BeL0WaB0Ve" Saul.
David Singer was eliminated in a controversial hand regarding the use of cell phones at the table. Singer pushed all-in over the top of his opponent's bet, and before his opponent acted, his cell phone rang. The opponent took out his cell phone, glanced at it, turned it off and returned it to his pocket. Singer called the floor and told the dealer that his opponent's hand should be ruled dead, since players aren't allowed to be on the phone during a hand, saying "ever since I have been here, I have been told that if you touch your phone during a hand then your hand is dead." The tournament director ruled against Singer, his opponent called with top, and when Singer didn't catch his draw, he was eliminated.
The official rule on cell phone use is: "82. Cell Phone Rule: A player who wants to use a cellular phone must step away from the table. Any player on the cell phone or texting a messaging when the dealer delivers the first card from the deck will have a dead hand. No cell phones can be placed on a poker table." After reviewing the surveillance tapes, it was determined that the player only silenced the ringer on his phone, and could not have received a text message without pressing multiple buttons, and therefore could not have been colluding with any other player. Despite Singer's continuing complaints, the tournament staff stood by their ruling that the hand was live, and Singer was eliminated.
Several non-poker celebrities joined the field on Day 1b, including comedian Norm Macdonald, returning for his second WSOP Main Event. Motivational speaker and talk show host Montel Williams survived the first day in his first Main Event. Wearing a USS Eisenhower cap, the 22-year Navy veteran played role of table captain for a large portion of the day before slipping to finish the day as one of the short stacks.
One WSOP rookie stood out from all the rest in his play on Day 1b. After initially denying Jason Holbrook entry in to the Main Event, Harrah's management and Holbrook came to a compromise on how best to accommodate him at the poker table. Holbrook, who is legally blind, played his Main Event with an assistant reading his hole cards to him and relaying the action around the table to him before he made his bets, folds or calls. Holbrook is the first blind man to play in the World Series of Poker, and was eliminated when he flopped top pair against an opponent who flopped a straight flush draw. Holbrook moved all-in, and was eliminated on the turn when his opponent's straight filled. The unnecessary flush came on the river to send the history-making Holbrook to the rail.
The hand of the day came after dinner, when four players got all the money in on Table 61. When the hands were revealed, one player held
, the next held
. Player 3 held
and the fourth player was in deep trouble with
When the board came down
all four players got their rebate on the four-way chopped pot. We thought that only happened on the internet, too.
In another internet-worthy hand, Gene Strickland delivered a bad beat to a player who flopped quads on a board of
. Strickland called the all-in from the player holding pocket eights to reveal his
for the turned straight flush and another victim went to the rail on Day 1b.
Joe Sebok, resplendent in a cape and crown as a result of winning his prop bet with Gavin Smith and Jeff Madsen, made it through his first day on a short stack. Sebok ran A-K into pocket kings just before play ended for the day and clawed his way back to 10,000 chips by the final hand. Patrik Antonius doubled up to 29,500 at the end of the day when he shoved pre-flop with
and was called by
. Antonius flopped a jack to double through his opponent.
The top ten in chip counts for Day 1b of the Main Event are as follows:
Dag Martin Mikkelsen 236,000
Jeff Banghart 186,200
Albert Strickland 180,700
George Dunst 168,900
Lewis Pilkington 166,000
John Sacha 163,400
Sven Anders Johnsson 161,100
Jason Welch 160,500
Frank Bluemlein 152,400
John Duthie 151,300
Other names of note high on the board include Rep Porter, David Pham, Nguyen, Johnston, Josephy, John Strzemp, Jan Sorenson, Sabyl Cohen, Alex Kravchenko and Donnacha O'Dea.
Two 'Day 1' sessions remain, with estimates on the total number of Main Event entrants now centering around 6,000. Join PokerNews.com's 'Live Reporting' of the Main Event at noon PDT today. 1,606 players were already registered for Day 1c at last report.