WSOP Updates, $10,000 Main Event, Day 1c – Norman, Barnard, Olson Top 200,000 Chips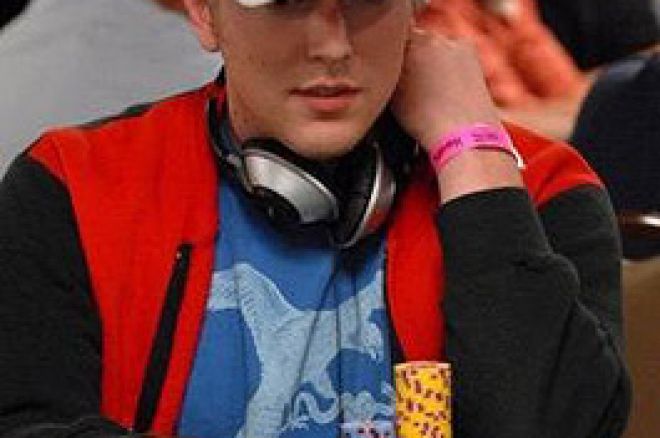 Day 1c of the 2007 World Series of Poker Main Event was the biggest yet, with 1,743 players entered for what was originally scheduled to be the final Day One of the event. With three days' attendance in the books, the total field is now likely to be close to the 6,000-player mark. It will almost certainly eclipse the size of the field in from 2005, while still lagging well behind the record 8,773 players from last year's Main Event.
Among the notable players to start the field on Day 1C were Phil Ivey, Vanessa Rousso, Kenna James, T.J. Cloutier and Andy Bloch. None of these made it past Day One, as more than half the field went to the rail before play ended at almost 3:30am.
As always, the Main Event attracted non-poker celebrities. Light Heavyweight World Champion Antonio Tarver told players this would be their only chance to knock him out, while Jose Canseco took a chance at hitting one last long shot out of the park. Neither the baseball legend nor the boxing superstar made a new career at the poker table, as both were eliminated before the dinner break. Canseco was eliminated when he called Amir Vahedi's all-in on a flop of
. Canseco tabled A-J for the flopped Broadway straight, but Vahedi held
and filled his nut flush on the river to eliminate the former slugger.
Actor/poker players Jennifer Tilly and Shannon Elizabeth have spent the past several years proving themselves more than a novelty act at the poker table, particularly 2005 Women's WSOP Champion Tilly. They joined actor Jason Alexander in giving the field a little Hollywood sparkle to go with the Vegas neon glow, but only Alexander survived to see Day 2b. It didn't take long for the action to get too "hot in herre" for Nelly, as the four-time Grammy winner was eliminated in his quest for his first WSOP bling.
It wasn't all athletes and actors on Day 1C; there were five former World Champions in the field as well. Robert Varkonyi, Brad Daugherty, Chris Moneymaker, Greg Raymer and Chris 'Jesus' Ferguson all started on Day 1c. Raymer was eliminated early in the day when his open-ended straight draw didn't catch up to his opponent's flopped bottom set. All four other Main Event winners made it through to Day 2b.
The addition of a fourth Day 1 created a second Day 2, which caused some confusion for players on Day 1C. Originally, there were three Day 1s, which all converged on a single Day 2. With four Day 1s, a second Day 2 was added, and players who made it through Day 1c and 1d will compete on Day 2b.
Other notable survivors of Day 1c included Todd Brunson, Chad Brown, Allen Cunningham and Bernard Lee. Day 1c was good for the internet pros as well, with internet poker gurus Darrell 'Gigabet' Dicken, Matt 'SamENole' Smith and Taylor 'Green Plastic' Caby surviving the day.
Mike 'The Mouth' Matusow provided entertainment for his table as usual, fortunately this time not by singing. As the Planters Peanuts mascot passed by the table, Matusow started a mock brawl with the giant walking peanut, tackling him and trying to wrestle the peanut to the ground. Mr. Peanut escaped unharmed, as Matusow's Greco-Roman skills couldn't bring down the big legume. His tablemates asked him later, "What's the matter, Mike? You don't like the nuts?" No peanuts were harmed in the writing of this recap.
Mike Panzarella fell victim to "nuts" of a different kind, eliminated on a 1,000-to-1 hand. With pocket aces, Panzarella caught the perfect flop an A-7-2 rainbow board. By the river, Panzarella bet 7,000 on his full house as the turn and river both were eights. His opponent, Takashi Takii, re-raised all in and Panzarella insta-called. Takii turned over
for runner-runner quads, sending Panzarella to the rail with a bad beat story that, like most, started with "So I had pocket aces...."
As the evening wore on and the blinds increased, the pace of eliminations picked up. Vanessa Rousso was eliminated when her pocket fives made a set on the flop and all the money got in the middle, only to see her opponent turn over pocket queens for top set. Gavin Griffin went to the rail when he couldn't fill a flush draw against an opponent's pocket aces, and Steve Brecher was eliminated when his
did not improve against Richard Weisman's
.
When play ended for the day, Jeff Norman sat atop the leader board, followed closely by Tom Bernard and Carl Olson, who has four cashes already in the 2007 WSOP, with Daniel Alaei in sixth. The top ten in chips after Day 1c are as follows:
Jeff Norman — 281,300
Thomas Barnard — 248,900
Carl Olson — 226,100
Michael Ium — 193,800
Juan Fernandez — 188,100
Daniel Alaei — 187,700
Philip Hilm — 177,700
Christoffer Baar — 177,700
Chuck Kelley — 164,800
Richard Weisman — 157,600
Other players on note high on the Day 1c board include Dicken, Lee Watkinson, J.C. Tran, Francois Safieddine, Warren Karp, Hasan Habib and Fabrice Soulier. Day 1d will commence at noon PDT. Join PokerNews.com's 'Live Reporting' from the WSOP Main Event for the latest updates.