WSOP Updates, $10,000 Main Event, Day 2b – Gus Hansen Leads as Money Bubble Nears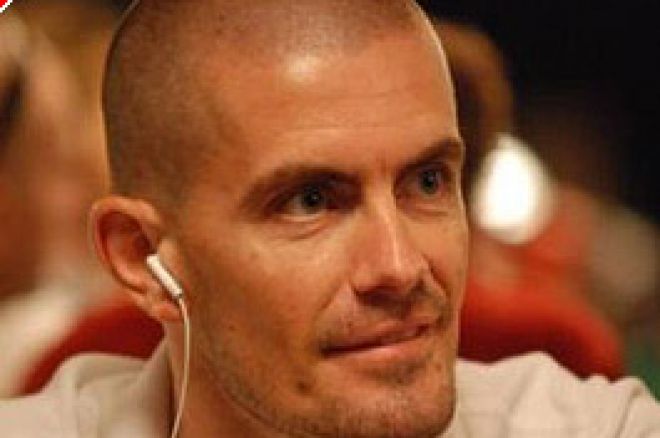 1,303 players returned to the Amazon Room at the Rio for Day 2B of the 2007 World Series of Poker Main Event, with some of poker's biggest names in the field. Former World Champions Chris Ferguson, Brad Daugherty, Carlos Mortensen, Robert Varkonyi and Chris Moneymaker were among those present.
Less than half the starting field survived Day 2B, with internet and brick-and-mortar poker stars alike falling on the day. Moneymaker and Daugherty were eliminated, as were Daniel Negreanu, Allen Cunningham and Phil Gordon. Several internet stars were in the field as well, with Sorel 'Imper1um' Mizzi, Darrell 'Gigabet' Dicken and Matt 'SamENole' Smith making it through the day, though Prahlad Friedman was not as fortunate. Friedman was joined on the rail by Taylor 'Green Plastic' Caby and Jon 'PearlJammer' Turner.
Tony Hachem made a strong showing on Day 2B, taking advice from his brother, 2005 World Champion Joe Hachem. Tony ended the day with a healthy chip stack, as did Gavin Smith, rallying from the short stack several times to finish the day in the middle of the pack as his prop bet buddies Joe Sebok and Jeff Madsen looked on.
Celebrities Jason Alexander and Sully Erna made it through Day 1 to play on this Day 2B; Alexander was eliminated early in the day when he moved all-in with
and was dominated by an opponent's
. When the board finished
, the opponent's ace played and Alexander was eliminated. Erna, of Godsmack fame, made it through Day 2B on the short stack and will return on Day 3 to vie for his second cash of the WSOP Main Event (he made the money in 2006).
Two of the most popular players in the field were Phil Gordon and Daniel Negreanu. Unfortunately, the affable stars were both eliminated from the Main Event on Day 2B. Gordon pushed all in pre-flop with
from a blind, and was called by an opponent with
. The flop left Gordon drawing nearly dead with
, and the
on the turn sealed Gordon's fate. The author and poker champ will have to wait at least another year for his first WSOP bracelet.
Negreanu missed a gutshot for his elimination when he called an all-in with
on a flop of
. His opponent showed the other two eights for top set, and Negreanu looked for a nine for his straight after the
turn. No nine on the river arrived, however, and Kid Poker's Main Event dreams for this year ended.
Superstar Gus Hansen went on a tear early in the day and never looked back, finishing the day atop the board, just ahead of Hevad 'Rain' Rain Khan. Hansen already logged one big tournament win this year, the Aussie Millions at the Crown Casino in Australia, and came to the WSOP looking to add his first World Series bracelet to his four World Poker Tour titles.
Hansen spent a large part of his day sharing a table with two of the other top three players in the field, Khan and Mizzi. All three survived the day with top ten chip stacks, making a deadly gauntlet for anyone unfortunate enough to get moved to their table. All three players brought to the table a wealth of live and online experience, with Khan and Mizzi having gained as much fame online as Hansen has in televised tournament play. Mizzi has spent a large part of the last two years ranked #1 by online poker sites for his tournament play.
Two members of the Brunson family made it through Day 2B of the Main Event, neither named Doyle. Todd Brunson and his sister Pamela both played on Day 2B and both survived with short stacks to return for Day 3.
Vinnie Vinh became one of the biggest stories of the World Series when he cashed in two preliminary events without returning to play on Day Two. Vinh played the Main Event on Day 1D, but vanished after the dinner break. He returned for Day 2B, but busted on the second hand of the day when his short stack was rivered by an opponent's better two pair. Hockey's Rick Tocchet also failed to show up for Day 2B play, though the exact reason for his no-show remains unknown.
No day of the World Series Main Event can pass without a few odd hands and floor calls, and this one was no exception. In a hand that proved poker is not the same as real life, Tommy Giampaolo was penalized for telling the truth. When he was asked "Do you have the king?" Giampaolo replied "Yeah, I have the king." After his opponent mucked, the floor was called for a ruling and Tommy G was given a nine-hand penalty for disclosing what his hand was. "Had you told a lie about the hand, that would have been okay," the floor staff informed him.
Action concluded after the exact same amount of elapsed play time as on Day 2A, one hour and 20 minutes into the day's fifth level, with 459 players left in the Day 2B field. The top ten for day 2B are as follows:
Gus Hansen — 622,300
Hevad Khan — 592,500
Brent Sheirbon — 549,300
Markus Gonsalves — 512,400
Robert Nehorayan — 505,700
Richard Weisman — 495,400
Bill Edler — 486,700
Sorel Mizzi — 457,100
Christian Toth — 452,900
Andy Philachack — 451,500
Other players high on the 2B board include Shawn Chaconas, Carl Olson, Matt Keikoan, Francois Safieddine, Dario Minieri, Fabrice Soulier, Chad Brown, Hasan Habib, Peter Feldman, Ted Forrest and Carlos Mortensen.
Action resumes today at Noon PDT as the 808 survivors of Day 2A and 2B are merged and play toward the money bubble, which should burst early on Day Three. Visit the 'Live Reporting' section here at PokerNews.com for the latest happenings.