WSOP Updates, $10,000 Main Event, Day 3 – Dario Minieri Surges as Cash Bubble Bursts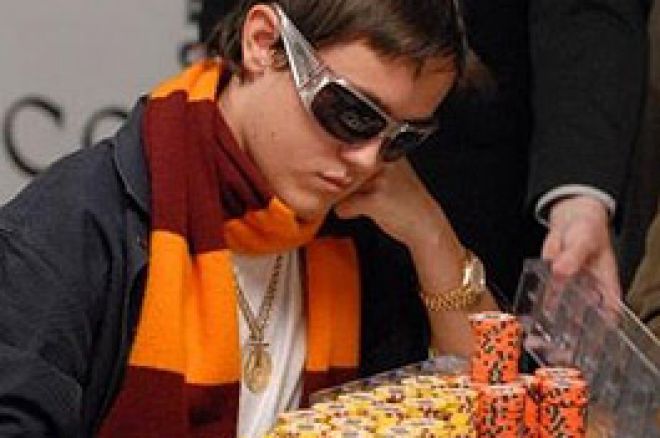 797 players survived the six days that made up Days 1A-D, Day 2A and Day 2B of the 2007 World Series of Poker Main Event. 621 of them made the money in the highest-profile poker tournament of the year, and 337 of them survived to play on Day 4 and work closer to the final table and poker history.
Day 3 was a day of tension and waiting, as short stacks tried to hold on to cash, and big stacks tried to bully them around and build bigger towers of chips. When the day was finished, five former World Champions were still standing, testament to the skill required to play large-field tournaments year in and year out. Robert Varkonyi, Berry Johnston, Huck Seed, Carlos Mortensen and Scotty Nguyen all made it through Day 3, leaving only 2000 Main Event Champ Chris 'Jesus' Ferguson on the rail.
Two players that survived Day 3 have already won bracelets in 2007. Alex Kravchenko and Bill Edler picked up bracelets in preliminary events, and are now trying to win the biggest prize in poker for the first time. Internet superstars had a good day Wednesday, as Sorel 'Imper1um' Mizzi, Jared 'Waco Kid' Hamby, Darrell 'Gigabet' Dicken, Hevad 'Rain' Khan, Matt 'Mattster24' Sterling, and Peter 'Nordberg' Feldman all made it through to Day 4. Young Italian star Dario Minieri of PokerStars fame had the biggest Day 3 of all, amassing a huge stack of chips by the end of night's play.
But Day 3 wasn't good to all the poker celebrities, as Robert Mizrachi, Todd Brunson, Cliff 'JohnnyBax' Josephy, Amnon Fillipi, Gavin Smith, Chip Jett and Tony Hachem all went to the rail. The Mizrachi surname had been in the forefront of tournament poker for several years now, and at this World Series, it was Robert taking the lead, winning his first bracelet and outlasting brothers Michael and Eric to cash in the Main Event. The Williams household was also represented, as mom Shirley cashed in her first Main Event while son David (2004 Main Event runner-up) watched from the rail.
But as everyone knows, there's never been a bigger name in poker than Brunson, and there were still two Brunsons in the Main Event at the beginning of Day 3. Todd Brunson busted first, when his pocket queens were out-flopped by an opponent holding
. An ace on the flop left Todd's sister Pamela as the last Brunson in the hunt, but she was eliminated when her
fell to her opponent's
, again when an ace flopped.
The field of celebrities at the 2007 Main Event included movie stars, musicians, hockey players, retired baseball players and writers. At the end of Day 3, three of those celebrities remained: actor Tobey Maguire ("Spider-Man"), musician Sully Erna (lead singer, Godsmack), and television writer/producer Sam Simon (co-creator of "The Simpsons"). Maguire and Erna spent time at the same table thanks to the random redraws, and Erna caught a miracle card during hand-for-hand play to survive into the money.
In Erna's big hand, the button raised and Erna called from the small blind. Erna check-raised all-in on the flop of
, and his opponent called with
. Erna turned over
for middle set and was ahead until the
gave his opponent the gutshot straight. Erna faced elimination on the bubble until the
came on the river to make Erna's full house and move him into the money.
"That's why I play poker!" Erna shouted as the pot was pushed his way.
The bubble was the story of the day, as players tried to make moves to increase their stack, or just survive as the magic number of 621 came ever closer. Lee Watkinson had a big stack as hand-for-hand play began, and he used it to bully his opponents and increase his lead over his table. With eight short stacks surrounding him, Watkinson raised blind to 150,000 every hand, forcing players clinging to chips near the bubble to go all-in to call him. Watkinson did this all fifteen hands of hand-for-hand play, putting on a textbook display of big-stack bubble play.
Brian Senie was the other end of the bubble spectrum, with just enough chips to post his small blind and ante as applause broke out over the room, and he heard the sweetest sounds a short stack in the Main Event can hear, a floor person yelling "Congratulations, everybody!" Senie's luck was John Sigan's downfall, as Sigan lost to Vandy Krouch's gutshot straight and exited as the bubble boy of the 2007 WSOP Main Event.
Hal Lubarsky quickly became one of the best stories at the Main Event when he reached Day 3, and then became the first blind player to cash in the WSOP Main Event. Lubarsky was diagnosed years ago with retinitis pigmentosis, and he became the second blind player to play the Main Event when he played Day 1d. Lubarsky sat with an assistant to read his cards and whisper the action to him, and made it through Day 3 in the middle of the pack.
Gus Hansen started the day as the chip leader, and finished just outside the top ten in chips after a typically active day for him. Hansen eliminated EPT founder John Duthie and crippled internet legend Cliff 'JohnnyBax' Josephy in quick succession in mid-day. Hansen caught an ace on the flop to crack Duthie's queens and send him to the rail, then showed the nut full house against Josephy's smaller boat to cripple Josephy, who was eliminated a few hands later when he made a stand with K-9 and ran into pocket kings.
Hevad Khan started the day with one of the biggest stacks, and finished up the same way, due in part to skill honed at the online tables. Khan once had to send a videotape to PokerStars to prove he wasn't a poker bot when he was logged playing up to 28 sit-'n'-go tournaments at the same time. In one notable hand, Khan moved all-in pre-flop and was way behind when his opponent turned up pocket aces versus Khan's
. Khan, though, caught a perfect
. The
on the turn sealed the win and the double-up for Khan, who finished Day 3 with well over a million chips.
When play concluded for the evening, the 337 players were led by Minieri, who had accumulated nearly 2.4 million in chips. The leader board at the end of Day 3 is as follows:
Dario Minieri — 2,398,000
Jeff Weiss — 1,533,000
Jon Kalmar — 1,410,000
Hevad Khan — 1,319,000
Kenny Tran — 1,175,000
Steven Jacobs — 1,127,000
Brock Parker — 1,089,000
Robert Neitrayan — 1,058,000
William Spadea — 1,057,000
Nicolas Atlan — 1,057,000
Other players of note in the top 50 include Hansen, Rep Porter, Conor Tate, Isaac Haxton, Kirk Morrison, Francois Safieddine, Lee Watkinson, Sverre Sundbo and Bill Edler.
Day 4 play begins at noon PDT, with the latest updates available in the 'Live Reporting' section here at PokerNews.com.