WSOP Updates, $10,000 Main Event, Day 4 – Dag Martin Mikkelson Returns to Lead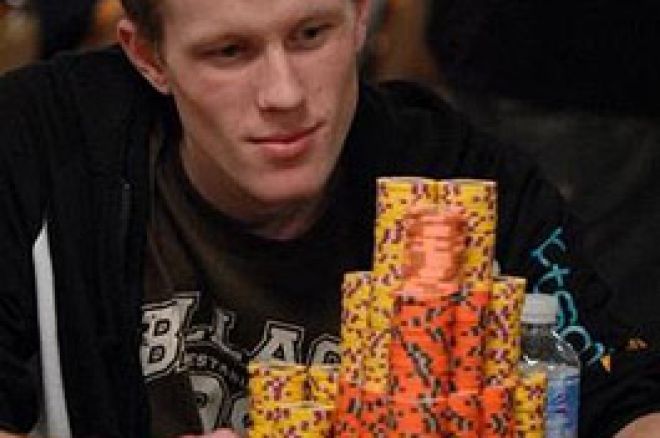 337 players started Day Four of the Main Event of the 2007 World Series of Poker; two thirds of them would exit by the end of the day's action. Only 112 players remain, beginning Day Five, chasing the Main Event Championship and $8.5 million first prize. Among the casualties of Day Four were three former World Champions, a rock star, a couple of internet celebrities, and one superhero.
Notable players still alive in the Main Event include Gus Hansen, Lee Watkinson, 2007 WSOP bracelet winners Bill Edler and Alex Kravchenko, Evad 'Rain' Khan, Jee 'Mr. Rain' Banghart, Humberto Brenes, Ed de Haas, Mikkel Madsen and Chad Brown. Day Four's early leader, Dario Minieri, took a dip in chips, but still finished the day in the middle of the pack. In a field that featured several of the top Internet tournament players in the world, Day Four created some notable casualties among the internet pros. Sorel 'Imper1um' Mizzi was eliminated when Ed Betlow turned two pair to send him to the rail. Mizzi raised pre-flop and found two callers, seeing a flop of
. Mizzi bet, Betlow raised and Mizzi moved all-in over the top. Betlow called and turned over
for middle pair, top kicker. Mizzi was ahead with
(top pair, second kicker), but was crushed when the turn brought the
. The river was the
and Mizzi was eliminated.
Five WSOP Main Event champions started the day, but only two finished with chips. Robert Varkonyi, Carlos Mortensen and Berry Johnston all went to the rail, leaving only Scotty Nguyen and Huck Seed with a shot at a second ME title. Johnston went to the rail just before play ended for the day, pushing his short stack in with bottom pair on a flop of
. Jeff Tunkel called with
for top pair, top kicker, and Johnston's
did not improve. Johnston won the WSOP Main Event in 1986.
Varkonyi, the 2002 Main Event Champion, was eliminated when his
was dead to a chop against Mickey Seagle's A-Q when the flop brought
for Seagle's straight. No queen arrived on the turn or river and Varkonyi was eliminated. Carlos Mortensen, who won the Main Event in 2001 and this year won the WPT Championship to become the first person to ever win both events, ran jacks into queens and was eliminated by Bo 'Legato' Sehlstedt when he failed to improve.
Day Four also saw the play of the bubble sit-'n'-go, a consolation prize tournament offered to the final few players eliminated in the Main Event. The winner of the single-table tournament won a $10,000 entry into the 2008 Main Event, plus a year's supply of Milwaukee's Best Light. Lee Dryer came back from his bubble bust on Day Three to win 48 cases of beer and a freeroll into next year's Main Event.
The day started with three celebrities from outside the poker world remaining – 'Simpson's' co-creator and producer Sam Simon, Godsmack singer Sully Erna and actor Tobey Maguire, best known for his role as Spiderman. All three cashed in the event on Day Three and were playing for bragging rights and deep money. Simon's run ended early, as Robert Starkey out-flopped him with
on a board of
. Simon moved all-in with
, Starkey called, and the turn and river didn't help Simon, sending him back to Springfield early on Day Four.
After three days of solid play, Maguire ran into a classic cooler, crippled by Donnacha O-Dea when Maguire ran pocket kings into O-Dea's pocket aces. The flop came
, all the money went in the middle of the table, and Maguire failed to improve, leaving Godsmack's Sully Erna as the last celebrity standing.
In an interesting hand, Erna moved all-in from under the gun, and Andrew Barnes smooth-called. Charis Anastasiou moved all-in over the top to isolate, and Barnes thought for a minute before folding pocket queens. Anastasious revealed
, and Erna turned over
. When the board ran out
Barnes was a little ill, and Erna was eliminated from the Main Event.
Gus Hansen started the day with a big stack, but took a big hit shortly after moving to Lee Watkinson's table. Hansen raised to 52,000 pre-flop from late position, and Watkinson called from the big blind. Both players checked the flop of
, and the turn brought the
. Watkinson led out for 75,000 and Hansen called. When the
came on the river, Watkinson immediately bet out 150,000. Hansen went into the tank, looking repeatedly back at Watkinson for information, but none was forthcoming. Hansen finally called, and Watkinson turned of
for top two pair. Hansen mucked, his stack down to 900,000 after the hand.
A few hands later, Hansen climbed back into contention by doubling through Tuan Lam. Lam raised pre-flop and pushed all-in when Hansen re-raised. Hansen called with pocket tens, drawing to two outs against Lam's pocket queens. The flop, though, came
, and Hansen doubled up on with the bad beat. Both Lam and Hansen made it through Day Four, Lam with almost 2 million in chips, and Hansen with about 1.5 million.
Humberto Brenes lived for the cameras at the ESPN feature table, busting Wolbert Bartlema in typical outlandish 'Shark' fashion. Brenes raised pre-flop from under the gun, and Bartlema re-raised all-in. Brenes had him covered and quickly called. When the hands were revealed, Brenes held
to Bartlema's
. Brenes stood triumphantly, addressed the crowd and loudly asked, "Who have the best hand?" An excited crowd packed into the ESPN feature table area yelled in unison: "HUMBERTO!" The board didn't improve Bartlema's hand, who was eliminated as Brenes broke the million-chip mark.
Hal Lubarsky provided one of the greatest stories of the 2007 Main Event, becoming the first legally blind player to cash in the WSOP Main Event. Lubarsky's great run ended on Day Four when he couldn't catch a straight on the river to pull ahead of Scott Freeman. On a board reading
, Lubarsky moved all-in over the top of Freeman's bet, but his
was well behind Freeman's turned set of sixes. The river didn't bring the nine for Lubarsky's straight, and he was eliminated. Nolan Dalla called Lubarsky up onto the podium after his elimination to recognize his amazing accomplishment. Despite being legally blind, Lubarsky outlasted over 6,000 players in the Main Event, providing a moment of inspiration stretching far beyond the poker community.
The end of day saw Day 1b chip leader climb to the top of the board, finishing with 3.74 million in chips. Charis Anastasiou and Richard Harris hold spots two and three, with Kravchenko and Khan also in the top ten, which ended the night as follows:
Dag Martin Mikkelsen — 3,740,000
Charis Anastasiou — 2,672,000
Richard Harris — 2,662,000
Avi Cohen — 2,392,000
Jeff Tunkel — 2,323,000
Alex Kravchenko — 2,274,000
Hevad Khan — 2,200,000
Ryan Elson — 2,137,000
Paul Spitzberg — 1,963,000
Sven Niklas Heinecker — 1,908,000
Other players high among the remaining 112 players include Julian Gardner, Philip Yeh, Hansen, Jeff Banghart, Matt Keikoan, former champ Seed, Minieri, John Spadavecchia, Rep Porter, Cory Carroll and Kirk Morrison.
Day Five action will narrow the field to 27. Visit PokerNews.com's 'Live Reporting' section, with play resuming at noon PDT today.