EPT Barcelona Day 2 Report: Mohamad Kowssarie Takes Command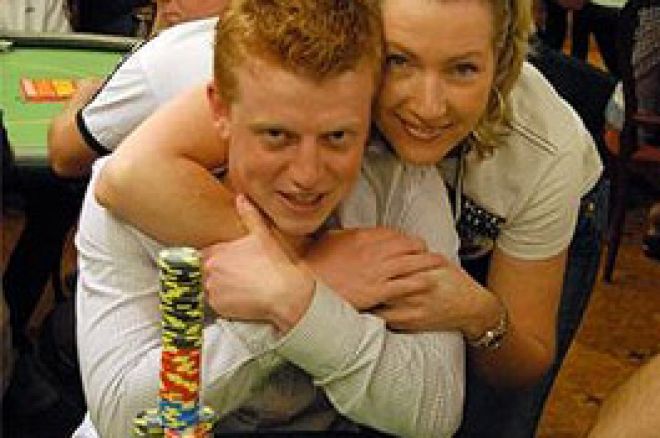 204 players returned for Day 2 of the PokerStars European Poker Tour Barcelona championship on Thursday. 56 of the 204 remained at the end of the day's play, all guaranteed at least a €10,500 payday. Players 42 countries on six continents converged on Barcelona for this kickoff to the European Poker Tour's fourth season, all vying for the €1,170,700 first-place prize money.
Starting the day atop the chip counts was Daniel 'Ansky' Stern from the US, followed by Thomas Wahlroos of Finland and Fabrice Soulier from France. None of those names would be in the top third of the leader board by day's end, as the chips flew quickly across the tables in the Casino Barcelona today.
The top ten chip stacks looked like this when play began:
Daniel 'Ansky' Stern (USA) - 101,500
Thomas Wahlroos (Finland) - 87,800
Fabrice Soulier (France) - 78,400
Gregory Dyer (USA) - 76,500
Mark Teltscher (UK) - 67,300
Mark Vos (Australia) - 64,300
Sander Lylloff (Denmark) - 62,600
Joris Bernard Jaspers (Holland) - 62,150
Jean Paul Pasqualini (France) - 61,900
Sverre Sundbo (USA) - 60,500
Action was quick on Day 2, with almost 150 players eliminated in barely eight hours of play. Popular poker pro Phil Gordon was among the early knockouts, when he pushed his short stack in pre-flop with
, only to run into pocket aces. No miracle came for Gordon and he was eliminated early in the action.
Paul Wasicka was very active early, eliminating two players in one hand early when his pocket eights made a set on the flop against one opponent's A-T and Annette 'Annette_15' Obrestad's pocket kings. Wasicka nearly tripled up as his opponents went to the rail. Wasicka continued his aggressive play for much of the early going, taking over the chip lead at one point. Eventually, however, the cards turned, and Wasicka was eliminated just out of the money.
After losing a big confrontation with Adam Junglen, Patrik Antonius was left with a short stack. Junglen raised pre-flop from the cutoff and Antonius called from the big blind. Junglen fired again on the
flop and Antonius called. When the
came on the turn Antonius checked, and Junglen counted chips for a moment before announcing, "All in." Antonius thought for a few long moments before folding. Antonius put the rest of his chips in the middle a few hands later with pocket deuces, but ran into pocket queens and was eliminated.
Some of the biggest names in poker returned to the felt for Day 2, but most didn't make it through to Day 3. Daniel Negreanu picked up pocket aces several times on Day 1b, but was eliminated shortly after the dinner break on Day 2 when his pocket queens didn't hold up in a classic coin flip against his opponent's A-K.
Johnny Chan also went to the rail in the early evening when he got all his chips in the pot in a three-way hand with
versus
and
. The flop of
gave Chan an inside wheel draw, but no deuce or ace came on the turn or river and Chan was eliminated.
Rayan Nathan was very active on Day 1, but ran into a monster in Fabrice Soulier to end his tournament hopes. The short-stacked Nathan raised preflop and got two callers, Soulier among them. When the flop came
, Nathan pushed all in with
. Soulier easily called with
, his flopped set cracking Nathan's aces to send Nathan to the rail. That hand temporarily moved Soulier to the chip lead, but he was unable to hold onto it and finished the day on a short stack.
Mohamad Kowssarie finished up Day 2 with the chip lead, after a day of slowly but steadily increasing his stack. The first player to cross the 300,000 chip mark, Kowssarie ended the day's play with a comfortable cushion going into Day 3. Unofficial counts have the top ten chip stacks after Day 2 play as follows:
Mohamad Ali Kowssarie – 301,000
Mark Teltscher – 250,000
Adam Marc Junglen – 220,000
Christopher Ulsrud – 200,000
Pete Giordano – 200,000
Patrick Bruel – 177,000
Dag Martin Mikkelsen – 150,000
Nikolaus Jedlicka – 135,000
Andrey Zaichenko – 120,000
Voitto Aulis Rintala – 117,000
Other notable players who made it through Day 2 include 2006 EPT Barcelona champ Bjorn Erik Glenne, Katja Thater, Mark Vos and Daniel 'Ansky' Stern, who finished the day very short in chips after beginning Day 2 play with the chip lead.
56 players will return to battle down to the final table tomorrow. Join PokerNews for all the live updates, chip counts and interviews as the PokerStars European Poker Tour plays out in Barcelona.