Van Marcus Leads APPT Manila Final Table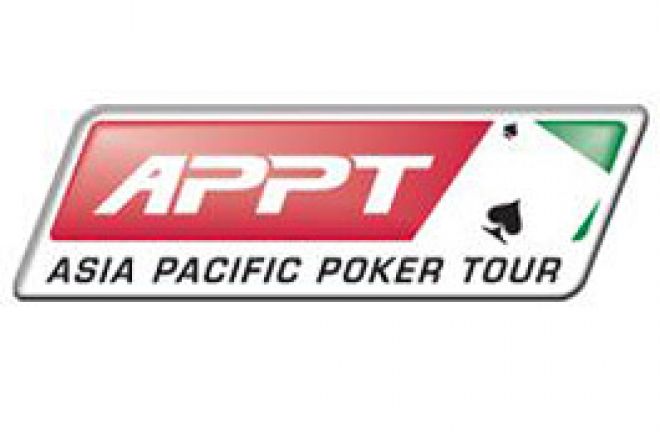 72 players returned to the felt to battle down to the final table of the PokerStars Asia Pacific Poker Tour Main Event today, with David Saab leading the chip stacks with over 100,000 in chips. Play continued until the final nine players were determined, with the money bubble at 24 players paid.
Tournament Director Danny McDonagh started Day 2 with a move popular with all the remaining players – winding back the clock one level. McDonagh thanked his dealers and tournament team for their excellent work, especially considering this is the first major tournament for most of the staff. McDonagh acknowledged that the dealers were not as quick as international standards would expect, so he put one level back on the clock to compensate. This floor decision was met with a unanimous round of applause from the players.
Once play commenced, the bustouts came fast. Alan Escano busted in the first three hands when he ran his
into Domingo Chua's
. He had plenty of company on the rail early, as Andrew Gaussen, Lau Ming Chak, Jethro Horowitz, Gerald Treglio, William Lin, Danny Byun, Masaaki Kagawa, Wai Kei Liu and Hiroshi Shimamura all busted in the first hour of play.
Day One leader David Saab continued his aggressive play early, but ran into a big draw and found himself crippled early in the afternoon. With
, Saab called a preflop raise from Derick Hernandez. Alex Pagulayan came along for the ride, and Pagulayan moved all-in on the flop of
. Hernandez called, and Saab moved all-in over the top for another 120,000. Hernandez went into the tank and finally called, tabling
. Pagulayan was well behind Saab's set of eights with
, and the
on the turn pushed Hernandez into the lead in the hand with the made flush. The
on the river didn't fill Saab up, and he was left crippled as Pagulayan was eliminated and Hernandez dragged a monster pot. Hernandez eliminated Saab soon afterwards when his pocket sixes held up against Saab's
.
As the money bubble neared, play tightened up and the pace of bustouts slowed to a trickle. The prize pool paid out the top 24, and players redrew for new seats when the field narrowed to 32. Play also shifted to 8-handed tables until the final table was set. McDonagh and his staff debuted a new tournament software to assist with redraws in this event, and the redraw for four tables took less than five minutes to have players back in their seats and flinging chips again. This type of innovation is a hallmark of McDonagh's, who has been known for years as a pioneer in the Pacific Rim poker scene.
The bubble burst before the dinner break, as Norihito Suzuki got his short stack all-in with
against Steve Junhee Yea's
. No help came on the board of
, and Suzuki was eliminated in 25th place, one out of the money.
Dan Idema was the first to bust out after the bubble, finishing in 24th place for $4,794 when his
couldn't outrun Steven Djingga's
. The flop of
gave Idema a few more outs for a straight, but the
on the turn and
on the river sealed his fate and sent him home.
Play loosened up a bit after the dinner break, with Jean-Marc Hauducoeur, Ronald Singson, Seung Soo Jeon and Kelly Flynn all busting out in the first level after dinner. All four men collected $4,794 for their finish. Kazuhiro Sato picked up a one-round penalty for acting out of turn, as he went all-in over the top of Carlo Gosselin's re-raise with other players still to act in the hand. The ruling from the floor was that Sato's action was binding unless a player with action between Gosselin and Sato decided to raise before the action got to Sato. Gosselin open-folded his pocket jacks, and Sato showed his pocket kings before the penalty was assessed. Sato weathered the round of being blinded off well enough to make the final table.
After Djingga (19th) and Nicolas Chouity (18th) both fell to Hernandez, Eric Sia was eliminated in 17th to bring the field down to two tables. After a redraw for seats, Roger Spets held the lead with 340,000 in chips, with Hernandez in second.
Se Jim Lee wasted no time in pushing his short stack into the middle, busting in 16th when his all in move with
was called by Maor Feldinger with
. Lee picked up a flush draw on the turn, but no help on the river, and was eliminated in 16th for $5,993. Ronald Javier was next to fall, busting in 15th when his
couldn't outrun Kazuhiro Sato's pocket kings on a board of
. Then, Spets sent Carlos Lascano to the rail when his
flopped a set against Lascano's
. Javier and Lascano both took home $5,993 for their two days' work.
Alexander Fitzgerald caught a lucky flop of
after moving all-in with
, but the Ks on the turn paired Ira Blumenthal's
. No help for Fitzgerald from the river
, and he was eliminated in 13th place for $5,993. Play tightened up after Fitzgerald's exit, as players hung on to make the televised final table.
Australian pro Van Marcus took full advantage of his opponents' tight play, picking up many pots uncontested, and then sent D'Amor Nario to the rail in 12th when Nario's
couldn't catch a piece of the board to best Marcus' pocket eights. Soon after, Carlo Gosselin found himself drawing thin with
against Nicholas Bamman's
. No ace arrived for Gosselin and he was eliminated in 11th. Nario and Gosselin both collected $8,390 for their finishes.
The final-table bubble burst and play ended for the night when Marcus eliminated Steve Junhee Yea. Yea pushed all-in from the small blind with
, and Marcus called quickly with
. Marcus picked up an ace on the flop, and no help came for Yea on the turn or river as he was eliminated in 10th for $8,390.
The knockout gave Marcus a sizeable advantage entering tomorrow's final table, with Roger Spets his nearest challenger. The seating assignments and chip counts will look like this as players return tomorrow for their date with the final table:
Seat 1: Derrick Hernandez — 287,000
Seat 2: Nicholas Bamman — 240,000
Seat 3: Roger Spets — 413,000
Seat 4: Brett Parise — 173,000
Seat 5: Ira Blumenthal — 184,000
Seat 6: Maor Feldinger — 199,000
Seat 7: Bas ver Liere — 207,000
Seat 8: Kazuhiro Sato — 109,000
Seat 9: Van Marcus — 738,000
Join PokerNews at 2PM local time (GMT +8; 2AM ET) as we bring you live updates of all the action from the PokerStars Asia Pacific Poker Tour stop in Manila.