Beverley Pace Wins PartyPoker Women's World Open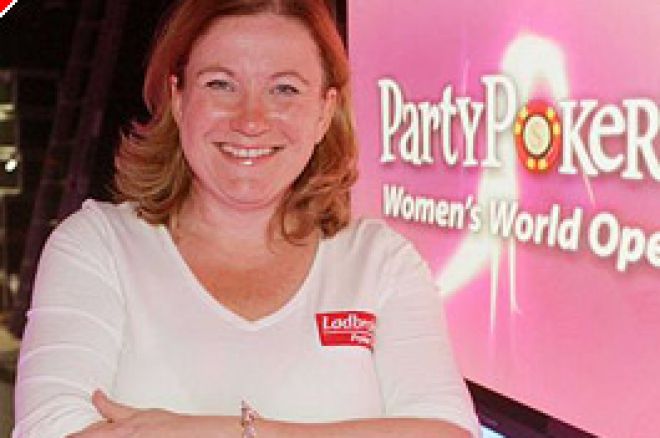 The inaugural PartyPoker Women's World Open in London concluded late last week with Beverley Pace emerging as the winner. Pace, the wife of noted comedian/poker-player Norman Pace, overcame Jen Mason to take down the $50,000 winner's prize.
Pace survived a see-saw battle against Mason, finally pulling out the win when her pocket sixes held up against Mason's A-J. "I'm very happy," said Mason. "This is my first big win and I intend to
give myself a bankroll to play more tournaments for bigger stakes in the near future."
Mason, for her part, adds this runner-up finish to a string of recent strong performances that have established her as one of the game's most dangerous female players. Pace noted that she was pleased to beat Mason. "I have huge respect for her [Mason], and she has taught me a lot on the circuit," said Pace, "Perhaps she didn't do herself any favors as I have picked up a lot about how she plays!" For her part, Mason won't be dropping from view any time soon. PokerNews.com readers can enjoy her poker-reporting expertise later this week, as Mason is part of our live coverage team for the National Poker League's inaugural UK Open main event. That coverage begins on Friday, and will be available in our exclusive 'Live Reporting' section.
As for Beverley Pace's breakthrough win at the Party spectacular, she pointed to a key hand where she pushed all in with pocket eights against Jackie Vaswani (wife of Ram Vaswani) and eliminated Vaswani in fifth. The hand propelled Pace into serious contention. "I had respect for my opponents on the final table but I did think I was in with a good chance," she said.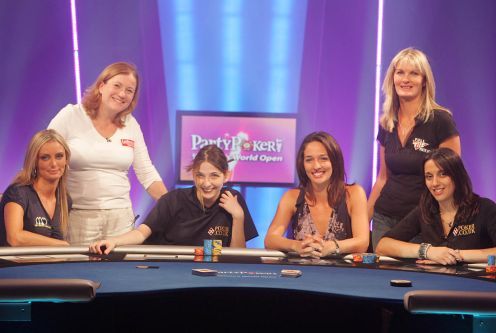 Final Table Participants, (L to R)
Bronwyn Campbell, Bev Pace, Jen Mason, Kara Scott, Jackie Vaswani, Maria Demetriou
The event carried a $3,000 buy-in and featured many notable players, including Liz Lieu, Jennifer Tilly, Shannon Elizabeth, Katharine Hartree, Maria Demetriou, Xuyen "Bad Girl" Pham, former PartyPoker World Open winner Pippa Flanders, European Ladies champion Jackie Meecham and Lucy Rokach. The six-player final will be televised at a later date on the UK's Channel Five. The final-table payouts were as follows:
1) Beverley Pace, UK $50,000
2) Jen Mason, UK $22,000
3) Maria Demetriou, UK $14,000
4) Bronwyn Campbell, Canada $10,000
5) Jackie Vaswani, UK $7,000
6) Kara Scott, UK $5,000