Doyle Brunson & Dewey Tomko Hold High Stakes Golf Launch Party at Venetian Last Night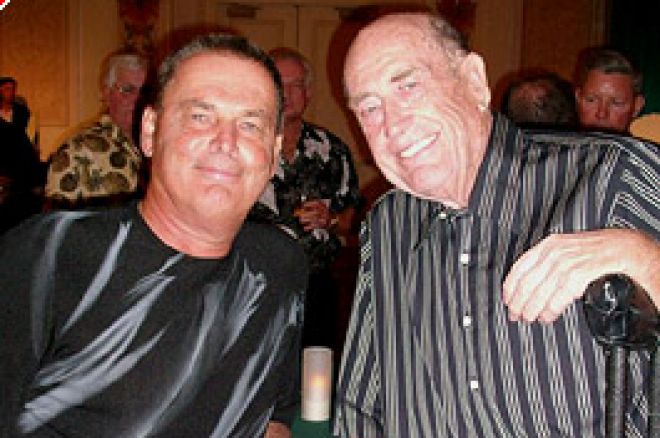 $1,305,000 was the amount 2007 Masters Champion Zach Johnson took home for winning golf's most prestigious tournament this past April, and he had to fend off Tiger Woods to do it. Today, nine of the world's highest stakes gamblers are putting up $1 million dollars of their own money to compete in Round 1 of The Doyle Brunson and Dewey Tomko Invitational; a nine hole, three-man team scramble in which they'll be playing for a million dollars per hole. Sorry, Tiger – you're not invited.
The event, presented by High Stakes Entertainment (HSE), is being held at the Bali Hai Golf Course in Las Vegas, NV and will be televised on ESPN in late October. Its organizers plan to parlay this inaugural event into an all-new high stakes golf tour within the next year, according to Mark Braman, one of HSE's managing partners. Braman said he hopes to have a minimum of between four and six events in place for 2008, with at least one being held internationally.
A launch party was hosted by the Venetian Resort Hotel and Casino last night in its Veronese Ballroom, which featured live music, food and a special show by the Venetian's resident performer, Gordie Brown. The players were introduced by fellow high stakes gambler and renowned poker commentator Mike Sexton, whose services have been acquired by ESPN to serve as the show's host, alongside former PGA Tour pro turned sportscaster Billy Ray Brown and ESPN's own Joe Tessitore.
"It takes characters to make great television and there are more characters in this room than I've ever seen," said Tessitore, who was spot on in his analysis. Phil "The Poker Brat" Hellmuth, Doyle "Texas Dolly" Brunson, Erick "E-dog" Lindgren and Las Vegas legends Jack Binion and Mickey Appleman were just a few of the dynamic personalities who attended last night's party. In true Hellmuth form, Phil told the crowd, "I've been playing the best golf of my life lately."
Lindgren, not one to be outdone, used his introduction as an opportunity to take a free shot at Hellmuth, saying, "If it wasn't for negotiations, we'd win almost every one."
The "we" Erick mentioned referred to himself and the other members of his threesome, Daniel Negreanu and Josh Arieh; Sexton dubbed their team "the young guns." Event hosts Brunson and Tomko are partnered up with actor and poker commentator Vince Van Patten, making them the "founder's team." "We've got Vince as a partner . . . we're playing for a million dollars, and we've never seen him hit a ball," Brunson said. The third team consists of Hellmuth and a couple of guys who know a thing or two about golf gambling, legendary high-roller and owner of the Bali Hai Golf Course Billy Walters and 1994 World Series of Poker Champion Russ Hamilton.
According to Braman, the concept of the tour was primarily inspired by author and HSE partner Rick Reilly, who chronicled a number of legendary high stakes golf games in his book, "Who's Your Caddy." Braman also gave credit to Binion, who for years hosted the Professional Gamblers Invitational, a golf tournament that consistently attracted high stakes gamblers from around the world. Brunson and Tomko were also acknowledged for resurrecting the idea.
Today's event will be broadcast on ESPN October 21st and will be followed up a week later with coverage of Round 2, which consists of a two-person team best ball competition featuring the likes of Phil Ivey, Huckleberry Seed and the wife of NHL Hall-of-Famer Wayne Gretzky, Janet Jones Gretzky. Round 2 begins tomorrow afternoon at Bali Hai.
Players will hit the links at 9:00 a.m. for a brief warm-up session, before teeing off at 10:00 a.m. An awards presentation for the three-man team scramble will be held at Tao Asian Bistro and Nightclub at the Venetian, starting at 7:30 p.m. For more information about the High Stakes Golf Tour, visit highstakesentertainment.com.