Duplicate Poker – Live in the US, Play Online Poker and Use Your Credit Card Too!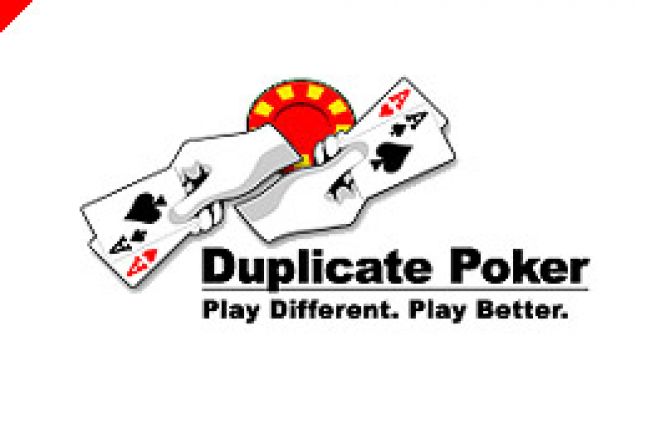 Is poker a game of skill or chance? At Duplicate Poker – their version of Texas Holdem is all skill, and that means almost all US residents can sign up, play, and even make credit card deposits!
In the post-UIGEA online poker world, some poker rooms have elected to carry on with business as usual – albeit while their US clientele struggle to move money on and off the site. However Duplicate Poker, has tweaked their product to allow US residents in most states (sans Arizona, Arkansas, Delaware, Florida, Illinois, Iowa, Louisiana, Maryland, Montana, South Carolina, Tennessee and Vermont) to play for real money without the legal hangups.
What makes Duplicate Poker different is that it is structured to remove the element of luck from Texas Holdem and places the emphasis squarely on skill. A skill-game plays and behaves differently and best of all, a skill-game is free to accept credit card transactions from US players.
So how does it all work? Well, Duplicate Poker is, as its name says, duplicate poker. To play, there needs to be two tables or more with the same number of players at each table. This means there has to be an even number of players for the game to proceed. Each seat on each individual table gets dealt the same cards each hand ie. all the players sitting in Seat 1 at the various tables will get the same hole cards. Each table also receives identical community cards.
For each hand, players begin with a set number of chips, irrespective to how many chips a player had in the previous hand. A score is generated based on the net amount of chips each player has at the end of each hand, as well as how they performed in comparison with all other players seated in the same position at the other tables. The player with the highest positive comparative chip score at the end of a session wins.
In this way, players must not only focus on beating their opponents seated at the same table but also have to outplay their opponents seated in the same seating position at the other tables; a completely new spin on the age-old game of poker.
The most popular style of poker on Duplicate Poker is undoubtedly the tournament. Let's go through some of the mechanics of play in a typical Duplicate Poker tournament as it can be quite different to that of a normal Texas Holdem tournament. With any form of poker, fully understanding the intricacies of the rules will increase your chances of becoming a winning player.
As mentioned, at the start of each hand of a Duplicate Poker tournament, each player's chip count for the hand is reset to the same value and the hand is played out. Then the net winnings and losses are added up over a number of hands to rank the players. But don't think you can simply go all-in on every hand because if your net losses accumulate beyond a certain level, you can be eliminated from the tournament. This rule is designed to reward good poker play rather than pure aggression.
Each tournament consists of two or more sessions. During each session, you play a set number of hands against the same players. At the end of the session, players may be eliminated from the tournament if it is a designated elimination session. Otherwise each player's net chip count is used to calculate a carryover to the next session which is played against different players.
Tournaments come in two speeds, including regular tournaments which have around 5 sessions and take around two hours to play from start to finish. For those with less time on their hands there are speed tournaments. A speed tournament usually consists of 2 sessions, each of eight to twelve hands and with half the field eliminated after the first session. Speed tournaments take less than half an hour to play compared to the longer regular tournaments.
At the end of the tournament the final rankings are calculated and the winners are paid according to the payout chart in the game lobby. Note that there can be multiple first place winners due to the fact that players are only competing with others who receive the same cards on different tables.
So while Duplicate Poker's rules may seem daunting at first for the regular poker player, once you have played a few tournaments it is easy to get into the rhythm of play and it will definitely help your thinking and understanding of the game of poker. The luck of the cards you receive is eliminated and you can concentrate on outwitting your opponents.
Ed Note: Sign up to Duplicate Poker through PokerNews and players are eligible for a total of ten $5000 PokerNews Cup Australia Freerolls. Qualify today!