Inside the Breakthrough: An Interview with WSOP Player of the Year Tom Schneider, Part One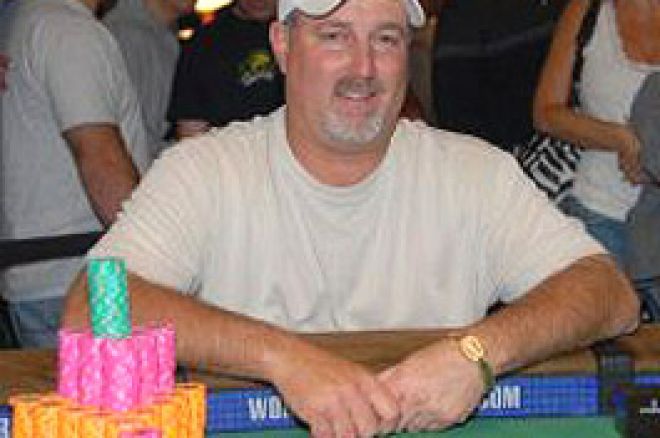 In poker terms, Tom Schneider's been around. Schneider first emerged on the tournament scene through his TV-table appearance in the WPT World Poker Challenge event in Reno in March 2006, where he finished third. Schneider is also known for his posts on regional poker site Pokerati.com, as co-host of the humor-laden poker podcast "Beyond the Table," his book on life and poker, Oops! I Won Too Much Money!, and, of course, his long-time participation in high-stakes cash-game play.
Still, Schneider wasn't exactly a household name going into the 2007 World Series of Poker. That all changed as he won a bracelet in Event 5, very early on in the Series – the $2,500 Omaha-8/Stud-8 mixed event. This was Schneider's first World Series bracelet, but he wasn't done there. Schneider final-tabled the $2,500 HORSE event just six days later, vaulting him to the top of the WSOP's revised Player of the Year chase.
The best was still to come. 18 days later, Schneider won his second bracelet in one of the final events of the Series, the $1,000 Stud-8 tourney (Event 46). Schneider was the only player to win two bracelets in the 2007 WSOP, and his place at the top of the standings seemed assured. Still, it would take a non-cash by contender Jeffrey Lisandro in Event 54 before Schneider's victory was locked up. Now, this Indianapolis native, Phoenix resident, former CPA and chief financial officer has made a name for himself as something else — 2007 WSOP Player of the Year.
In the first part of this two-part interview, Schneider details his breakthrough win in Event 5, his first-ever WSOP bracelet; he then talks about his final-table appearance in a tough HORSE event a few days later that propelled him to the top of the PoY chase:
PokerNews: So, WSOP Player of the Year! How does it feel after being away from it all for awhile?
Tom Schneider: It feels really nice, actually. It's great to have some time away from poker. I spent about two months up in Vegas, and came home for two days, and I was really kinda pokered out. Now I'm starting to see some of the stuff on TV, which really isn't anything about poker or Player of the Year, but it's kinda fun to see what they're doing. I don't know – it feels really good. It's really still kind of unusual because I've never really considered myself in the group of people that would have a chance to do that.
PN: Let's talk about the first bracelet win. Now, you had mentioned long before this event that Stud-8 was not your best game — in fact, you hated playing it! What don't you like about the game specifically?
TS: What I dislike is – I tend to be a bit more of a gambler in poker games, and don't always play real tight, but I felt in Stud-8 that it seems to be suited for really tight play, and I have trouble finding hands to play in the game. I get kinda bored, I guess, which is the reason I don't like it so much and don't play it real well. You don't play many hands, and it's kinda boring!
PN: You mentioned that the deck hit you several times. What are some particular moments leading up to the final table?
TS: You know, my first bracelet win, I didn't feel like I got really lucky, other than the fact that I was lucky that the cards were — you know, hands that I was supposed to win, I won. All the hands that I was supposed to win held up. I had a couple of nice scooping hands that held up for me on both sides. I didn't feel like I got all my money in real bad, or something good happened to me. I just felt like the cards held up more often then they probably should have.
PN: So you felt that your opponents didn't get very lucky against you — they weren't hitting.
TS: They weren't drawing out on me like they statistically should once in awhile. There was one leading up to — I think it was the second day. I was playing with a guy who was from Phoenix, and he bluffed at a pot and I called him with just a pair and no low. I had a pair of sixes, and he had a pair of threes or something. He bet fifth street, sixth street and seventh street and I called him all the way down with just a pair of sixes. He started with a high card up, which a lot of times indicates a — he started with a jack up, and it indicates a pair of jacks or something like that. But I just felt that the way he played, he didn't have a pair of jacks, and I called him the whole way. Everybody at the table was kind of shocked. Really, they were. They were like, "How could you call there?" and I just had a feeling that he was bluffing.
PN: What made you think that he didn't have a jack underneath?
TS: He didn't re-raise. I raised and he didn't re-raise. And I raised with a card that was lower than his jack, and he didn't bet certain spots. I can't remember exactly what it was, but he didn't bet on fourth street. He didn't bet, and he fired on fifth, sixth and seventh, where if he had a pair of jacks, he would have bet on fourth street as well. I can't remember the exact situation, but basically, it looked like he didn't have a strong hand. It looked like he didn't have a pair of jacks, and that's really why I did it. I had played with him a couple of times before, and he likes to bet people off of hands. He was probably more shocked than anyone that I called.
PN: It was a tough final table — Annie Duke, John "The Razor" Phan, Chris "Jesus" Ferguson, David Benyamine. How did you approach such a table?
TS: Well, I wasn't intimidated by any of those people. David Benyamine does play higher cash games than me, but I don't think anyone else at the table plays higher cash games than me. I've played with John Phan a lot. I haven't played with Annie Duke or Jesus a whole lot, but I know they're more tournament players. They didn't scare me. I wasn't worried about them outplaying me or anything like that. I was honestly hoping that the cards would continue to run pretty good for me, because I had a huge chip lead.
PN: You had 989,000 to 679,000 for Edmond Tonnellier as heads-up play began. You only played 50 minutes or so heading into dinner. What were you thinking about during that long dinner break?
TS: I really wanted to punish him and play really aggressively especially in the Stud-8 section. So I came back [from dinner] and I won the first hand, I was lucky the first hand, I scooped it, and from there on I just said, "I'm not going to let him — I'm going to run him over as much as I can," because I think in heads-up limit play, you play a lot of hands. You can't just sit and try to wait for good hands, so I pretty much ran him over. The cards went my way too, again. In the Stud-8 portion, which came pretty quickly I think, I just kept betting him out of pots, and he's having to fold, because he's starting to get short-stacked, and he didn't have a hand either.
PN: What happened during the 40 minutes of play when you got back?
TS: What happened is, actually, very quickly I had him down to maybe three or four chips. Since we were playing split-pot games, he actually lasted a lot longer, because he was either getting half the pot, or he was scooping the pot, but then he'd get half the pot. That kind of a thing. Those games take a lot longer than Hold'em, so the final table lasted a lot longer. He was down to, I think, 3,000 in chips, and I had over a million. It's kind of funny — he wanted to be put out of his misery, I think.
PN: After that event, did you feel like that was it, or were you thinking that you could do more damage at the Series?
TS: Well, before I went to the World Series this year — in previous years, I've played maybe five to eight tournaments, and this last year I told my wife, "I'm going to take a run at Player of the Year, and my goal is to make three final tables, and I'm not going to play many cash games." She said okay, and honestly it was a pretty lofty goal, to take a run at Player of the Year, because I've never won a World Series event before. And to say that was kind of — not silly, but maybe not in the realm of what most people would think was possible. But I never really tried doing that before, either, so it was two things working against each other.
I felt like I got very lucky, I felt like I played the best poker I've ever played, and I was more focused and concentrated than I've ever been. Partly it might have been because I had a goal set for myself to make three final tables. So I don't know – it was pretty fortunate, and I don't know if I'll win another bracelet ever again. It was a really good year!
PN: Let's talk a little about that second final table [of yours], the $2,500 HORSE event. What happened there?
TS: That's one of those tournaments where I keep telling people to never give up and so many people in poker tournaments, they get down to a certain level of chips, and some of them say it out loud, they'll say, "I don't want to go to dinner with just this few chips." And I changed my whole mental attitude this year to, "I hope I go to dinner with this few chips."
That HORSE tournament, I was short-stacked almost the whole time. I entered the final table with 20,500 in chips and we were playing 8,000/16,000. I should have gone out eighth. By my chip count, I think I was – the next short stack probably had five times what I had. I don't recall exactly what the final chip positions were, but I know I was the shortest at the table by far. But I really just said, "I'm not going to do anything stupid, I'm going to continue to be patient and hope that I catch something." And actually, I think I might have had the chip lead at one point or close to it. I don't know if I ever got the chip lead, but I picked up a lot of chips and was a reasonable force at the table. And then I just didn't catch a hand for a long time.
It was a pretty tough final table, actually. Some of those that were at the final table with me in that tournament don't get near as much recognition as the Annie Dukes and the Chris Fergusons of the world, but they play just as well. Mason [Richburg], who won the tournament, I thought played really well. Chris Bjorin made several cashes in the World Series. He had a great World Series. Ali Eslami, who's a really good cash-game player, was at the final table. And also, Rob Mizrachi. I didn't win that tournament, so they don't talk about that final table, but that was as talented, I think as the other table – I'm not saying those people aren't talented, but they're less recognized than the other players.
PN: And of course, Robert went on to win the $10,000 Pot Limit Omaha event.
TS: Right, exactly.
In Part Two of this extended interview with 2007 WSOP Player of the Year Tom Schneider, running tomorrow, he details winning his second bracelet, his battle with Lisandro for the PoY honors, and the other things poker-related in his life.