NPL UK Open Main Event, Day 1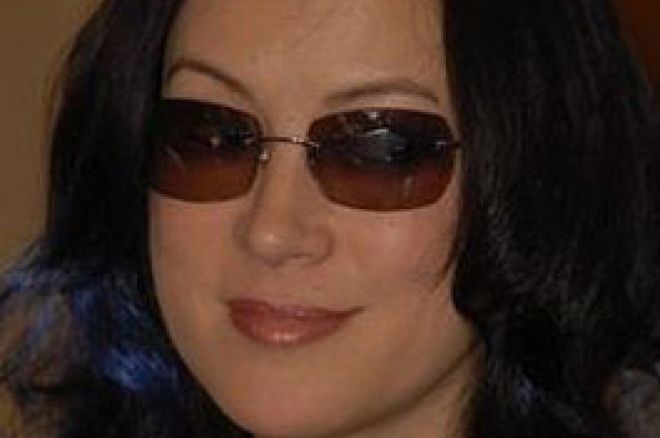 A small but powerful field turned up for the £2,500 UK Open Main Event, including some household names such as Tony G, preliminary UK Open winners Dave 'El Blondie' Colclough and Mel Judah, and WSOP bracelet holder Jennifer Tilly. Many of these top name players have already won events at the Loose Cannon club this week, but none were among the eight survivors at the final table when play ended on Day 1.
The UK Open Main Event was set up as a "double chance" event, where players started with T5,000 in chips, and were given a yellow "second chance" chip, which they could redeem at any point in the first four levels for an additional T5,000. Any players not using their second-chance chips by the end of the fourth level were given their extra chips automatically at that point.
Dave Colclough was certainly an early favorite to take down the tournament, coming off a great week at the NPL UK Open. 'El Blondie' made the final table in Event #1 earlier this week and came back the next day to win Event #2 altogether. "I haven't played too much since the World Series," commented Colclough, "but I'm having a good time this week."
Colclough's good run for the week came to an end before the final table, when he tangled in a three-way hand with Lee Watts and Mike Conway, the winner of UK Open Event #1. Colclough and Conway both held A-Q on a board of 5-x-A-X, and Watts was only too happy to call all-in holding a set of fives. Both Conway and Colclough were eliminated in that hand, which propelled Watts to the final table.
Watts was the feel-good story of the tournament, as the small-stakes generator technician made the final table through a tough field that included some of the top tournament pros in Europe. Watts won his way into the Main Event in an online satellite and made the trip from Sunderland to compete.
Mel Judah took down the UK Open Event #3, but could not get past Maria Demetriou early in the evening. Judah actually went out with
on a flop of
against Arvydas Kondratas, who called Judah's all-in with
, but the majority of his chips were shipped to Demetriou earlier when his A-Q ran into Demetriou's aces.
Demetriou later was responsible for sending Jennifer Tilly to the rail when her
held up against Tilly's
on a board of
. "That's the best hand I've seen all day," added Jennifer. "It was raise or fold really." Demetriou herself was the next eliminated when her
ran into Lee Watts'
on a flop of
. No miracle turn or river came for Demetriou, and she headed to the rail short of the final table.
The always-entertaining Tony G shared a table with Roland de Wolfe for much of the early tournament, and the two players verbally sparred throughout the early rounds of the tourney. In an early hand, De Wolfe picked up two pair with
to beat Tony G's
, and De Wolfe began to mimic some of Tony G's table chatter, with lines like "Call BMX, it's bike time soon!", and "I'm going to take everything you have…" The last laugh belonged to the Aussie, as De Wolfe was eliminated early in the evening as Tony G lasted well into the competition.
Tony G was eliminated just short of the final table, not long before Eric Tran became the final table bubble boy. When players consolidated to the final table, these were the seating assignments:
Seat 1: Josh Gould
Seat 2: Peter Gould
Seat 3: Dieter Dijkstra
Seat 4: Lee Watts
Seat 5: Darren Woods
Seat 6: James Hart
Seat 7: Dan Carter
Seat 8: Patrik Selin
Seat 9: Jeff Buffenbarger
Seat 10: Jason Ho
Dan Carter, Jeff Buffenbarger and Peter Gould are well-known UK tournament players, but several of the final table players were complete unknowns before their strong showing in this Main Event.
Carter held the chip lead for much of the day, but became the first to fall when the final table settled in to play. Carter re-raised Darren Woods pre-flop with
and was called by Jason Ho with pocket eights. Woods got out of the way, and Ho's eights held up to send Carter to the rail just shy of a payday.
A short-stacked Darren Woods moved all-in blind on the last two hands of the night, catching a ten on the turn to double through James Hart, and then moved all-in blind again on the very next hand, only to be called by Hart again. Woods again outdrew Hart to win the hand from a blind all-in shove, and Hart was eliminated in ninth place.
Play ended for the night with eight players remaining on the final table, including Cinderella story Lee Watts with the second-largest chip stack behind only Peter Gould. These eight players will return tomorrow evening to play down to the final televised table of six, and then down to the champion, who will take away a £34,000 first prize. Join PokerNews for all your live updates from the National Poker League UK Open at the Loose Cannon Club.