Online Poker Weekend: '313OG' Claims FTOPS Event #6 Title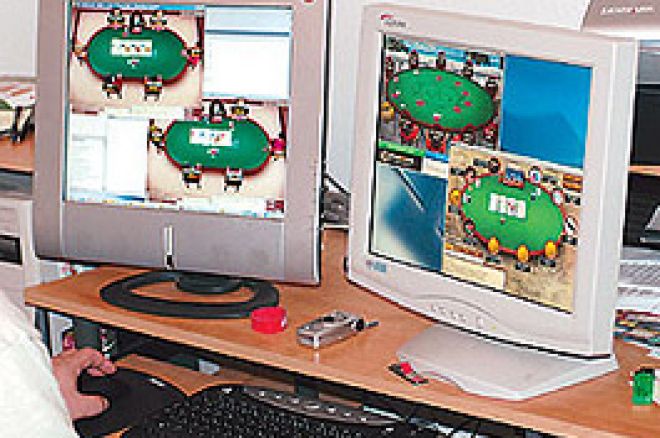 Over $3 million was up for grabs this weekend across the major online poker sites, as both Full Tilt and PokerStars easily eclipsed million-dollar guarantees on Sunday. Full Tilt barely nudged out Stars for the biggest prize pool of the weekend, touting $1,311,600 in prize money. Stars came in just $3,000 behind, offering $1,308,600 to the 6,543 players who ponied up the $215 buy-in to take a shot at a grand prize of over $188,000. The winner of Full Tilt's massive Sunday free-for-all, which drew 4,372 entrants, would fare even better, walking away with a first place prize of over $231,000.
Team PokerStars player Humberto Brenes made an impressive run on his home turf, capturing just over $6,000 for his 15th-place finish in the Stars Sunday Million Guaranteed. Brenes recently capped off a World Series of Poker to remember, making three final tables and earning over $400,000 in prize money. Over at Full Tilt, J.C. Alvarado continued to prove why he's one of the best all-around tournament players on the circuit, reaching the final table of FTOPS Event #6 and eventually finishing fourth, good for a $72,000 payday.
FTOPS Event #6: $300+$22 NLHE $1 Million Guaranteed
In lieu of their regular Sunday guarantee tournament, Full Tilt hosted FTOPS Event #6, a $300+$22 buy-in No-limit Hold'em tournament. 4,372 players came to play and the top 585 finishers would walk away with a share of the $1,311,600 prize pool. A horde of Full Tilt-sponsored pros entered the tournament, including Allen Cunningham, Greg Mueller, Roland de Wolfe, Berry Johnston and Erica Schoenberg, but the only one to make the money was Barny Boatman, who finished in 345th place, worth $590.22.
J.C. 'PrtyPsux' Alvarado headlined a solid final table led by 'akaginsf,' who arrived as the leader with 2.5 million in chips, followed by 'serefecheers' at 2.3 million. The short stack belonged to dijana, who had just under 700k; Alvarado came to the final table with 1.4 million.
After a slow start to the final table that saw a lot of blind stealing but very few flops, 'BigBukkinChickn' gave the railbirds something to "bawk" about by eliminating 'king goostar' in ninth. On a board showing
, BigBukkinChickn checked the action to king goostar, who moved all-in for his last 1.076 million. BigBukkinChickn used up most of his time bank before eventually making the call with a modest
– just a pair of nines! king goostar showed
for total air and the railbirds went berserk.
Eighth place went to 'PhilHPoker' soon after, when he moved all-in for his last 570,000 holding
and was called by '313OG' who showed pocket nines. PhilHPoker failed to spike an ace and joined king goostar on the rail. 313OG stacked up just over two million in chips after the hand, but put them right back into action just a few hands later in a major collision with BigBukkinChickn. On a board of
, 313OG led out with an 800k bet and BigBukkinChickn moved all-in over the top for his last 2.4 million; 313OG insta-called, showing
for the mortal nuts, while BigBukkinChickn revealed two black jacks for a set. The river was the
, which earned 313OG the pot and the tournament chip lead; BigBukkinChickn was left with just 352k after the hand.
BigBukkinChickn was eliminated just a few hands later after shoving all-in pre-flop with
; Alvarado made the call with
and hit running aces on the turn and river to send BigBukkinChickn to the rail in seventh place. Next to go would be 'dacove71,' whose pocket threes fell to the pocket tens of 'akaginsf.'
After a break, 'dijana' doubled through Alvarado when her pocket queens held up against J.C.'s A-K. dijana didn't hang on to her new chips for very long, however, as she suffered a bad beat at the hands of serefecheers, who hit a gutshot straight on the turn after getting all his money in way behind on the flop. 313OG would end up finishing dijana off, making a pair of nines on the river in a three-way pot in which dijana was all-in preflop with
.
J.C. Alvarado was the next to go, after his
couldn't wield off akaginsf's
. J.C. moved all-in pre-flop, akaginsf called, and the board came
, giving akaginsf two pair and sending Alvarado to the rail in fourth. serefecheers settled for third-place money after he got all-in in a tight spot against 313OG whose pocket tens dominated serefecheers'
. The board filled out
, landing 313OG the pot and the opportunity to go heads-up against akaginsf for a shot at the $231,615.44 grand prize.
Going into heads-up play, 313OG held a 2.4 million advantage over akaginsf, a lead that he would never relinquish. 313OG jumped out to a 2-to-1 margin right off the bat, and slowly chipped away at his opponent. The final hand came when 313OG picked up pocket aces against akaginsf's pocket queens. akaginsf made it 300,000 to go before the flop and 313OG just called. The flop came
, after which 313OG checked to akaginsf, who moved all-in for his last 688,000. 313OG insta-called, revealing his aces, which held up and earned him a $231,000 payday and a gold FTOPS avatar for taking down Event #6.
Final standings:
1st ($231,615.44): 313OG
2nd ($140,210.04): akaginsf
3rd ($91,812): serefecheers
4th ($72,138): PrtyPsux
5th ($54,169.08): dijana
6th ($40,134.96): dacove71
7th ($30,166.80): BigBukkinChickn
8th ($23,608.80): PhilHPoker
9th ($17,575.44): king goostar
PokerStars $1 Million Guaranteed
A whopping 6,543 entrants flooded the Sunday Million Guaranteed on PokerStars yesterday, creating a prize pool of $1,308,600. The top 900 finishers cashed, but only one would claim the $188,176.68 grand prize. The final table was led by 'flyndra,' who'd amassed a chip stack of over 11.25 million in chips; 'barbar31' brought up the rear with just over 2.2 million.
'Roberta114' got things started early with the double elimination of barbar31 and 'bobbybagpipe' on the same hand. barbar31 moved all-in preflop for 1.6 million, and was met by bobbybagpipe, who moved in over the top for 4.8 million. Roberta114, sitting on pocket aces, completed the action by shoving in her last 8.8 million. barbar31 showed
and bobbybagpipe had pocket tenss, but neither could outrun Roberta114's aces as the board came
, giving Roberta114 a straight and a tournament-leading chip stack of just under 16 million.
Next to go was 'PokerSkill,' who was eliminated by 'IG0tDibs' after he got all of his money in drawing dead, holding
against IG0tDibs'
on the
board; a meaningless blank completed the hand. 'downosaur' claimed the next victim, 'EirikS,' after making a massive pre-flop raise (7.1 million) into a pot that barely had one million in it. EirikS moved all-in over the top of the raise, for a total of 8.2 million and downosaur made the call, showing pocket nines; EirikS had
. It was lights out for EirikS when the flop came
, giving downosaur nines full. "I misclicked," downosaur said of his hefty pre-flop raise.
Roberta114 claimed her third casualty on the day, knocking out former chip leader flyndra in fifth place with pocket fives against flyndra's
. Once play reached four-handed, the tournament was paused so that players could discuss a potential chip-count chop. Tournament director Lee Jones broke down the numbers, which would've given chip leader IG0tDibs a guaranteed $119,899, but he said he wanted $125k instead, so no deal could be reached. On just the second hand following the deal discussion, 'roosterfish' was eliminated in fourth place when he moved all-in on a
flop holding
and was called by downosaur, who had pocket aces. The turn and river blanked out and downosaur took the pot, becoming the new chip leader in the process.
downosaur was able to build his lead over the next couple of hands before IG0tDibs took down the biggest pot of the tournament. IG0tDibs held
and downosaur had
. The board filled out
, which gave downosaur a nine-high straight, but IG0tDibs had made a ten-high flush. The hand left downosaur with 13 million in chips, while IG0tDibs improved to 38 million. Roberta114 was eliminated in third place in a hand where her
was outkicked by IG0tDibs'
on the
board; all the money went in on the flop.
Going into heads-up play, IG0tDibs had downosaur outchipped by a margin of 4.1 million in chips. The match was settled on the third hand of heads-up play when IG0tDibs made a higher two pair on the turn, holding
on the
board against downosaur's aces and sixes. The river was a blank (
) and IG0tDibs took down the tournament, earning over $188,000 for his efforts.
Final standings:
1st ($188,176.68): IG0tDibs
2nd ($98,014.14): downosaur
3rd ($70,533.54): Roberta114
4th ($54,961.20): roosterfish
5th ($42,006.06): flyndra
6th ($30,097.80): EirikS
7th ($21,591.90): PokerSkill
8th ($13,086): bobbybagpipe
9th ($8,113.32): barbar31
PartyPoker $300,000 Guaranteed
It took just over eight hours to settle the weekly $300,000 Guarantee at PartyPoker. A total of 1,485 players took to the virtual felt, but only 200 of them would walk away with a profit. The tournament was just 15 players and $3,000 shy of reaching its guarantee, leaving a mild overlay in place.
The final table was played nine-handed this weekend, instead of the usual 10 player configuration; two players, 'Raul_Oliv' and 'Durabo' were eliminated within seconds of each other on opposite tables during hand-for-hand play. Here's how things looked at the start of final-table play:
tunmousse – 1,442,746
MountainGD – 1,062,274
comingfrombehind – 999,345
dswdo – 915,854
BRUNZI99 – 866,604
Slyfox151 – 833,010
marikvr – 581,743
Chris_Ho – 419,576
AABenjamin – 301,848
The two shortest stacks at the table, 'AABenjamin' and 'Chris_Ho,' managed to double-up within the first few hands of play. 'dswdo' then went on a wild roller coaster ride, dropping to just under 70,000 in chips from 900,000 before doubling up three times in four hands to bring himself back up to 890,000. In the hand following his third double-up, he moved all-in pre-flop and was called by 'MountainGD.' dswdo showed
and was dominated by MountainGD's
. The
flop gave MountainGD top pair, top kicker, which would be all he'd need to take the pot and double through.
dswdo's wild ride came to an end when his pocket tens lost to the
of 'Slyfox151.' The board filled out
, and the king on the river sent dswdo to the rail in ninth. Shortly after, Chris_Ho took to housecleaning, eliminating two players in as many hands. His first victim was 'marikvr,' who suffered a bad beat when his pocket queens fell to Chris_Ho's pocket jacks. All the money went in on the
flop and Chris_Ho managed to spike a third jack on the river to send marikvr off in eighth. On the next hand, Chris_Ho knocked out a short-stacked 'comingfrombehind,' who was forced all-in in the big blind holding
. comingfrombehind was ahead when the flop came
, but Chris_Ho ended up with a king high straight, holding
, as the turn and river came
.
At the break, Chris_Ho held a 2-to-1 chip lead over the next biggest stack, which belonged to Slyfox151. Sixth-place prize money would end up with 'tunmousse,' who was eliminated by 'BRUNZI99,' when his
couldn't outrun BRUNZI99's pocket aces. After doubling-up courtesy of MountainGD just a few hands prior, AABenjamin called a pre-flop shove from MountainGD holding pocket tens; MountainGD showed a less impressive
. The board filled out
, giving MountainGD two pair, leaving AABenjamin with just 65,000 in chips. AABenjamin was eliminated in fifth place just a couple of hands later by Chris_Ho, whose pocket fives held up against AABenjamin's
.
With four players remaining, Chris_Ho initiated a discussion about a potential deal. His opponents agreed and entered into the deal-making chat, but couldn't come to an agreement. They tried once more, but were met with the same result; no deal. On the first hand after the tournament was resumed, MountainGD was eliminated by Slyfox151, who made trip fives; MountainGD failed to produce even a pair. The three remaining players then decided to chop up the rest of the prize money according to their chip counts. Here's how it all panned out:
* 1st ($42,479.01): Slyfox151
* 2nd ($37,507.32): Chris_Ho
* 3rd ($33,713.68): BRUNZI99
4th ($16,350 ): MountainGD
5th ($13,800): AABenjamin
6th ($10,350): tunmousse
7th ($7,950): comingfrombehind
8th ($5,250): marikvr
9th ($4,050): dswdo
* — reflects the results of a three-way chop
Bodog $100,000 Guaranteed
If there was one thing that stood out about Sunday's $100,000 Guarantee tournament on Bodog yesterday, it was how quickly the final nine took care of business; play went from nine to three-handed in less than a half an hour. Those who made the final table outlasted a total field of 865 entrants to earn a chance to compete for a top prize of $25,000. 81 places were paid in this $100+$9 buy-in No-limit Hold'em tournament and the railbirds were out in force.
At the start of final-table play, 'tweeter' held the chip lead with 563,000, followed by 'Novice' at 312,000. The short stack belonged to '011jp,' who came in with just 69,000 in chips. 'SpeedBird' was the first to make a move and it would cost him, as he tangled with Novice, who was sitting on the stone cold nuts. The flop came
and SpeedBird shoved with
; he was insta-called by Novice who revealed
for Broadway. The turn and river blanked out and SpeedBird became the final table's first departure.
Next to go was the short stack, 011jp, who got all-in with A-Q against 'pugmeister''s pocket jacks. The board filled out
, giving pugmeister a set of jacks, which was good enough to send 011jp home in eighth place. 'Poker366' claimed seventh-place prize money after he was eliminated by Novice, who won a race with
against Poker366's pocket eights. The board came
, which gave Novice the nut flush and the pot. A few hands later, pugmeister claimed his second final-table victim, 'iksam,' whose
couldn't outrun pugmeister's pocket deuces in a pre-flop, all-in race.
The first pivotal moment came when two of the big stacks, tweeter and pugmeister, found themselves all-in before the flop, creating an 810,000 pot. tweeter had the best of it, showing
against pugmeister's
, but pugmeister hit an ace on the flop to steal the pot and the chip lead. Shortly after, 'Manube' was eliminated by 'chiefthirsty,' whose
bested Manube's
after the board came
. tweeter was the next to go. Short-stacked, he moved all-in with
, but was unable to improve to overcome chiefthirsty's ace-high, as the board came
.
At the start of three-handed play, Novice, pugmeister and chiefthirsty were all within 100,000 of each other. Novice was the first to break through, winning a race against chiefthirsty and doubling up to 1.06 million in chips. The hit would prove fatal for chiefthirsty, who was eliminated a few hands later by pugmeister. chiefthirsty got all of his money in holding
on the
flop, which looked good against pugmeister's
. The cards had other plans, though, as the turn and river came
, giving pugmeister a runner-runner straight to knock chiefthirsty out of the tournament in third.
In a lengthy heads-up battle, Novice and pugmeister exchanged the lead eight or nine times before Novice started to pull away. On the final hand of the tournament, Novice raised to 190,000 before the flop and pugmeister moved all-in over the top. Novice made the call and showed
against pugmeister's
. The board came
and Novice won the hand and the tournament with a pair of aces, earning $25,000 for his efforts.
Final standings:
1st ($25,000): Novice
2nd ($14,000): pugmeister
3rd ($9,000): chiefthirsty
4th ($6,500): tweeter
5th ($5,400): Manube
6th ($4,400): iksam
7th ($3,400): Poker366
8th ($2,400): 011jp
9th ($1,550): SpeedBird