Online Poker Weekend: 'Egar1m' Rejects Deal, Overcomes Huge Deficit to Win Stars Million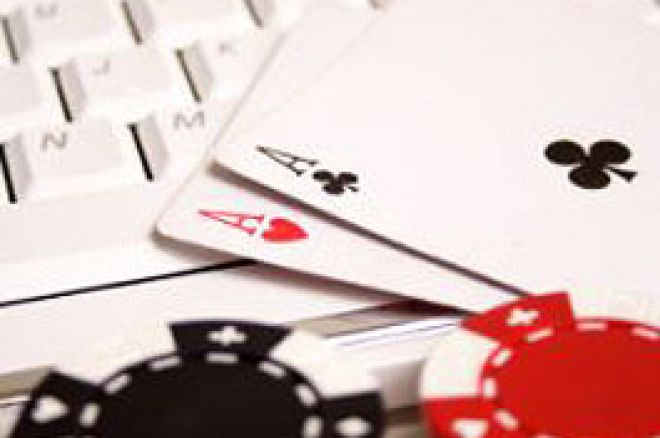 Poker Stars Sunday Million ($500+$30)
Poker Stars offered the biggest prizepool of the weekend with yesterday's $530 buy-in version of the Sunday Million, dishing out over $1.3 million across the top 414 places. 2,644 players entered the tournament, and the victor stood to collect almost a quarter of a million dollars. It took almost twelve hours to determine a winner, but in the end, stingy businessman 'Egar1m' took down the top prize, thanks in part to his unwavering negotiating skills; here's how he did it:
The first two eliminations at the final table came courtesy of 'rk58,' who knocked out both 'OnlyPlayRagz' and 'pokerguru69' in the first half hour of what would eventually become a marathon. rk58 made top two pair on the
flop against OnlyPlayRagz who held
for top and bottom pair; the turn and river blanked out and OnlyPlayRagz finished in ninth place. pokerguru69 settled for eighth place money after making a bold pre-flop move with
; his bet was called by rk58 who held
, which held up as the board filled out
.
Almost twenty minutes passed until another player was eliminated. That player was 'jeffreyjjj,' who moved all-in on a semi-bluff holding
on the
board. 'Sir_DonaldRM' opted to make the call and showed
for just ace high. As it turned out, ace high was all he needed to send jeffreyjjj packing, as the turn and river came
and
. Shortly after, Sir_DonaldRM claimed his second final table victim, 'scarface_79,' spiking an ace on the flop while holding
against scarface_79's pocket nines. The turn and river came
and
, securing the pot and the chip lead for Sir_DonaldRM, whose rush didn't stop there.
One revolution later, Sir_DonaldRM used up a good portion of his time bank before calling an all-in bet from 'MattZman69' on the
board. Things were looking good for MattZman69, whose
was well ahead of Sir_DonaldRM's
, but when the
came on the turn, the odds turned heavily into Sir_DonaldRM's favor. MattZman69 needed one of the two remaining tens in the deck to stay alive, but the
fell on the river sending the pot to Sir_DonaldRM. Just a few hands later, Sir_DonaldRM sent his fourth straight opponent to the rail; this time it was rk58, whose
fell flat to Sir_DonaldRM's
as the board filled out
.
Here's where things got interesting. With three players left, Sir_DonaldRM held a commanding chip lead over his opponents, sitting on just under $17 million in chips; 'kaweco' had $7 million and Egar1m had just $2.5 million. Sir_DonaldRM then proposed a chip count chop, which would've given both of his opponents better than second and third place money, respectively. After considering the numbers, Egar1m wanted $20,000 more, insisting that the proposed chop amount was close enough to third that a deal wouldn't be worth it. Talks were put on hold after no deal could be reached and play continued.
A few minutes later, Egar1m tripled up in a big way, making quad sixes to move into second place in chips. Not long after that, he gave most of it back to kaweco, losing with
to kaweco's
in a pre-flop all-in contest; the hand left Egar1m with just $1.7 million in chips. On the next hand, kaweco found himself in another pre-flop all-in battle, this time against Sir_DonaldRM, who had him both dominated and covered in chips, showing pocket jacks versus kaweco's pocket tens. Sir_DonaldRM's jacks held up, giving him a commanding 14-1 chip lead over Egar1m going into heads-up play.
Egar1m played the shortstack masterfully, chipping back up to $10 million in chips before taking a massive $9.3 million dollar pot away from Sir_DonaldRM that gave Egar1m the chip lead. At this point, Sir_DonaldRM proposed another chip count chop and the tournament was paused to look at the numbers. Had they agreed, Egar1m would've received $174,803 and Sir_DonaldRM, $161,919, leaving $30,000 on the table for the eventual winner. Sir_DonaldRM expressed that he would be happy with such an agreement, but Egar1m said he needed $200,000 or no deal. The discussion ensued for another minute before they decided to play on.
Egar1m's persistence ultimately paid off. Shortly after the second failed deal deliberations, Egar1m cut the legs out from under Sir_DonaldRM winning a $13.5 million dollar pot that left Sir_DonaldRM with just $4.6 million in chips. The final hand came two minutes later when Sir_DonaldRM got the rest of his money into the pot holding
and was called by Egar1m who showed pocket eights. The board filled out
, giving Egar1m two pair and an incredible come-from-behind win.
Final standings:
1st ($243,115.80): Egar1m
2nd ($123,607): Sir_DonaldRM
3rd ($81,831.80): kaweco
4th ($67,422): rk58
5th ($52,202): MattZman69
6th ($40,982): scarface_79
7th ($28,819.60): jeffreyjjj
8th ($18,243.60): pokerguru69
9th ($10,576): OnlyPlayRagz
Full Tilt $750,000 Guaranteed
Yesterday's $750,000 guaranteed tournament at Full Tilt attracted more players (3,784) than some of the other major sites combined. Still, the $756,800 prizepool barely squeaked by the tournament's three-quarter million guarantee. 522 places were paid, with $133,991.44 set aside for the one player able to navigate his or her way through the intimidating field.
Going into the final table, 'TAHUR5' held a 2-1 chip lead over his closest opponent, 'NCSUBODOG,' while 'southside1' and 'pokachump' brought up the rear. NCSUBODOG was the first to go after suffering a painful bad beat against 'Martine23,' holding pocket aces against Martine23's pocket kings. NCSUBODOG was looking good through the turn, but the
fell on the river, sending the pot the other way. NCSUBODOG made a good attempt at a comeback, but his effort fell short after he ran his
straight into 'spirit619's' pocket queens and finished in ninth place.
southside1 followed NCSUBODOG to the rail after shoving all-in preflop with
. His bet was called by both 'Sugar D' and 'spirit619' who showed pocket sixes and
respectively; the board came
, giving Sugar D a set of sixes and the pot. Martine23 was the next to join the railbirds after his pocket tens were bested by 'SlmPickens'' heart flush. SlmPickens would be all-in against pocket tens again just a couple of minutes later, though this time they belonged to spirit619. SlmPickens showed
and a third opponent, Sugar D, who was also all-in, revealed pocket sixes; spirit619 had them both covered. The board filled out
and spirit619 took down the pot with two pair, tens and kings, eliminating both opponents from the tournament.
Three-handed play began as anybody's game, but soon became a two-man act as pokachump eliminated spirit619 in third place, setting up a twenty minute duel between pokachump and TAHUR5. pokachump held a slight lead going into heads-up play, but TAHUR5 wasted no time taking it away from him. The lead changed hands just a couple of times before pokachump closed the deal in a hand that essentially played itself. The board read
and both players flopped monsters; TAHUR5 top two pair, eights and nines, and pokachump, the nut straight. All the money went in after the flop and pokachump's straight held up, giving him the win and $133,991 in prize money.
Final standings:
1st ($133,991.44): pokachump
2nd ($80,977.60): TAHUR5
3rd ($52,976): spirit619
4th ($41,775.36): Sugar D
5th ($31,331.52): SlmPickens
6th ($23,233.76): Martine23
7th ($17,406.40): sanex21
8th ($13,622.40): southside1
9th ($10,141.12): NCSUBODOG
Party Poker $300,000 Guaranteed
Sunday's $300,000 guaranteed tournament at Party Poker attracted 1,423 entrants this week, which was a slight improvement from the 1,393 registrants they amassed one week ago. Despite the increase in participation, however, they were still 77 players shy of reaching their 1,500-player target, creating an overlay of $15,400. Once again this week, the top 200 places paid and $174,300 of the total prizepool was set aside for the tournament's 10 finalists.
Returning to the final table for the second time in three weeks was 'dswdo,' who reached the final table as the tournament chip leader. dswdo went to work fast, eliminating both 'kooi116' and 'Play_for_shoes' on just the second hand of final table play. dswdo's
outdrew both kooi116's
and Play_for_shoes'
, when the board came
, giving dswdo an ace-high flush. "A little luck helps," said dswdo after the hand.
'Rambo5' was the next to go, after his pocket queens barreled straight into the pocket aces of 'jamiejackpot.' Shortly after, seventh place was decided when 'Masha3431,' holding
, spiked a five on the flop to best 'Lagas65's'
. 'squashball' claimed sixth place prize money after his pocket eights couldn't hold off 'EdKaddet's'
, as the board filled out
. dswdo then claimed his third final table victim, 'Tompengpung1,' hitting a set of sevens to best Tompengpung1's pair of queens on the
board; Tompengpung1 had moved all-in pre-flop and dswdo insta-called from the big blind.
Third and fourth places were decided in back-to-back hands, starting with dswdo's elimination of EdKaddet in fourth. dswdo's
held up against EdKaddet's
to make it a three-player contest. On the very next hand, jamiejackpot sent Masha3431 to the rail holding pocket tens against Masha3431's
. The board brought no help to Masha3431, whose elimination set up a heads-up match between jamiejackpot and dswdo.
At the start of heads-up play, jamiejackpot held a slight lead over dswdo, but it wouldn't last long. dswdo retook the chip lead in just a few hands with some very aggressive preflop play. The heads-up match lasted the lesser part of five minutes and came to an end with dswdo hitting a nine-high straight on the river to best jamiejackpot's two pair (sevens and fives), scoring a $60,000 payday with the win.
Final standings:
1st ($60,000): dswdo
2nd ($33,000): jamiejackpot
3rd ($20,700): Masha3431
4th ($16,350): EdKaddet
5th ($13,800): Tompengpung1
6th ($10,350): squashball
7th ($7,950): Lagas65
8th ($5,250): Rambo5
9th ($4,050): kooi116
10th ($2,850): Play_for_shoes