The PokerNews Interview: Katja Thater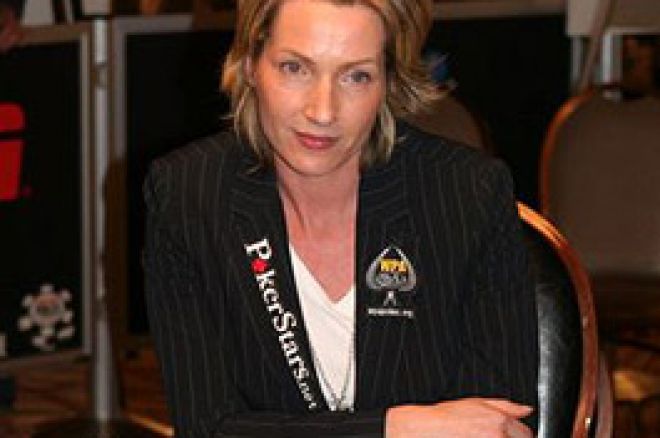 Katja Thater is a femme fatale with a German accent. She stands out among poker professionals because she's charming and talkative away from the table, but all business during the game. Her stare will end you.
Though successful in high-stakes cash games in Germany, Thater has had big, but unrecorded success on the German tournament scene – due to a quirk in German tournament reporting, her results are not public. She soon gained the notice of PokerStars. In an unusual twist, the vast majority of her tournament success has come post-sponsorship, with a fifth-place finish at the EPT Warsaw event last season, fifth in the WSOP Ladies' Event this year, and her first WSOP bracelet in the $1,500 Razz event. Thater is now the World Champion of Razz. Sounds like a funny title to have, but Thater is proud of it.
PokerNews: How does it feel, two months later, to know that you're one of the few to take home a World Series of Poker bracelet?
Katja Thater: It is great to be a world champion. That feels really cool. I enjoyed beating this strong field and to now have the [Razz] title. It is like an "Oscar" in Hollywood. Winning it is beautiful, but the "Oscar", the bracelet itself – well – it has more of an idealistic value. Small tip for Harrah's besides: Just in case a woman wins a WSOP event, please have some bracelets in your drawer which fit in every way for us.
My life didn't change. I wake up in the morning – mostly joyful – need a lot of coffee first before my brain is able to start working, and the media attention is on the same high level as normal.
PN: A couple hours before Day 2 ended, you took a big hit to your stack, and got knocked down to 9,000 in chips. What happened?
KT: Oh well, that was the time Men the Master [Nguyen] came to our table. We had a very nice but tough table with Mickey Appleman, Barbara Lewis and Mark Vos. Men had some railbirds on his coattails – drunken like him. He played and commented every hand and caught like hell. I mean how can you re-raise with door card king? That cost me a lot of chips. But I tried to stay in my strategy and it – thank God – worked out.
PN: Over the final two hours of that day, you made a big comeback, increasing your stack more than tenfold. Any memorable hands that got you there?
KT: (laughs) How can you even remember a Razz hand? I am glad that I forgot the entire tension headache. This game is so sick. You never, ever have more rolled-up or pocket K-K in the hole. But I remember that most of the players were tired and frustrated at the end of this day. No wonder: More than 28 hours of Razz. Because of that, I pulled myself together and started to terrorize the table. Aggression is a very good tool in this situation.
PN: You entered Day 3 fourth in chips, with about a 3 to 1 deficit to the chipleader. How did you approach this final table?
KT: Well, Brad [Willis] from the PokerStars blog asked me at the end of Day 2 something about "How do you feel?" and "What is your strategy?" As I am a quick-and-dirty decision maker, I just told him "You will see – I am going to win this thing."
As we started and were sitting around at the table I had, for every single opponent, a special strategy. I will not give away secrets on this point, but it worked out.
PN: How did you feel going into heads-up play with Larry St. Jean?
KT: I like to play heads up. I do this very often online. It was really a pleasure with him. He is tricky and clever. This heads up was sophisticated and took a while. We both enjoyed it. It is a little different to all this NLHE and all-in… all-in… all-in. You really have to play some poker.
PN: In that last hand, Larry St. Jean re-raises you on sixth street with only 25,000 behind and x-x-10-5-7-8 showing to your (2-8)-9-3-5-3. You take awhile to decide. What's going through your mind before you call?
KT: My decision took a while, because I recognized that this could be the last hand in this event and I didn't want to make a mistake. Larry is a smart player and he would not waste his last chips with re-raising a 10-9 low hand. So I knew his hand probably could beat my shown 9-8 low.
By the way: Taking your time for decisions at the poker table is always a good choice…
PN: You had some small success before being signed to PokerStars in 2006, but nothing spectacular. What do you think attracted their attention?
KT: I think there were a lot of things [that] came together. First, PokerStars is a company with a "short decision way" and is very quick and clever. The German market for poker is big. PokerStars realized that very early, and decided on a face which is marketable - a handsome-looking woman who plays respectable poker. That's a great mix.
My success up to 2006 was not that small. The thing is, German tournament results cannot be listed officially. The casinos in Germany are not allowed to post any results because of privacy reasons and data security. I played from the first day on with good results.
This was also a reason for Michael Keiner to put me, in January 2006, in the German Team for the Poker Nations Cup. This was my first "big" tournament and I did very well in this. It was shown on Channel 4 and some German TV networks and a lot of people saw that. So I attracted attention and a lot of offers. I decided on PokerStars, and I am very happy with them. It is a great company and the best thing is that I do not have to lie in interviews…(laughs) It's, in fact, my favorite online site and I am proud to wear their logo.
I try to earn their trust, and I think I did very well so far. I played my first EPT season and was ending up with a good result. Overall, I played 15 WSOP events in my whole life and I can show very good achievements.
So – this is what I'm trying to say: [A PokerStars player] is a clever player and has very good reads… (laughs)
PN: You're one of the most well-known poker players in Germany. Do you get recognized on the street? How has being a celebrity in your home country affected you?
KT: Well, sometimes it is a little strange to me to give autographs early in the morning in my home supermarket. But if people are looking and start whispering – that's nothing new to me. I always ask my husband: "Do I have something on my nose?"
Most of the people I meet – especially in real life – are very nice. I like to talk and I am a very social person.
Of cause I am also facing envy, unkindness and actual animosity, most of the time from anonymous people on the Internet. But that's part of the deal of being famous. I stay cool and shrug my shoulders if somebody tries to piss me off. Because I know their reasons. I have something every poker player dreams of: A great sponsor, a nice contract, I can travel around the world to the sweetest places on earth and play poker.
PN: You're married to poker pro Jan von Halle. Tell me about being married to another professional. Do you play in the same poker tournaments? Do you ever compete for the same good cash-game tables?
KT: It is great to share love and life with Jan. He is the one who got me into poker. We are now in our ninth year and still very happy together. Our cohabitation is in fact a little different from other people. We are not talking about toothpaste tubes and how to close them correctly – we are sharing our life. We work together, we live together and we are part of each other.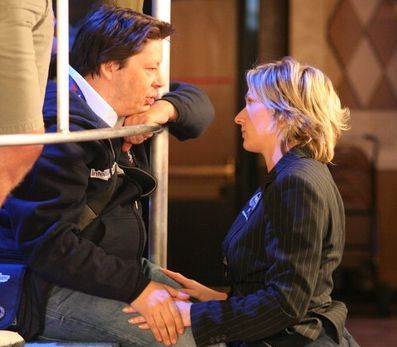 Katja and Jan
Jan is – thank God – not very jealous. I am a social person and know a lot of people. Mostly men – Poker is still a man's world. Our colleague Marten said it always takes twice as much time to go from one corner to the other in a poker room with Katja on the side. That's funny, but true.
Of cause Jan and I discuss hands and strategies. He is always on my side if it's necessary – so am I. Giving support is a big deal between us. No matter what and no matter why.
We try to not sit at the same tables. We both do not like this. In Germany, sometimes there is unfortunately only one cash-game table available in our game/limit. That's the only reason to sit next to each other. But if we have a choice: No.
PN: You've had a great 2007 – fifth at EPT Warsaw, fifth in the WSOP Ladies Event, and first in Razz. What is your next poker event, and are you staying overseas or playing in more U.S. events?
KT: My schedule is as follows: Next week the EPT Season 4 will start, and I try to play all the events. The EPT takes place in the loveliest towns in Europe and I am in pleasant anticipation. Barcelona is the first stop. I have very good memories of this city. It was my leadoff EPT event last year and I was faced for the first time with a lot of unusual attention (cameras, interviews, photos, other players), although I played a good tourney. Second, Barcelona was my hometown for two years, and I am always happy to be back in this city.
After the EPT tour, I will probably play in the WSOP next summer. During this I play cash games online at PokerStars, and live in the casinos in Europe. Cash games are still my bread and butter.
Unfortunately, the U.S. is not on the next corner for me. It is too far to travel quickly for a tourney.