Poker Room Review: Fallsview Resort Casino, Niagara Falls, Ontario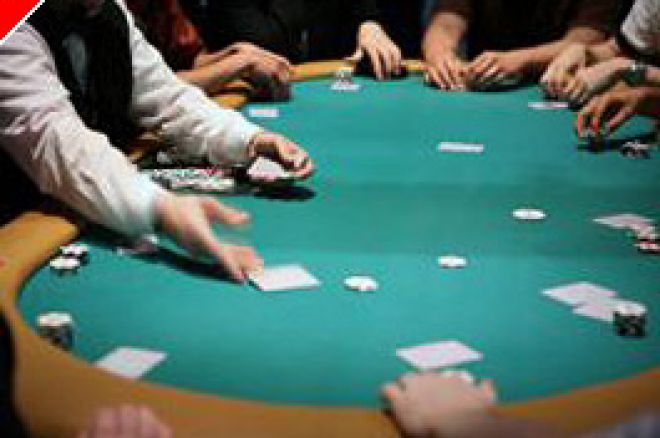 Make no mistake about it. If you're heading for Niagara Falls and you're serious about your poker, this is the place for you!
I visited Niagara Falls with my Mom for a week in July. I had an opportunity to sample poker games at night, after she went to bed, both on the weekend and during the week, on both sides of the Canadian-United States border and in all three of the Niagara Falls poker rooms: Seneca in the United States; Fallsview and the Niagara Grand Casino, both in Canada. All three have something to recommend them. But for me, there's really only one place for any serious poker action, and that's at Fallsview.
The casino complex consists of a large modern mall of a few dozen high-end shops and restaurants, a bus depot, and a large luxury hotel that overlooks Niagara Falls. It is, without a doubt, a place where the well-heeled tourists and business conventioneers visit.
The Fallsview poker room has 16 tables in an alcove surrounded by three walls and an open space that faces into a bustling slot area within a huge casino complex. It is next door to a lounge with a band, but the music doesn't overwhelm the room. The floor also manages to keep folks who aren't playing from entering the room, diminishing the crowding.
Fallsview offers many different limit and no-limit hold'em games and an occasional game of Omaha8. They offer no stud of any kind. On four different sessions I played in their $2/5 and $4/8 limit game and in their $1/2, $2/5, and $5/5 no-limit games. They also offered $5/10 no-limit and $10/20 no-limit on the weekends. I observed each of those games briefly. Players pay time, from $5 to $8 per half hour. That's pretty standard for the area. While I was there the room was also spreading single-table satellites for the large World Poker Tour tournament scheduled for October 26-November 2nd. These events had $90 and $160 entry fees – with a steep 30% raked off for the house.
The locals in the room that I spoke with suggested that the best time to come is Wednesday or Thursday night – when there are tables filled with tourists and conventioneers but not the long lines of the weekend. On the weekends, especially at night, the wait for a seat can be daunting – two or more hours sometimes. This in turn discourages the more casual players, with the games filled with the best and most tenacious locals. Better, my local poker guide opined, to come when the lines aren't as long but the games are as good.
I took him up on his suggestion and visited on Wednesday night. Unlike Saturday night, when I first arrived and couldn't get a seat during the hour that I waited, on Wednesday night at 9:30 PM I quickly got a seat in the $5/5 no-limit game. There were three inexperienced tourists in the game and five regulars, two of whom I judged to be very strong. I managed to play my tight-conservative game, winning $80 during my two hours of play. When I hooked up the next day with one of the better regulars I heard just how lucrative these games could be. He played all night, for eight hours, and left $3,000 to the good (or so he said). Not a bad take for a $5/5 game with a $500 maximum buy-in.
A few other tidbits of information for those of you who happen into the Fallsview poker room. There's no table-side food service nor free alcoholic drinks. Canadian law prohibits serving alcohol to gamblers. The best meal for the buck you can get is nearby at the Asian noodle restaurant. Service is quick; the soup is delicious and plentiful; and the prices are the lowest in the complex – about $9.00 an order. There's also a fantastic Asian buffet nearby – though it's pricey. Make sure to get a free Player's Club card while you're in town. Though you'll only earn $.50 an hour at the poker table, it's good for discounts at the casino's restaurants.
Oh, and there's a nice little geological attraction nearby worth taking a look at if you have a few minutes when you're not playing poker.
Fallsview Resort Casino
1-866-5-POKER-5
6380 Fallsview Boulevard
Niagara Falls, Ontario
fallsviewcasinoresort.com