Poker Room Review: O'Shea's, Las Vegas, Nevada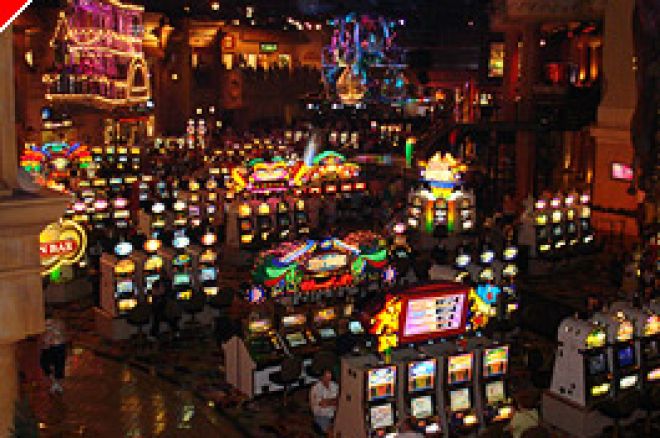 Imagine that you're standing outside an open-air corner bar in Times Square on New Year's Eve in New York City. There are thousands of revelers standing around, crowded together, making noise and drinking. You decide to make your way into the bar. You have to slide past and between people. You nudge past the final group standing in front of the bar. And you see, incredibly, amidst the crowds of people pushing in and out of the bar, in the very doorway, a poker table set up with ten players sitting around it playing hold' em!
That, in a nutshell, is O'Shea's poker room, on Las Vegas's Strip. They actually have two tables in this crowded space – though only one game was going when I arrived. We played spread limit $1/$5 hold'em with a single $1 blind. I hadn't seen a single $1 blind since we had one in my home game back in college!
There is tableside drink and food service. The bar is right next to the poker table, literally, so drink service is very quick. I can't speak for the food service. But if the waitress has to work her way through the entire crowd that was standing around the table when I played, it could take a long time to get served.
There are tournaments each day at 1:00 PM, 5:00 PM, 9:00 PM, and midnight. They're $45 to enter with no rebuys but one $5 "add on" that brings the starting stack to $2,000. I was told the house rakes $15 from this and puts the remaining $30 (or $35) into the prize pool.
O'Shea's is a small casino located between two casinos, Imperial Palace and the Flamingo. Both of those also have poker rooms. The fact that this smaller casino maintains a poker room as well, however crowded, is a tribute to poker's continued popularity in this town.
The playing environment is not particularly pleasant, especially if you are bothered by noise and smoke. Though smoking is banned at the table itself, since there are myriads of smokers walking and standing by the table, the area in which players play can't be called smoke-free. With all of the smoke-free rooms these days, this might not be considered a bad thing. If you're a smoker, all you need to do is get up from your seat and step back from the table to get a smoke.
The room has the same promotions as the Flamingo, with whom they share management. Players earn $1/hour for every hour they're playing – with their Players Club card. These cards are easily obtainable; either go to one of the player's club windows or, if there's a casino employee willing and able, simply hand your driver's license to them and they'll do the legwork for you.
One last thing that might entice you to come down and try this low-limit game: The quality of play is the absolute bottom of the barrel. If you wondered if there was any place that attracted players looking to learn the game, who might have only played for pennies with their friends from work, or who might not be able to figure out on their own what their hand is, this is that place. I played for two hours. I can honestly say that none of the players in the game knew anything about strategy except, perhaps, to bet a pair of aces. They would all call the $1.00 blind, see the flop, check around, maybe bet another $1.00 if they felt like it, and call any small bet made by someone else. They may have watched some poker on TV, but they hadn't played much themselves. They were all friendly, largely drunk, having a great time on their trip to Las Vegas, and saw their buy-in as something they would eventually lose in their pursuit of gambling pleasure.
In short, they were the kind of players that make poker fun.
I gladly joined in the merriment and walked away $50 to the richer, and I'm not really a very good limit hold'em player. This game is truly as close as you will come, in Las Vegas, to playing in your high school buddy's basement (before high school buddies were winning million-dollar poker tournaments). If you want to come to a non-intimidating, fun, and relaxing place to play poker, and you don't mind New Year's Eve going on around you, come down to O'Shea's.
O'Shea's Casino
3555 Las Vegas Blvd South
Las Vegas, Nevada
702-697-2711