Round One of The Doyle Brunson & Dewey Tomko Invitational a Success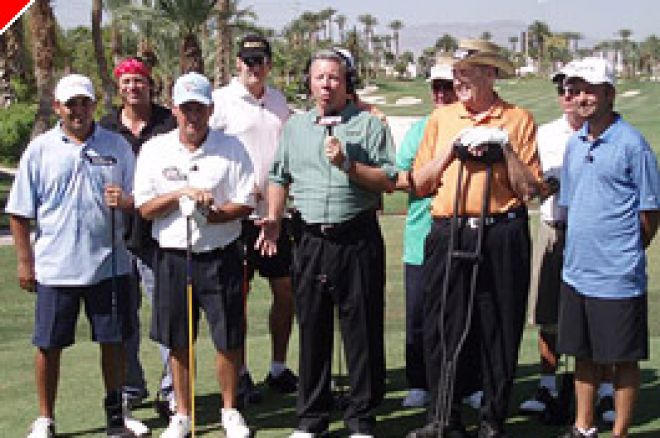 "Let's tee it up and get it on!" were the words High Stakes Golf Tour field announcer Mike Sexton chose to usher in the first annual Doyle Brunson & Dewey Tomko Invitational. The groups teed off at 10:00 a.m. Wednesday morning under an unforgiving desert sun that wreaked havoc on the players and spectators alike who navigated a massive caravan of golf carts through the front nine at Bali Hai Golf Course.
Round One of the invitational featured a "Gambler's Rules" scramble, with three three-man teams competing for $1 million per hole. A few of the more interesting rules in place included:
• All putts must be holed; there will be no gimmies;
• Any type of putter may be used;
• The furthest ball from the hole must be putted;
• All foreign substances such as grease and Vaseline may be used on the clubface;
• No handicaps will be used. Players will be assigned tee boxes based on ability and to make all players equal;
• Any putting style may be used by the player with the exception of the stroke used in billiards.
Dewey Tomko had the honors on the first hole and knocked a beautiful drive right down the middle to open things up. Teammates Erick Lindgren and Josh Arieh also hit impressive drives off the first tee. "No wonder you guys brought him out," Tomko said, after Arieh smashed a gorgeous drive down the middle of the fairway.
Phil Hellmuth played from the middle tee box and crushed his first drive of the day, which made one spectator ask, "And why is he hitting from up there?"
If there would've been a style award for golf attire, it was no contest. Vince Van Patten sported a red bandana, faded, baggy blue jeans and a black short-sleeved polo. "He looks like a modern day Mickey Appleman," said Sexton of his colleague.
Hellmuth won the award for the shortest shorts. Yikes.
The players dealt with all sorts of potential distractions throughout the day, including playing in front of the cameras and spectators, the constant roar of massive passenger jets landing at nearby McCarran Airport, and, of course, that other thing; the money. Even for some of the world's most seasoned golfers, playing under such circumstances would cause many to succumb to the intense pressure of the situation. For these nine guys, however, it was just a fun day out on the golf course with friends.
We saw Doyle Brunson attempt a covert mission to plaster "Doyle's Room" logo stickers all over Daniel Negreanu's golf bag; he got caught. We saw Hellmuth attempt a shot from 66 yards out on the fairway, using a putter; he failed to reach the green. We heard Russ Hamilton's cellphone go off while Daniel was taking practice swings on the 7th tee; he started dancing. We saw nine guys with a passion for the game of golf hack it out for $1 million a hole - and we loved every minute of it.
These guys played for more money on a single put than most of us would make in ten years. Trust me, you don't want to miss this. Coverage of Round One will be broadcast in prime time on ESPN beginning October 21st. For more information about the High Stakes Golf Tour, visit highstakesentertainment.com.