Sexton's Corner, Vol 5 – Puggy Pearson, Part Two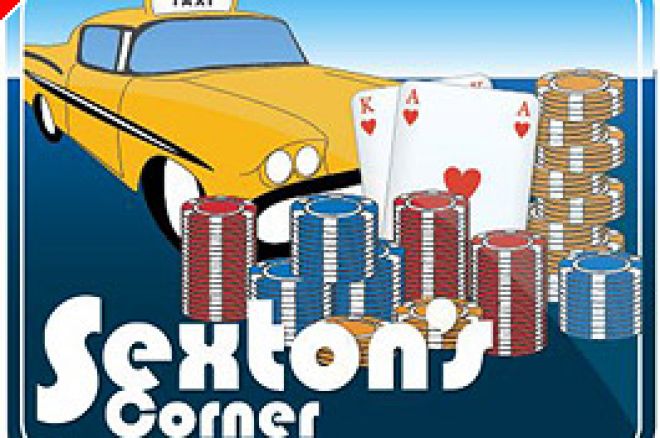 The last time I saw Puggy Pearson, he was slowly making his way from the Venetian valet to go check out the newest poker room in Las Vegas. This was about 3 weeks before he passed away. He wasn't feeling good, and the walk to the poker room wouldn't be easy for him. He asked me the same question he always did when we would run into each other: "Did Mike really write that song about me?" I said "Yes Puggy, I still have the original lyrics he composed for you." Puggy would always shake his head in disbelief, as he would say "That song was my life...........Mike is unbelievable!" It seems like almost yesterday Mike and I met Puggy over at Marie Calendars for lunch on E. Sahara. (1998) After lunch, Mike said to Puggy, "you have been such a good friend to me over the years - I wanted to do something special for you, so come out to the car, I have something for you. The three of us went out and got in the car, and Mike put a tape in for Puggy to listen to. This was a special song about Puggy and his life that Mike had actually written the lyrics to. The song had been professionally recorded by a band back in Ohio that my son, Kent, managed at the time. As Puggy listened to this song, he had the biggest smile on his face. It is a joy to recall that moment, as I got a nice picture of his happy grin. He loved this song, and asked me to make 200 copies right away for him, so he could give it to his friends.
The song is sung to the tune of the theme song of another legend from Tennessee — Davey Crockett. The chorus (and title to the song) is sung between each verse. It goes like this:
Puggy, Puggy Pearson,
King Of The Gambling World
Born in a shack in the hills of Tennessee, he was one out of nine in a big family. Dropped out of school while in the fifth grade, and joined the Navy to see how the world was made.
He learned real fast this was his cup of tea, all those suckers in the US Navy. He loan sharked, booked craps, and shot lots of pool, and the way he played poker, well this was no fool.

He left the Navy as a very rich man, and he wanted to gamble with the best in the land. So he packed his bags and headed out West, to prove to the world that he was the best.
He always played in the highest games in town, got broke many times, but you couldn't keep him down. From gin rummy, backgammon, to all the games you know, he's just a big shark in a world of minnows.
He became world champ of the poker world, and to all the scufflers, he has a heart of gold. He loans out his money and stakes railbirds too, he's the greatest friend a gambler ever knew.
He learned to play golf, it's a hustler's dream, and in no time at all became a golfing machine. A reporter once asked him, "How good do you play?" "I shoot whatever it takes to get the money that day!"
He's the gamblin'est man you ever did see, this backwoods boy from the hills of Tennessee. He'll play any man any game he can name, and he landed himself......in the Hall Of Fame.
When Puggy passed away, the Bellagio created a first class tribute to remember him. The tribute got a big turnout. Mike loved Puggy, and was bothered as he was scheduled to edit a WPT TV show in LA., where a lot of people count on him being there. He wrote something and asked me to represent him at the funeral. I followed Eric Drache and Doyle Brunson at the podium. I read Mike's letter first, and then took a few moments to talk about Puggy and what he meant to Mike - I said: my brother probably has the two best jobs in poker, commentator for the WPT, and host of Party Poker........but if it weren't for Puggy Pearson, Mike wouldn't have made it to the top. There were many times over the years when Mike would go broke from sports betting, etc, and he would go over to Puggy's house. Pug would always give him a lecture, but at the end, he would always say "how much do you need Mike?" If it weren't for Puggy Pearson, my brother very well might have had to drop out of the poker world and try something else. Puggy has had a lot more to do with poker history than most people realize.
Puggy would always tell me how much he respected Mike, as he was one of the few who paid him back in full. After Mike became successful, he would take time to visit Puggy just to say hi, and ask him how he was doing. For anyone fortunate to visit Puggy's house in the past.........it is a unique treasure chest of historical poker pictures and trunks of film and scrapbooks that was overwhelming! Today, poker has absolutely exploded beyond belief, and the true pioneers of the game like Puggy Pearson need to be remembered by one and all! You may be gone, Puggy, but you will never be forgotten.
The Cab Is Parked,
Tom Sexton
Tom Sexton is a featured columnist for PokerNews.com. Tom attended the University of Oklahoma on a full gymnastic scholarship, where he was captain of the team four straight years, becoming the first NCAA All-American and Big Eight Champion in OU's gymnastics history in 1968. The Sexton family is well established in poker and includes Tom's brother Mike, the World Poker Tour commentator and poker's "First Ambassador", as voted by his peers. Tom welcomes your thoughts and comments about any of his articles. His e-mail is TSStarbuck1@aol.com.