Sexton's Corner – Vol 6 – High Stakes Golf and Janet Jones-Gretzky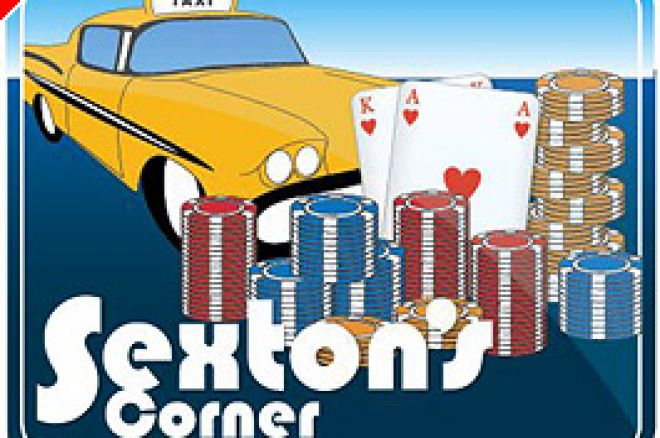 You will be wowed when you get to see the High Stakes Entertainment Golf Tour premiere on ESPN October 21st. The inaugural event to be showcased is The Doyle Brunson & Dewey Tomko Invitational. Two Sundays in a row, with a two-hour format each, promises to be mesmerizing to the average viewer. When most of us bet a $20 Nassau bet on the links, these high-stakes poker players will be playing $1,000,000 per hole! There are nine players on three teams playing this format: Team 1 - Doyle Brunson, Dewey Tomko, Vince Van Patten; Team 2 - Phil Hellmuth, Billy Walters, Russ Hamilton; Team 3 - Erick Lindgren, Daniel Negreanu, Josh Arieh. This will feature 3 man teams in a scramble.
The other day will feature nine two-man teams in a best-ball format, where each team will put up $200,000, with the event adding an extra $200,000 to provide a $2,000,000 payday! These teams will consist of: Doyle Brunson & Dewey Tomko; Daniel Negreanu & Erick Lindgren; Phil Hellmuth & Russ Hamilton; Phil Ivey & David Oppenheimer; Al De Carlis & Butch Holmes; Billy Walters & Hilbert Shirley; Janet Jones & Vince Van Patten; Mickey Appleman & John Hanson; David Grey & Huck Seed.
With all of these legendary participants, one name jumps right out at you, and it is the only lady in the field, Janet Jones. Let me tell you a little bit about her: Janet Jones Gretzky is the wife of the king of hockey, Wayne Gretzky. She is beautiful, smart, charming, and adventurous. I first met her on Day 1 of the format, walking down the fairway at Bali Hai Golf Club on hole number three. She was scheduled to compete on the next day, and was surveying the course as she watched the nine high rollers play for $1,000,000 per hole.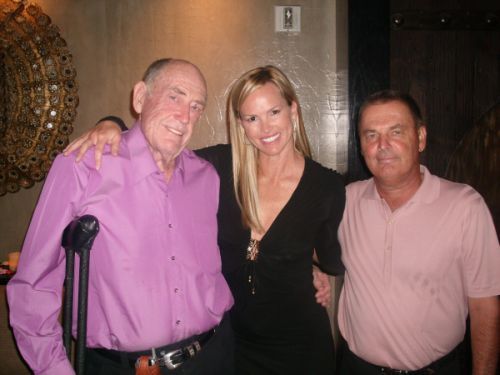 Janet Jones-Gretzky with Doyle and Dewey
I learned she and Wayne had five wonderful children: Three daughters in Paulina - 18, Tristan - 7, and Emma - 4, as well as two sons in Ty - 17, & Trevor - 14. My first question was "What did your husband say when you told him you wanted to play in the first high-stakes golf match?" Janet smiled and said, "My husband said.... You're going to do what???" She went on to explain she is very lucky to have such an understanding and supportive husband as Wayne has been throughout their whole marriage. They just celebrated their 19th anniversary, and Wayne said to, "Go for it" in the Doyle Brunson & Dewey Tomko Invitational. What a great husband!
The second question I asked her was, "How did you and Wayne meet?" Her answer brought both of us to a stop in the middle of the fairway, with both of us smiling. She said, "I was on a TV show called 'Dance Fever' in 1979, that Merv Griffin owned."
I said, "'Dance Fever'... you're kidding me... I was on that show myself in 1979, in fact the first day they ever filmed it. I qualified by winning the Las Vegas Disco Championships."
She said, "You?... Really?" We both started laughing, as I gained a few pounds, and she still looks perfect. The judges on the show I was on were Phyllis Diller, Wolfman Jack, and the bartender on Love Boat, Ted Lang. Of course, what do you think they knew about dancing? The difference is, I lost on the first episode, and Janet Jones won the first four shows, landing herself and her partner into the finals for the Grand Prize. She represented St. Louis, and her judges in the finals were Donald O'Connor and Zsa Zsa Gabor.
After her successful appearance on "Dance Fever", Merv Griffin called and asked if she would be a permanent part of the show, as part of Motion, the two girls who danced on each side of host Denny Terrio each week. She thus started her career in Hollywood, and guess who was one of the celebrity judges on one of the future "Dance Fever" episodes? If you guessed Wayne Gretzky... you got the right answer. The rest as they say was history, with great careers and a happy marriage with five beautiful children. Janet was trained in ballet and jazz, was an actress, and filmed the movie Chorus Line.
Interesting side note: One of Janet's best friends in her younger days was a girl named Vanna White. Vanna asked Janet to introduce her to Merv Griffin, who owned the TV show "Wheel Of Fortune". Vanna got the job to turn those letters over, and sent Janet two dozen roses two weeks later, with an eternal note of thanks.
This whole event will be fun to watch on TV this October. Don't miss it, and look for Janet to represent the ladies in fine style, with a touch of class!
The Cab is Parked,
Tom Sexton
Tom Sexton is a featured columnist for PokerNews.com. Tom attended the University of Oklahoma on a full gymnastic scholarship, where he was captain of the team four straight years, becoming the first NCAA All-American and Big Eight Champion in OU's gymnastics history in 1968. The Sexton family is well established in poker and includes Tom's brother Mike, the World Poker Tour commentator and poker's "First Ambassador", as voted by his peers. Tom welcomes your thoughts and comments about any of his articles. His e-mail is TSStarbuck1@aol.com.