The Venetian Hotel and the National Poker League (NPL) Announce Partnership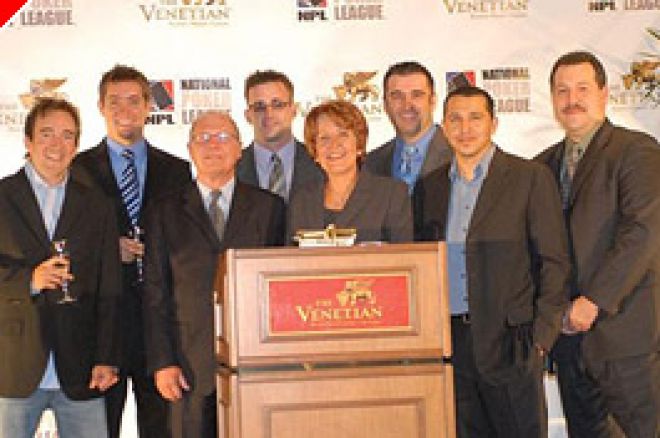 Executives from The Venetian Resort Hotel Casino and the National Poker League (NPL) held a joint press conference yesterday to announce the formation of a partnership that will bring both the 2007 Vegas Open and World Championship Tournament, scheduled November 24th – December 5th, to the Venetian Poker Room in Las Vegas, Nevada.
The 2nd Annual NPL Vegas Open, previously held at Caesar's Palace, will feature a series of four $2,500 buy-in preliminary events leading up to the $5,000 Main Event on November 30th. Players can look forward to 5,000 in starting chips and 40 minute levels in each of the four preliminary no-limit Hold'em events, while Main Event participants will start with 10,000 in chips and play one hour levels.
Las Vegas will be the final stop on the NPL's 2007 Global Tournament Circuit, which will cover three other continents before reaching its final destination in North America:
• UK Open, London Aug. 12-18
• Asia Open, Manila Oct. 10-14
• Australia Open/PokerNews Cup, Melbourne Oct. 21-29
• Vegas Open, Las Vegas Nov. 24 - Dec. 2
• World Championship, Las Vegas Dec. 3-5
The NPL's World Championship Tournament culminates its global circuit in the form of a three-day, $15,000 buy-in No-Limit Hold'em event, also to be held at The Venetian. Players will begin with 30,000 in chips and experience 90 minute blind levels. Winners from each of the Open events will all participate in the championship event, which starts on December 3rd, at 1:00 p.m.
"This is truly exciting as we have worked hard to build a reputation of hosting well-structured, exciting poker tournaments run by a staff that is both friendly and knowledgeable," said Kathy Raymond, Director of Poker Room Operations for The Venetian. "The NPL, having their international flavor, fits into the environment that we have here at The Venetian."
Kathy was joined onstage, among others, by Sam Riddle, President of Television for NPL. According to Riddle, all 26 first-run episodes for the 2007 NPL season will be available in 95% of the coverage areas in the United States, which amounts to an astounding 150 million homes, via partnerships with MOJO HD, WGN Superstation, and most CBS-owned stations by way of syndication.
Professional poker player Kirk Morrison and Las Vegas radio personality Dave Farra will serve as hosts on each of the 26 episodes via satellite, direct from The Venetian Poker Room. "Having Kirk and I host is good, because it's kind of like the makeup of most poker tables," said Farra. "I think I'm good at poker . . . Kirk is actually good at poker," he said.
Also attending today's press conference were renowned tournament directors and special guests of The Venetian, Matt Savage and Robert Daily, along with NPL reps Justin Huxley and Kyle Morris, and professional poker players Michael "The Grinder" Mizrachi and David Plastik.
For more information about the National Poker League, visit nplworldpoker.com.