Sander Lylloff Captures EPT Barcelona Title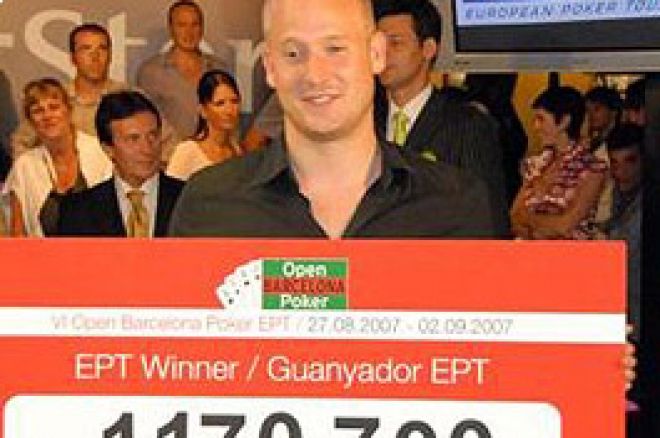 Sander Lylloff from Copenhagen, Denmark outlasted a field of 543 players that included some of the biggest names in poker, to take down the PokerStars European Poker Tour Barcelona Championship for €1,170,000. Lylloff outlasted stars such as Johnny Chan, Greg Raymer, Katja Thater and Daniel Negreanu early on, and topped a final table of tough young players to kick off the EPT's fourth season.
Lylloff started the day third in chips, as 13 players returned from the shortened Day Three at the Casino Barcelona. The final day's play featured players from 11 different countries, with chip stacks as follows at the start of action:
Nikolaus Jedlicka (Austria) - 879,000
Mika Paasonen (Finland)- 715,000
Sander Lylloff (Denmark) - 646,000
Juan Maceiras (Spain) - 585,000
Mark Teltscher (UK) - 533,000
Adam Junglen (USA) - 419,000
Trond Eidsvig (Norway) - 339,000
Mohamad Kowssarie (Sweden) - 294,000
Patrick Bruel (France) - 270,000
Voitto Rintala (Finland) - 253,000
Kitai Jacob Davidi (Belgium) - 219,000
Greg Dyer (USA) - 155,000
Philip Yeh (Sweden) - 116,000
Rapid-fire eliminations thinned the field to a final table of eight in less than two hours, as players made moves early and often. Voitta Rintala found himself short-stacked after doubling up Greg Dyer, and on the next hand shoved with 9-7 preflop. Dyer called with
, and sent Rintala to the rail as a board of
unfolded. Rintala picked up €33,450 for his 13th place finish.
Mere minutes later, short stack Philip Yeh shoved with 6-4, and ran into Kitai Davidi's A-K. No help came on the board for Yeh, and he was eliminated in 12th place for €46,000. Davidi followed Yeh to the rail only minutes later when he ran his
into Lylloff's
. No queen arrived on the board for Davidi, and he busted in 11th place for €46,000.
Mohamad Kowssarie was the Day 2 chipleader and lasted all the way to 10th place, but when he pushed all in over the top of Greg Dyer, Dyer quickly called with A-K. Kowssarie was behind with
, and a king in the door for Dyer eliminated Kowssarie in tenth place, as Dyer took over the chip lead.
Dyer claimed another scalp on the next hand when he once again picked up A-K, this time suited in spades, and called an all-in raise from Juan Maceiras. Maceiras jammed with
from the button, but he was dominated by Dyer's
. The board of
helped neither player, and Dyer eliminated Maceiras in ninth place (€64,800) with ace high.
With eight players remaining, the final table was set. The seating assignments and chip counts were as follows:
Seat 1: Greg Dyer (USA) - 1,606,000
Seat 2: Adam Junglen (USA) - 319,000
Seat 3: Nikolaus Jedlicka (Austria) - 569,000
Seat 4: Mika Paasonen (Finland) - 924,000
Seat 5: Mark Teltscher (UK) - 676,000
Seat 6: Sander Lylloff (Denmark) - 502,000
Seat 7: Trond Eidsvig (Norway) - 452,000
Seat 8: Patrick Bruel (France) - 374,000
When the final table began, short-stacked Patrick Bruel was the most experienced player at the table, with a WSOP bracelet to his name (1999 $5,000 Limit Hold'em), while three of his opponents (Greg Dyer, Adam Junglen, Nikolaus Jedlicka) were too young to even enter a casino in the US. Bruel couldn't take advantage of his experience, however, as he was eliminated on Hand #2 of the final table.
Bruel raised preflop with
, and Mark Teltscher called from the big blind. The flop came down
, and Teltscher check-called Bruel's all in move with
. Bruel was drawing to one out, and the
on the turn completed Teltscher's flush, leaving Bruel drawing dead on the river. Bruel earned €104,500 for this eighth-place finish.
Bruel's exit left the final table full of players under 30, with EPT London 2005 champ Teltscher as the most experienced player and 'table captain.' Teltcher added another notch on his gunbelt when he eliminated Nikolaus Jedlicka in seventh place a few hands later. Jedlicka re-raised all in preflop over the top of Teltscher's raise, and Teltscher quickly called with
. Jedlicka tabled
, but lost the coin flip when the board came
. Jedlicka started the final day of play as the chip leader, but couldn't hold on and departed with €154,700.
The rapid-fire bustouts of the final table continued as three players went out in one orbit. On hand #15, Jedlicka was eliminated in seventh. Adam Junglen was next to go to the rail on Hand #17, and Trond Eidsvig finished in fifth on the very next hand. Junglen moved all in from middle position and was called by Sander Lylloff with
. Junglen tabled
, and watched the board come
, giving Lylloff kings up, and Junglen €196,500 for his sixth-place finish.
Eidsvig's exit came when he called Mika Paasonen's pre-flop raise and checked the flop of
. The turn brought the
, and Eidsvig led out. Paasonen moved all in and Eidsvig called with
. Paasonen held two pair with
, and the unneeded
on the river sent Eidsvig out in fifth for €250,800.
The knockout pace slowed after half the final table was eliminated in the first 20 hands. Paasonen was the next to fall after being crippled, pushing his short stack in to call Greg Dyer's pre-flop raise. Paasonen said "Call! Triple me up!" as Sander Lylloff thought for a moment before calling. Lylloff and Dyer checked the flop of
, and checked again on the
turn. Dyer led out on the river when the
came, and eliminated Paasonen when his K-10 paired on the river. Paasonen's A-7 was no good, and he was eliminated in fourth place for €301,000.
The three remaining players passed the chip lead back and forth several times, with Lylloff controlling the table immediately before and after the dinner break, while Mark Teltscher took over as the final-table hand count neared 100. Finally, after nearly four hours of three-handed play, Dyer made a move pre-flop against Lylloff and ran his
into Lylloff's pocket aces. No help came on the board for Dyer, and the 20-year old Harvard student went home in third place with €388,800 for his efforts.
That hand gave Lylloff a 2:1 chip lead going into heads-up play, and he put away road roommate Teltscher in six hands to claim his first EPT championship and the €1,170,700 first-place money. In the final hand, Lylloff shoved over the top of Teltscher's re-raise, and was dismayed when he turned over
and was far behind Teltscher's
. The flop of
gave Lylloff a pair, but left Teltscher an overpair with a better flush redraw. Lylloff picked up trips when the river brought the
, and the
on the river didn't help Teltscher. Teltscher picked up €673,000 for his second-place finish, and Lylloff claimed the EPT Barcelona Championship for 2007, worth €1,170,700. Here are the payouts for all eight of the final-table players:
1 - Sander Lylloff (Denmark) - €1,170,700
2 - Mark Teltscher (UK) - €673,000
3 - Greg Dyer (USA) - €388,800
4 - Mika Paasonen (Finland) - €301,000
5 - Trond Eidsvig (Norway) - €250,800
6 - Adam Junglen (USA) - €196,500
7 - Nikolaus Jedlicka (Austria) - €154,700
8 - Patrick Bruel (France) - €104,500