EPT London Main Event, Day 3: Langmann Heads Final Table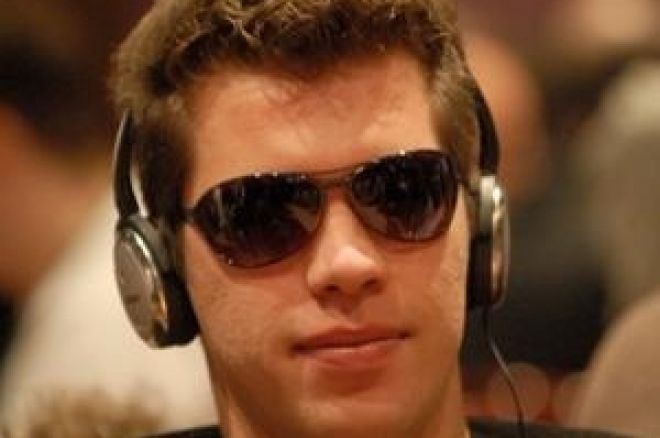 40 players returned on Friday to the Grosvenor Victoria Casino in London to play down to the final table in the PokerStars European Poker Tour London Main Event. Surinder Sunar started Day 3 with a big chip lead over Ben 'milkybarkid' Grundy, with WSOP bracelet winners Alan Smurfit and Chris Moneymaker still in the field. The top ten chip stacks looked like this when play began:
Surinder Sunar 403,400
Ben Grundy 220,000
Anthony Lellouche 213,800
Lam Trinh 207,400
Phidias Georgiou 200,200
Pascal Perrault 172,800
Josh Egan 162,300
Fredrik Haugen 152,400
Stuart Nash 125,100
Alan Smurfit 122,100
Erik Friberg was the first to bust when he shoved his tiny stack into the middle with
, and was outdrawn by
to bust out. Friberg busted short of the money, and with the top 32 cashing, Carlo Citrone was the bubble boy. Citrone got all his chips in with
against Vijayan Nagarajan's
and neither player improved, which sent Citrone home in 33rd place and made for a few relieved short stacks. Once the money bubble burst, eliminations came in droves, with Fuat Can, Stuart Nash, Marc Goodwin and Martyn Reeve busting shortly after.
Katja Svendsen found herself all in against Chris Moneymaker and Daniel Mangas preflop, when Mangas moved all in, Svendsen shoved all in over the top and Moneymaker called. Moneymaker was in the lead with
to Svendsen's
and Mangas'
. A king on the flop tripled Mangas up and sent Svendsen to the rail, with Moneymaker making a little profit from dragging the side pot. Even though Mangas tripled up on that hand, he didn't last much longer into the tournament, busting when he ran second pair into Anthony Lellouche's top pair on a flop of
. Lellouche raised Mangas all in, and Mangas got no help on the turn or river.
Ben Grundy ran into a monster pot with Phidias Georgiou and came out on the short end. Georgiou raised pre-flop and Grundy re-raised. Georgiou called, then called Grundy's all-in on the flop of
. Grundy was drawing extremely thin with
to Georgiou's top set with
. No runner-runner miracle showed for Grundy and he was busted.
After spending portions of the tournament playing together at the featured table, Roland de Wolfe and Chris Moneymaker were united again, this time at the cashier's cage when they busted in short order. De Wolfe lost a coin flip with Pascal Perrault when his
didn't hold up to Perrault's
on a board of
. Moneymaker made a move at a board of
, and Florian Langmann called instantly with
. Moneymaker tabled 9h-8c, and was chasing a straight draw. No seven or queen arrived for Moneymaker on the river, and the former World Champion busted in 16th.
Following a redraw for seats, Alan Smurfit got all his chips in the middle with
against Marcel Baran's
. The board read
, and Smurfit was eliminated by Baran's made four-flush. Surinder Sunar started the day at the top of the leader board, but his quest for the final table ended in 12th place. Sunar shoved against Joseph Mouawad with
, and Mouawad called with
. Mouawad's sevens held up on a board of
, and Sunar was eliminated. Phidias Georgiou, Pascal Perrault and Jason Hackett bubbled the final table, as the final table of eight was set late in the evening in London.
The final-table chip stacks looked like this when the last eight players standing finished up for the night:
Florian Langmann — 927,000
Joseph Mouawad — 780,000
Marcel Baran — 583,000
Josh Egan — 477,000
Anthony Lellouche — 466,000
Paul Mendes — 282,000
Ian Cox — 234,000
Fredrik Haugen — 190,000
These eight men will return to the final table tomorrow at 3:30 PM London time to battle it out for the EPT London title and the £611,520 first-place prize money. Join PokerNews for all your live updates and hand-for-hand final-table playback.