Nancy Cartwright, Voice of Bart Simpson, to Host Monte Carlo Night and Poker Tournament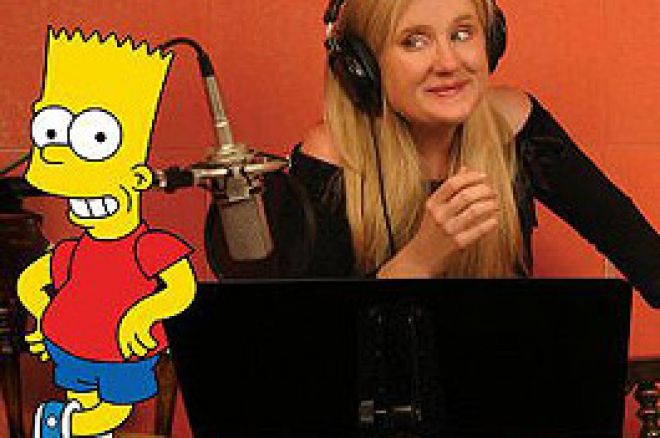 Onscreen, Bart Simpson is quite the mischief-maker and probably the last Simpsons character you'd expect to see open up his home to a bunch of strangers for a charity event benefiting an organization with the word 'police' in its name (unless of course he's taking a cut). In real life, the voice that brings Bart to life is doing just that.
Emmy award-winning actress and Honorary Mayor of the North San Fernando Valley Nancy Cartwright will host the 2nd Annual Monte Carlo Night at her home in Northridge, CA on Saturday, September 29. Headlining the event is a Texas Hold'em tournament in which entrants can compete against various A-list celebrities and big name professional poker players for a chance to win one of five seats in a World Series of Poker satellite and many other great prizes. A tax-deductible donation of $500 earns you entry into both the party and the tournament, to benefit the Devonshire PALS (Police Activities League Supporters) Youth Center for at-risk children.
Tom Kenny, the voice of SpongeBob SquarePants, will serve as the evening's emcee, in charge of introducing a wide range of music, comedy and special guests. Some of the celebrities expected to attend are Brad Garrett, Chris and Danny Masterson, Patrick Cassidy, Chris Slade, Laura Prepon, Marisol Nichols and Bruce Davison. Among the poker pros who intend to play are Johnny Chan, Todd Brunson, T.J. Cloutier, Steve Dannenmann, Jamie Gold, Jennifer Harman, Susie Isaacs, Kenna James, Mary Jones, Mel Judah, Liz Lieu, Daniel Negreanu and Marco Traniello.
In addition to the poker tournament, activities such as pool, pinball, a Wii challenge and a live auction will also be available. Guests will also be treated to a gourmet dinner and dessert, the Aha Toro Tequila Bar, a Martini bar, the "Zino Platinum" Smoking Lounge, and a night of dancing under the stars. If you'd like to attend the party, but do not wish to play in the poker tournament, a $250 donation will grant you access to the festivities.
While the event is open to the public, seating for the poker tournament is limited and those interested are encouraged to register well in advance. For tickets and additional information about Monte Carlo Night, go to devonshire-pals.org.