Online Poker Weekend: 'JCarver' Shreds Full Tilt Foes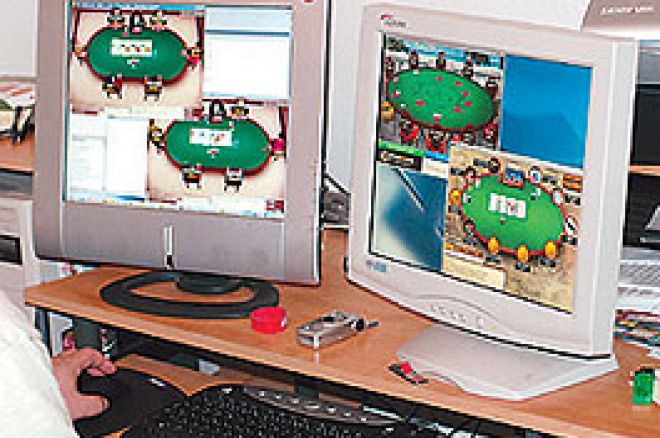 The raging PokerStars World Championship of Online Poker did little to dissuade tournament attendees from trying their hand at the other big events at competing sites. Full Tilt and PartyPoker made it past their guarantees as usual, proving that there is plenty of poker to go around for everyone. Bodog, as often advertised, did not make its guarantee and paid a substantial overlay.
Full Tilt $1,000,000 Guaranteed
First up is the Full Tilt $1 million guaranteed. With 2,228 entrants, it easy surpassed its guarantee, offering a $1,114,000 prize pool, 351 places paid, and an impressive $204,363 for first place. Many red-named Full Tilt pros tried their luck and skill, and among them, Huckleberry Seed cashed the highest in 142nd place. Aaron Bartley in 191st and JJ Liu in 259th rounded out the red cashes.
In the end, though, it was JCarver who took down this one. Here's how it went down.
The final table was only on its second hand when the players made short work of one of their own. Seeking further riches, richisnic shoved on the button with
, well above the blinds. Lucky1223 called in the big blind with the deadly
. The board offered no help for richisnic, coming
. The quad aces of Lucky1223 left richisnic with the ninth-place prize of $15,596. "Ship it. Ship it." said Lucky1223 immediately after.
menah_menah_ would go out next after raising in the cutoff. JCarver in the big blind re-raised. Then, menah_menah_ shoved with
and JCarver called with
. The split pot was not to be, as the board came
and menah_menah_ exited in eighth, earning $20,497.60.
Severely short-stacked, cashious re-raised all in over the top of JCarver's standard raise. JCarver called and showed
to cashious'
. The board was
and cashious collected $26,179 for seventh.
The next one out was jalla79. He shoved on the button with
and got called by JCarver with
. The board was
and jalla79 got $35,648 for sixth.
Managing to hang on with almost no chips through several eliminations, TenthPlanet finally exited when Lucky1223 shoved on the small blind with
and TenthPlanet called in the big blind with what looked like a better hand:
. True to his name, Lucky1223 got a board of
and TenthPlanet received $49,573 for fifth.
Fishbones11 was out next. Having been crippled a few hands earlier versus BIGFLOPPER01, Fishbones11 shoved in the cutoff and Lucky1223 and BIGFLOPPER01 both called. The flop was
and the side pot was checked. The turn was
and Lucky1223 checked. BIGFLOPPER01 bet on the side and Lucky1223 called. The river was
and Lucky1223 checked again. BIGFLOPPER01 bet again and Lucky1223 folded. BIGFLOPPER01 had
and Fishbones11 mucked, going out in fourth and earning $65,503.20.
After that it was BIGFLOPPER01's turn to head for the exits. JCarver raised on the button and BIGFLOPPER01 called in the big blind. The flop was
. Both players checked. The turn was
. BIGFLOPPER01 bet and JCarver called. The river was
and BIGFLOPPER01 bet again. JCarver shoved and BIGFLOPPER01 used his time bank, eventually calling but mucking after JCarver showed
. BIGFLOPPER01 got $82,101.80 for third.
Heads-up play began between JCarver and Lucky1223, and it would last about 15 minutes. JCarver held a 7-to-4 chip lead to start and kept it throughout.
On the button with a 10-to-1 chip lead, JCarver raised to 200,000 with blinds at 40,000/80,000 and a 10,000 ante. Lucky1223 shoved for his last 834,724. JCarver called with
and Lucky1223 had
. The board came
and JCarver won the event and $204.363.30. Lucky1223 finished in second and took home $125,436.40.
1st ($204,363.30): JCarver
2nd ($125,436.40): Lucky1223
3rd ($82,101.80): BIGFLOPPER01
4th ($65,503.20): Fishbones11
5th ($49,573): TenthPlanet
6th ($35,648): jalla79
7th ($26,179): cashious
8th ($20,497.60): menah_menah_
9th ($15,596): richisnic
PartyPoker $300,000 Guaranteed
PartyPoker's usual $300,000 event attracted 1,529 players, bumping it past its guarantee slightly at a prize pool of $305,800. That money was paid across 200 players, with first receiving $61,160. Player ghettoLISA is notable for making her second final table in this event in as many weeks.
The ten-person final table flew by with blazing speed, as players were unafraid to get their chips in there. Perhaps imagining a bigger payday, imagine0709 raised five times the big blind from third position. Vollfisch in fourth position re-raised nearly all his remaining chips. It was folded around to imagine0709 who just called, leaving a small number of chips behind. The flop came
and imagine0709 checked. Vollfisch put imagine0709 all in and imagine0709 called, showing
. Vollfisch had
and the turn and river came
. Finishing in tenth place was imagine0709, earning $2,905.10.
Next out was Oreglegios, who re-raised all in over the top of cashiy's raise. The all-in was called by cashiy, who flipped
to Oreglegios' dominated
. The board came
and Oreglegios earned $4,128.30 for ninth.
Next, corto12, having been crippled on the previous hand when he called ghettoLISA's steal attempt but got unlucky, went out on the next hand in the small blind, re-raising cashiy over the top all in. It was
for cashiy and
for corto12. The board came
and corto12 collected $5,351.50 for eighth.
After that, a deal was briefly considered and five out of the seven voted yes, but two held out and play continued, with gizzer11 going out next, open-shoving in second position with
and getting called by ghettoLISA with
. The race was on, and the board came
. The ace on the river took out gizzer11, leaving him a consolation prize of $8,103.70.
On the very next hand, NicoGrozden re-raised all in over Tintin1975's standard raise. Tintin1975 called and showed the killer
to NicoGrozden's
. The board was
and NicoGrozen got $10,550.10 for sixth.
Play would continue for 20 more minutes, and then cashiy got taken out next. He went out after ottogumhold went all in on the button with
and cashiy called with
. The board was
and cashiy was out in fifth, earning $14,066.80.
After a few moves that brought three of the players nearly even in chips and one player short, and with blinds at 50,000/100,000 with a 2,500 ante, a deal was made. Players received a by-the-chips chop of the remaining prize pool and the tournament was at an end.
Final standings:
*1st ($38,238.68): Vollfisch
*2nd ($36,001.29): ghettoLISA
*3rd ($32,823.77): Tintin1975
*4th ($22,748.37): ottogumhold
5th ($14,066.80): cashiy
6th ($10,550.10): NicoGrozden
7th ($8,103.70): gizzer11
8th ($5,351.50): corto12
9th ($4,128.30): Oreglegios
10th ($2,905.10): imagine0709
* – reflects the results of a four-way chop
Bodog $100,000 Guaranteed
Perhaps still feeling the effects of the switch to newbodog.com, Bodog failed to make its guarantee, attracting 729 players. This required a big overlay of $27,100 for a prize pool of $100,000. Bodog paid the top 63 places, with the top prize at $25,000.
At the final table, DAKKE13 would go out first in a three-way situation, with DAKKE13's
versus johnny_vegas'
and Rossy's
. The board was
and DAKKE13 collected $1,600 for ninth.
Next out was rbrown14, who shoved over the top of a raise, a re-raise and a three-bet with
. The original raiser, Wild Duck, shoved for more to isolate with
. Rossy called with
. The board was
and rbrown14 got $2,500 for eighth.
Then, it was jkron1 who was out next, after shoving in early position with
and getting called by Rossy in the small blind with
. The board was
and jkron1 left with $3,500 for seventh.
After that, StoffeT busted after shoving in late position and getting called by Wild Duck and johnny_vegas. The flop was
and johnny_vegas made a small bet on the side. Wild Duck called. The turn came
. This time, johnny_vegas checked, Wild Duck bet, and johnny_vegas called. The river was
. Both side-pot players checked. Wild Duck showed
and johnny_vegas showed
. Wild Duck won the whole pot and StoffeT mucked, going out in sixth for $4,500.
Wild Duck had the chip lead, but he still got blasted next after previously doubling up johnny_vegas twice. Wild Duck shoved on the big blind and cmizzles3867 called. His king high was no match for cmizzles3867's ace high on a board of
. Wild Duck took $5,500 for fifth.
Going out next was pokerarg when he shoved from the small blind and was called by cmizzles3687. Both players had an ace, but cmizzles3687 had A-K. The board was
and pokerarg got $6,900 for fourth.
Rossy took third on the very next hand when cmizzles3687 paired the queen of his K-Q on a board of
versus Rossy's K-J. Rossy left with $9,200.
Heads-up action began with johnny_vegas holding a 7-to-1 chip lead over cmizzles3867, but over the next 7 hands, cmizzles3867 would systematically tear apart johnny_vegas. On the last hand, johnny_vegas shoved with
and cmizzles3867 called with
. The board was
and cmizzles3867 would earn $25,000 for first, leaving $14,300 for second-place finisher johnny_vegas.
Final standings:
1st ($25,000.00): cmizzles3867
2nd ($14,300.00): johnny_vegas
3rd ($9,200.00): Rossy
4th ($6,900.00): pokerarg
5th ($5,500.00): Wild Duck
6th ($4,500.00): StoffeT
7th ($3,500.00): jkron1
8th ($2,500.00): rbrown14
9th ($1,600.00): DAKKE13