The PokerNews Interview: Kristy Gazes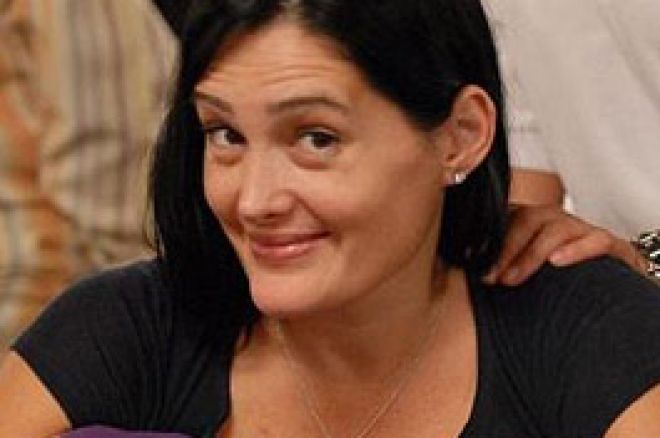 Known as "Mixed Games" Gazes, Kristy Gazes is an all-around poker specialist. She can play any game at any level in cash games, and also does well in tournaments, making her a threat in just about any form of the game you can imagine. Recently, she won the WPT Ladies Night Out event, part of the WPT Legends of Poker at the Bicycle Casino. Prior to that, she made the final table of the 2007 Aussie Millions, took fifth at the 2007 NBC National Heads-Up Championship, and placed first in the FullTiltPoker.Net Championship at the Wynn, which was televised live.
Though sponsored by Full Tilt and still active in one or more tournaments a month, Gazes' real love is turning out to be the equally chancy world of stock options trading. That's her business, and it's on the verge of expansion.
Find out what's next for Gazes, why she's cutting back on poker, and why she still has a lot of gamble left in her.
PokerNews: You won the WPT Ladies Night Out charity event at the Bike just a couple of weeks ago. Tell us about that experience.
Kristy Gazes: It was great. It was a surreal experience because it was the first time my mother had seen me play live poker. So my mother and my dad were in the audience. It didn't quite hit me until I won it, and then I turned and looked and saw them… It's quite exciting to win and also have my family there watching.
PN: How do you feel about separate ladies' events?
KG: I'm kind of neutral. I think that if they're going to have separate events for women, they should have some for men, and all the different stereotypes. I think it's good for the introduction to have ladies' tournaments – for the introduction to poker. For Ladies Night Out, I think it's more of a tradition at this point. I'm sort of neutral on the subject of women-only tournaments. I think it's kind of silly, really.
PN: Tell me about going out in seventh at the Aussie Millions with
versus nines for Gus Hansen.
KG: Well, I was medium-stacked, and you know, of course you have a plan and it never really goes according to plan, but – I figured at that point, I had the A-Q and he made a perfect-sized bet. I raised a little bit and he re-raised, and then I decided to push with the A-Q suited. That was it.
PN: How was your experience overall at the Aussie Millions?
KG: Aussie Millions – it's my third time playing that tournament, I spend three months a year there, I have an option-trading business there – Melbourne is one of my favorite places in the world. I cashed the last two times I played in it. I won't miss it. I'm planning on going – actually to your guys' thing at the end of October as well, so…
PN: Oh yes, the PokerNews Cup.
KG: Yeah.
PN: You then took fifth in the NBC National Heads-Up Championship, losing to Chad Brown with K-2 versus K-Q. What happened there?
KG: The experience was great. I was, frankly, quite exhausted by the time I played Chad. I'm not going to make excuses, but I misread the board one time – it's a pretty well-known hand, they have it on YouTube, unfortunately! I misread the hand with quads on the board. By that time I was exhausted. It was a great experience overall. The first three matches were, again, a real surreal experience. Against Chad Brown, I misread the board in one hand, and after that I had no shot, basically, because I was mentally defeated at that point.
PN: How was your experience on "Poker After Dark"?
KG: "Poker After Dark" was a great experience, too. It was a weird experience, though, in the fact that they start shooting at eleven at night, and we were playing that particular episode until five in the morning. By the end of it, everyone's exhausted.
PN: Eleven until five in the morning?
KG: It went three or four hours over. Until super-late. By the time I got heads-up, Gabe [Kaplan] had me at I think three and a half to one. The blinds were getting elevated, so – I just couldn't come back from that.
PN: I hear you're slowing down a bit as far as poker. Why is that?
KG: I only play one or two tournaments a month now. I have a stock options trading business based out of L.A. and Australia, so I'm concentrating on that really, at the moment. I really think the less I play, the better I do. I want to retire from poker in like a year or so, is my plan. I'll be 40 this year, so – obviously I'll always play part time, but my plan is to really have more balance in my life and see what other opportunities I have.
PN: How is your investing business going?
KG: It's going good so far, knock on wood. The business is based out of Los Angeles and Australia. I'm a private options trader. I have a business partner. My plans are to expand it within the U.S. in the next year or so. It's great for poker players, because – for me, it's been a great experience so far, because it's freedom, and it's also action, which is something I crave. Somewhat more conservative action, these days. I like to cover most of my spreads, so… (laughs)
PN: If you had a daughter, and she wanted to play poker, how would you feel about it?
KG: I would lock her up and throw away the key. I would not let her play poker for a living. I don't think it's a good environment for women, or anyone for that matter. It takes a certain kind of person, and you gotta be a little crazy to want to gamble for a living. I definitely wouldn't want her to take the same path as I did.
PN: Do you plan to get married again in the future or is once enough?
KG: (laughs) I've been married several times, but um… (laughs) I'm not planning on it anytime soon. But I wouldn't bet on that. I would take the over, probably!
PN: Take the over! (laughs) Several times? Are you allowed to tell us how many, exactly?
KG: Three times. One was for medical insurance when I was young. So three total. Two were real marriages.