Poker Room Review: Casino Niagara Poker Room, Niagara Falls, Ontario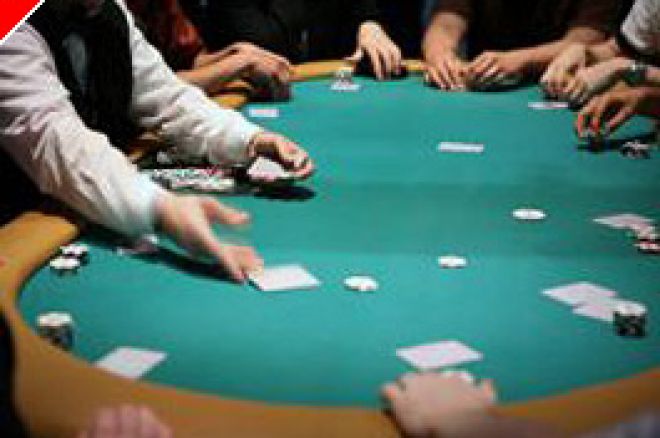 I was filled with poker frenzy when I played here at the end of the summer while touring the greater Niagara area. There were three casinos I played in: Casino Niagara, Fallsview and Seneca. I was staying across the street from Fallsview and was playing there many hours each day. It was in this sleep-deprived state that I eschewed the shuttle bus and walked the extra mile and a half to Casino Niagara. Fallsview and Casino Niagara are part of the same company and offer a convenient shuttle bus between the two.
Casino Niagara is a full-service, destination casino, but not nearly as upscale as Fallsview. It is to Fallsview what downtown Las Vegas is to the Strip. It has the many blinking lights and chiming slot machines, the top entertainment headliners, shows, exhibitions, and restaurants. But it's just not as opulent.
The poker here is geared to the low roller. Those looking for bigger games go to Fallsview, the main poker room in the area. Though Casino Niagara lists many games and many limits as being offered, they typically spread $2/4 limit and $1/2 blind no-limit with a $100 maximum buy-in. They never have any call for stud (except from me). They rarely spread anything higher. They rake 10% up to a maximum of $5.00.
There is tournament action at Casino Niagara, but only once a week – now on Tuesdays. They offer a $35 buy-in tournament that typically attracts at least half a dozen tables, with payouts for first often near or even above $1,000. Registration begins at noon; the tournament goes off at 1:00.
This is a ten-table room. It is in a quiet part of the casino, far from the entrance. On the Sunday morning I walked in, at 6:00, there were two tables out of ten going, one $2/4 limit and one $1/2 no-limit. When I checked back later in the day only no-limit was going, but they had three tables of it. I guess a few folks had shown up after they heard I had left.
The games are known for attracting young players. Sure enough, I was by far the oldest guy at the table. One "gentleman" was almost 40, the rest were in their teens or 20s. The 19-year age limit in Ontario helps recruit folks from the other side of the border – as Americans not yet old enough for the 21 year age limit in most New York poker rooms flock in by the droves.
I found the quality of the game to be terrific. That is to say that my opponents were, for the most part, inexperienced, overly enthusiastic, impatient, fatalistic, and, in general, not there to win. That isn't to say that they preferred losing to winning. But they were mostly interested in gambling it up, not in winning.
Here's an example.
I was dealt 10-10 in early position. I find this a tough hand to play in a loose game – since a typical pre-flop raise doesn't seem to limit the field much. But I can't seem to convince myself to just call with a hand that is probably in the lead. A large raise, on the other hand, seems excessive since I'm bound to get at least one caller.
Even so, I raised to $12, a little more than what seemed the typical raise to $10 in this $1/2 game. Five players called. Uggh! I figured a bunch of guys were drawing with overcards. If the board had one I'd probably be dead.
The flop was A-10-2 rainbow. I was jubilant – I hit trips! I figured to double up my stack of nearly $100 if one of the big stacks against me had an ace. (For this game, any stack of $100 or more constituted a big stack – most players were short-stacked with $50 or less).
I made what I hoped would be seen as a half-hearted continuation bet. I repeated my $10 wager, figuring that anyone who had a big ace would come in over the top, and then I could go all in.
Sure enough the first player pushed to $50 or so – his whole stack. All of the other players, save one, folded. But one player went over the top as well, pushing in $120 or so. I quietly called with my set of tens, and the raiser pulled back his extra $30.
I didn't know the local custom regarding all-in wagers. Even though players don't have to reveal their whole cards when they're all in in a cash game, so many players like to do what they see on TV, that the convention in many rooms is just to face your hand when the table is all in. That's what we did. Everyone faced his cards.
The first player had A-J. I wasn't surprised to see this hand, though I doubt I would have been so aggressive with such a low kicker, given that any of the other players could easily have started with A-Q or A-K. Even so, I was glad to see it.
The third player, who looked to be about 18, smiled sheepishly and turned over 9-9. "I thought you guys might be bluffing," he said.
I smiled back and nodded encouragement. "Hey, you could still win with running nines," I added helpfully.
Two blanks hit and I pulled in a large pot for this game – a profit of over $150.
The rake is very high, to be sure, especially with what is by today's standards a very low cap to the buy-in. If you figure that the house deals 40 hands an hour, most of which are fully raked, then they're taking out over $100 an hour from the game. In ten hours they've raked the entire buy-in of the table — $1,000. Even with the huge influx of players, it's hard to imagine beating that game long-term on a consistent basis.
The floor and the dealers were very friendly and helpful, patiently giving me answers to my many questions about the rake, the stakes, the tournaments and the like. This place goes out of its way to make the new and inexperienced player feel welcome. It's surely the place in the area where the poker newbies will feel the most comfortable.
Casino Niagara
5705 Falls Avenue
Niagara Falls, Ontario
L2H 6T3
905-353-7000
888-WINFALL