Poker Room Review: Seabrook Greyhound Park, Seabrook, NH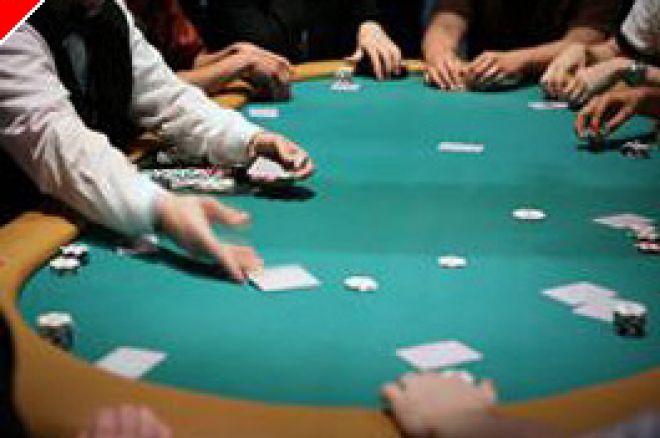 When I used to think of Seabrook I pictured a seedy dog track filled with old scruffy men and the stench of cigarettes. On first arrival at this place, it didn't seem much different from that image. It probably wouldn't have even made the top 100 list of my favorite places except for one small detail – it's home to a great poker room!
My friend Mike was nice enough to take the 45-minute drive up from Boston to Seabrook with me on a boring Wednesday this past summer. It's just over the state line in New Hampshire, from Massachusetts. I think it was the mention of dog tracks, poker and a free ride that enticed him, not my lovely company. We mistakenly thought that the room opened at 1:00 P.M. but found out when we got there that it did not open during the week until 3:00. The full hours of the room are Monday/Friday 3:00 P.M. until midnight and Saturday/Sunday noon to midnight. Luckily, Mike was well versed in dog racing so we decided to kill time betting on the dogs.
Two hours later and $25 poorer, we decided it was time to head over to the poker room and try to gamble on something we had a little more control over. The poker room is located to the far left of the building, and its setup is convenient and well organized. The sit-and-go tables are on the left side of the room and the $1/2 hold'em games are off to the right side. There is an enormous tournament room down a set of stairs and through a set of doors on the right
We went up to the register (all patrons must register before they can play) and found out which games were going on. Mike decided to enter a $50 sit-and go. This was the cheapest one they had. They also had others as big as $250, but that was too rich for his blood. They gave him 3,000 chips to start. I decided that it would make more sense for me to observe than to play. It only took about ten minutes to get the sit-and-go table filled. There were three other sit-and-gos going at the same time, which was pretty impressive for the first half hour of opening.
The table that Mike sat down seemed filled with the typical lineup of players at this place. There was a loud, talkative guy with sunglasses who wasn't very good. There was a quieter, older man who warmed up once a few people got knocked out. There was Mike (I guess he fits the decent college-player role) and there was of course "The Stickler" – the guy that wants to bring up every rule to be followed (this guys' favorite was the "show one, show all" rule). The level of play would be classified as medium. No stand-out players, but not many pushovers either. I noticed roughly the same levels of play at the other tables as well.
As Mike continued to play the sit-and-go, I headed over to the cash hold'em table (not a tournament) to find out more about that game. I found that they rake 10% with a maximum of $5. There was a minimum buy-in of $20 and no maximum buy-in. The games were played table stakes. The level of play at the cash game seemed a little higher than the sit-and-go and it was definitely a much tenser game when I went over to check it out. According to the staff, Tuesdays and Wednesday are usually pretty slow, but the weekends get very busy. The room offers a multi-table tournament every night, with buy-ins that range from $50 to $250. The tournaments guarantee a 75% payback to all players.
The room is very popular. They have a good record of all of the different players who have been through their room. As of the middle of the summer, they had registered 13,000 players. Those may not be Foxwoods numbers, but that's a lot of poker action. In addition to the many live games and tournaments, these numbers might reflect the new, beautiful and huge 72" plasma-screen TVs.
Other than the sit-and-gos and hold'em, the poker room also offers limit Omaha and 7-card stud. There's also a prize money wheel at the front of the room that you can spin if you have a hand of four eights or better at a $1/$2 hold'em game.
After gathering room details, I went back over to see how Mike was doing at the sit-and-go. Mike was knocked out too soon to win any money. Only the top three players get paid. But he told me that he had a pretty good time playing despite his loss. From talking to him I learned that the blinds are raised every 10 minutes, roughly doubling when they are raised.
We took a quick look at the restaurant on our way out. There is an extensive menu for a racetrack/poker room. They offer everything from snack food such as fries and mozzarella sticks to burgers, sandwiches, steak tips and even fish-'n'-chips. There is food and beverage service available at the poker table. The prices seemed a little higher than we had expected.
Overall, I'd say the room was very well organized, clean and friendly. There's a wide enough variety of games to make the drive worth it and the level of play is just about right for an average poker player. I'd suggest checking out the tournaments on the weekends if you're looking for a more lively and energetic crowd but if you just want to play some poker then you can find a game there every day of the week.
Seabrook Greyhound Park Poker Room
319 New Zealand Road
Seabrook, New Hampshire 03874
seabrookgreyhoundpark.com
(603) 474-3065