Sexton's Corner, Vol 8 – Dewey Tomko, Part Two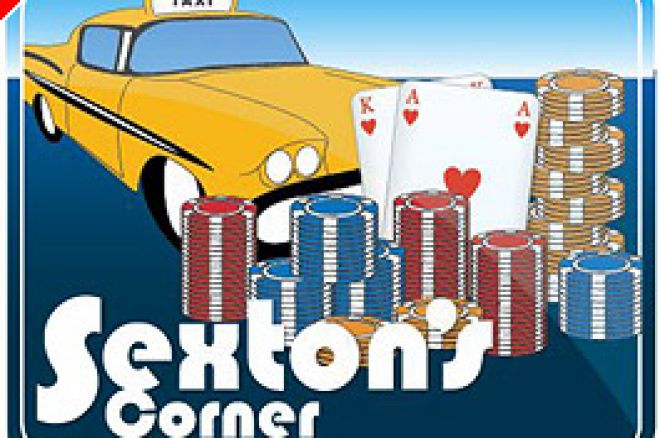 It only seems appropriate the first golfer to tee off on ESPN's spectacular High Stakes Entertainment golf show and lead the way was gambling legend Dewey Tomko. With a huge crowd and all the TV cameras rolling, Dewey coolly teed it up and hit a long perfect drive right down the middle of the first fairway. Pressure??? What's that to Dewey??? This was like another day at the office to him and his famous partner Doyle Brunson.
Today Dewey is 61 and Doyle is 74, and between them, they have seen it all in high stakes action. In the beginning it wasn't easy, as Dewey brought $95,000 with him to Las Vegas and lost it all to Doyle, and went home broke the first time. He paid his dues in the beginning, learning the art of high stakes gambling from the master, and then Doyle saw the tide turn. He could see the talent and heart of Dewey develop into a tremendous force on the links. Doyle has a reputation of not only being one of the best gamblers in the world, but one of the smartest. So, he began to bet on Dewey's matches and win big money. Then he invited Dewey to join him as a team, and they literally traveled around the country and won millions playing golf!
Dewey remembers winning his first million from Tyson Leonard; playing Freddy Barnes from Mobile, Alabama; Sam Sims from Nashville, Tennessee; Las Vegas's Jimmy Chagra and Tony Spilotro's henchmen, as well as so many other big time gamblers. You might remember Tony portrayed in that classic movie Casino, so aptly played by Joe Pesci. Dewey wondered a few times who that short little guy was on the sidelines following their match. This world Dewey found himself in was a long way from teaching kindergarten. Playing $50,000 to $200,000 Nassau bets, with automatic presses was commonplace in these big matches.
Dewey and Doyle credit their good friend, Jack Binion, for not only elevating poker to amazing stature through the WSOP, but for bringing the highest golfing gamblers to Las Vegas, as he created the PGI ( Professional Gambler's Invitational ) in the early 80's. They would rotate their tournaments around town at the Sahara golf course, the Dunes, and the Las Vegas Country Club, and the betting action was unbelievable! Jack is such a class act, and so beloved by all gamblers.....no wonder, he brought man's favorite two past-times to life: Poker & Golf! So many of those big time gamblers attending the PGI would turn out to be future customers to be followed around the country by our two favorite gunslingers - Dewey & Doyle!
Dewey, when first approached about this High Stakes TV Show, wanted to honor his friend and mentor Jack Binion. The first person Dewey called about this was Doyle of course, and he immediately agreed this idea to be a fitting tribute to their best friend, Jack Binion. A book, called Who's Your Caddy?, written by Rick Reilly of Sports Illustrated made the New York's Best Seller List, and featured chapters on golfing greats Jack Nicklaus, David Duval, Tom Lehman, John Daly, Donald Trump, and others, including legendary high stakes golfer Dewey Tomko in Chapter 6. This caught the attention of three very sharp friends in Joe Kreder, Mark Braman, and Nathan Frank. They called Dewey on the phone, and set up a meeting with him in Florida. They were mesmerized by his story, and wanted to start a TV series called High Stakes Entertainment, featuring the first show as the Doyle Brunson & Dewey Tomko Invitational, where nine high rollers would play on teams playing for $1,000,000 per hole! Their key for launching this project would be Dewey Tomko, who would act as liaison between the production staff and the players. Thus the creation of High Stakes Entertainment was launched with their first show scheduled for October 21st on ESPN, and the following Sunday, October 28th.
Dewey, who is very modest, gives the credit to the HSE guys for all of their hard work to bring this show to life. Joe Kreder is CEO of High Stakes Entertainment, with 16 yrs. experience as VP of ABC television; Mark Braman is Chairman, who is an amazing successful businessman, and a former defensive back in the NFL; and Nathan Frank, who is a third managing partner, was the drummer for AC/DC and other well known groups. He has had eight number one hits. These three are the driving force behind the scenes, that deserves a lot of recognition. Combined, they are a fabulous collection of talent.
I asked Dewey out of curiosity what his three favorite golf courses were to play on, and he said "Shadow Creek in Las Vegas, Southern Dunes in Florida, and Bay Hill in Florida. Of course, the golf course Dewey owns is Southern Dunes today in his home town of Hanes, Florida. On the 11th fairway of his course, you can look over and actually see Hanes Elementary School, where it all started for Dewey as a kindergarten teacher 32 years ago. Dewey has literally won millions on his own course alone, betting sky high limits, that would make the average guy shake his head in bewilderment. Once in a while during a big match, Dewey might occasionally go down memory lane on the 11th fairway, remembering making $35 per day teaching kindergarten, and now amassing a mountain of $$$ that would rival Ft. Knox!
Dewey says a lot of his friends in his hometown don't know he is a high stakes gambler on the golf course. He says "They wouldn't believe it if I told them." Come Oct 21st on ESPN, Hanes City is about to discover they have a true gambling legend in their midst, Mr. Dewey Tomko!
The Cab is Parked,
Tom Sexton
Tom Sexton is a featured columnist for PokerNews.com. Tom attended the University of Oklahoma on a full gymnastic scholarship, where he was captain of the team four straight years, becoming the first NCAA All-American and Big Eight Champion in OU's gymnastics history in 1968. The Sexton family is well established in poker and includes Tom's brother Mike, the World Poker Tour commentator and poker's "First Ambassador", as voted by his peers. Tom welcomes your thoughts and comments about any of his articles. His e-mail is TSStarbuck1@aol.com.