Sexton's Corner, Vol. 9 – The Well-Dressed Cowboy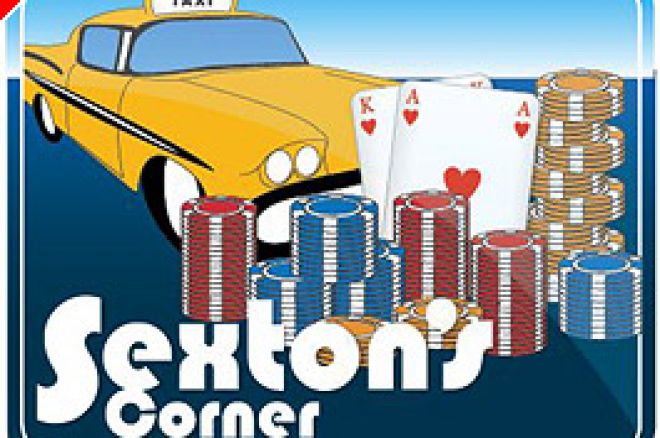 At this year's WSOP I got my indoctrination as a reporter on the floor for PokerNews.com, witnessing thousands of hands and a multiple array of bad beats. Your heart always goes out, watching one dream crushed after another. Even with moments of exhilaration when a player draws out or wins a hand, everyone's destiny in each tournament is the same... defeat, as there is only one winner. Your inner constitution must be very strong in poker tournaments, recognizing bad beats simply come with the territory.
All of us have our most memorable bad-beat stories, so I'll share what
happened to me, that I'll never forget:
It happened one night in South Lake Tahoe while I was driving a cab. It was so slow that night, it was hard to find any passengers. I pulled over and opened my wallet and looked at my case $100. At the time, it seemed like a good idea, so I parked the cab and went into Harvey's poker room to find a nice little $3/6 hold'em game. I wasn't in my seat 20 minutes when this well-dressed cowboy walked up to the table with $7,000 in black chips and said: "Howdy, you all mind if I play with you? I just lost $37,000 in the pit, and if I lose this little old $7,000 in your poker game... believe me, I'll be money ahead just by staying out of the pit. I've only got two rules: One, if anybody raises, I always re-raise. I cap everything. Two, I like to turn my hole cards over before every flop, just to give you all an even chance! I'm ready to throw a party, so let's have some fun!"
I couldn't believe my ears. This was a dream come true for
me... this rich guy simply wants to give his money away. In
reflection, you could see the dollar signs in every player's eyes, including mine, as we all laughed and said, "Have a seat, sir." And so, the party began, as each player started to pick the happy high roller off. It was amazing to watch, as on every hand he would show his opponent what he was holding!
Easy to play. If you're beat, just fold, otherwise keep betting, raising, and capping! This must be heaven! I was card dead, and wanted to find one hand to do battle with, and then it happened: I looked down and found pocket kings. I raised, he re-raised, and quickly we capped the betting pre-flop. He had turned over an A-6 off suit to show me what he had. If an Ace flops I'll fold and pick another spot. I could hear the peripheral conversation how two players said they threw away an ace with a bad kicker, and the dealer
delivered my dream flop: K-2-2 — I couldn't believe my good fortune. As we capped the betting, I almost felt guilty. This was like stealing; I didn't care how rich he is! I've got K-K-K-2-2 on the flop, and his aces are dead with no possible straight flush. I can't lose, so what better time to get my case $100 in the pot?
Well, I did lose that hand, and to this day, I understand in dealer school they ask, "How did that cab driver lose that hand? As dealers, it is your job to look for all possibilities." If you guessed right, I was almost a 1000:1 favorite after the flop. Yes, the turn was a deuce, and the river came the fourth deuce! Now his ace played as a higher kicker with 2-2-2-2 on the board! I felt like a bolt of lightning hit me, like that scene in the Cincinnati Kid where Steve McQueen was completely devastated!
As the whole table moaned in unison, in disbelief of this horrible bad beat, the happy cowboy said: "I told you not to raise me, son", raking in his one and only pot. I went back to my cab dead broke, back at the end of the line, looking for the next $5.00 fare, like I was in the Twilight Zone! Out of curiosity, towards the end of my shift, I stopped by the poker room to see how my newfound friend was doing. He only had a few hundred left out of his $7,000 buy-in, was pretty drunk, but probably happy he stayed out of the pit. My bad beat story is funnier to me today, than it was 20 years ago.
The Cab is Parked,
Tom Sexton
Tom Sexton is a featured columnist for PokerNews.com. Tom attended the University of Oklahoma on a full gymnastic scholarship, where he was captain of the team four straight years, becoming the first NCAA All-American and Big Eight Champion in OU's gymnastics history in 1968. The Sexton family is well established in poker and includes Tom's brother Mike, the World Poker Tour commentator and poker's "First Ambassador", as voted by his peers. Tom welcomes your thoughts and comments about any of his articles. His e-mail is TSStarbuck1@aol.com.