Sexton's Corner, Vol 10 – Benny Binion's Genius PR Moves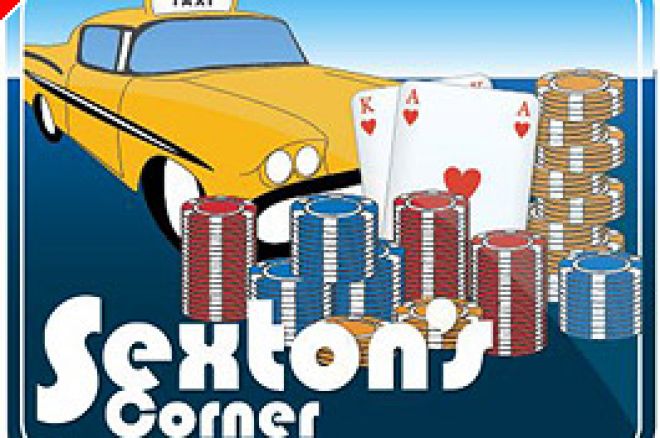 When we all play poker, there are some interesting stories we'll come across, just talking and listening to the other players in the game. So it was about one month ago, when I was playing in an action packed Omaha high game at Boulder Station in Las Vegas, Nevada. The player next to me was someone I had just met, named Buck Lyons. He said he was born in Las Vegas in 1943, and became a dice dealer for the legendary Benny Binion at Binion's Horseshoe. When I asked him to tell me the most amazing thing that happened to him working for Benny, he said "I was actually working the night Benny Binion brought a customer to my table, who wanted to bet $777,777 on one roll! There was quite a large crowd that gathered around the table, including his sons Jack and Ted Binion, as well as media to witness the spectacle."
Benny Binion was one of those colorful gambling pioneers, who drove up from Dallas, Texas with his family to Las Vegas to allegedly escape the law. Folklore has it that his young sons sat on a suitcase filled with $5,000,000. Benny later had to do some time for a few years in a Federal prison, and as a result, he wasn't able to get a license in gaming. He was the driving inspiration for the creation of Binion's Horseshoe, and was an absolute genius in PR, and also known for always giving the gambler a fair shake. His motto that you can bet any amount you want, but your first bet will be your limit, is legendary!
Here I was playing in a $4/8 Omaha game with a half kill, listening to one of these amazing stories about Benny Binion, from a player who was not only there, but actually on duty dealing the game! This fascinated me, as I wanted to hear his first hand account about what had happened that night. Buck Lyons explained that the customer had been an acquaintance of Benny's, and he thought he was going to lose his business, unless he found about $800,000. He had asked Benny to do him a favor and let him bet it all on one roll on the dice table. Rumor has it that the customer wanted to bet what he had, which was about $850,000. Benny, the PR genius, told him that betting $777,777 has a better ring to it, and if he came to Las Vegas to bet it, he would pay off the $850,000 if he won the bet! This was more than a fair shake... can you imagine a corporation that runs a casino in today's world offering that deal to a customer??
This was vintage Benny Binion. The publicity this would create would be hard to buy, and Benny would either win the customer's money, or get a ton of great publicity for the Horseshoe. Buck said, "Benny Binion, Jack, Ted, and a large crowd surrounded his dice table, as Benny announced that this customer wants to bet $777,777 on one roll! Benny asked what he wanted to do, and the customer said he wanted to bet it all on the 'don't pass' line. The next one to roll the dice by chance, was an elderly lady, who bet $1.00 on the pass line. The first roll of the dice was a 6, to establish the point; the second roll was a 10; the third roll was the magic 7 Out!! The man did it, and won $777,777 plus a little bonus money from Benny. The crowd erupted in loud applause, like a scene right out of a movie, and Benny even looked happy for him, as he patted him on the back with a big smile. This all happened around 1980, and Benny's legend grew a little bigger that night!
One last thought about Benny's amazing vision, is highlighted around a keno story in 1977. Buck said, "In those days, the aggregate payout total in any one game was $25,000. One night two customers hit a solid 8 spot in the same game, and gaming regulations called for the $25,000 to be split between the two winners. Benny didn't like that though, and decided to pay off $25,000 to each customer, finding himself in a fight with gaming to do the right thing for his customers." The positive PR this created for the Horseshoe would be priceless, of course, as customers will always want to gamble where they will get a fair shake. Benny Binion was one of a kind, and when he passed away on Christmas day in 1989, it was Steve Wynn who said, "We will never see the likes of Benny Binion again."
I guess the lesson to learn from all of this, is to watch and listen closely to your opponents in a poker game. If you listen closely, you just might discover some interesting highlights from the past. I was glad I met Buck Lyons in that Omaha game, to hear first hand, about this colorful episode that became part of Las Vegas history!
The Cab is Parked,
Tom Sexton
Tom Sexton is a featured columnist for PokerNews.com. Tom attended the University of Oklahoma on a full gymnastic scholarship, where he was captain of the team four straight years, becoming the first NCAA All-American and Big Eight Champion in OU's gymnastics history in 1968. The Sexton family is well established in poker and includes Tom's brother Mike, the World Poker Tour commentator and poker's "First Ambassador", as voted by his peers. Tom welcomes your thoughts and comments about any of his articles. His e-mail is TSStarbuck1@aol.com.