WCOOP – Event #10, $320 NLHE Heads-Up: 'ugotmeyet?' Takes Match Play Gold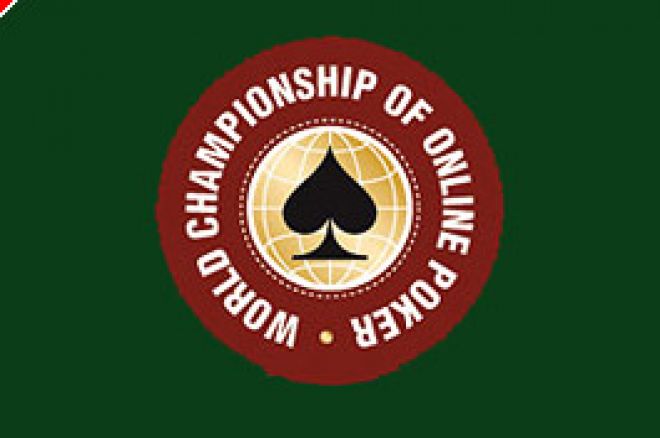 The PokerStars World Championship of Online Poker (WCOOP) began its second week of action on Friday as the $320 No-Limit Hold'em Match Play Event #10 kicked things off. The event drew 1,886 entrants and generated a $565,800 prize pool. While technically attendance was down this year by nearly 200 players, this year's buy in was a bit steeper at $320 compared to last year's $215 and may have deterred some entrants looking for cheaper heads-up action.
256 places cashed in the event, meaning that players skilled enough to win their first three matches would be in the money. Tom McEvoy, 'THAY3R,' and 'LuckyLady519' all managed to win their first two but fell short of reaching the money. Play continued quickly throughout the afternoon and the final eight arrived for play almost 12 hours into the event.
After 13 hours only eight players remained. Jeff 'ActionJeff' Garza, 'Aldahan,' 'ansuz,' 'Axabaxa,' 'DEEZZZ_NUTS,' 'postbear,' 'ugotmeyet?,' and 'wired_c4' began play on four tables. ActionJeff faced off against ugotmeyet? while postbear and wired_c4 duked it out, DEEZZZ_NUTS found himself up against ansuz, and Aldahan battled it out with Axabaxa. With the blinds started at 6,400/12,800, ActionJeff was off to a quick lead by short-stacking ugotmeyet? to just 1.7 million in chips. wired_c4 also quickly shorted postbear down to just 1.2 million in chips. DEEZZZ_NUTS had ansuz on the rail after an all-in preflop for DEEZZZ_NUTS holding pocket sevens against pocket kings for ansuz. ansuz spiked a king on the flop and doubled up.
Things took a quick turn for the better for ugotmeyet? when he called a 76,800 raise by ActionJeff preflop. The flop came
and ActionJeff wasted no time placing himself all-in. ugotmeyet? made the call, having ActionJeff covered and showed
for the flush draw while ActionJeff showed
for top pair. The turn came the
and ActionJeff was eliminated in eighth place.
The next elimination came when Axabaxa pushed all-in against a raise by Aldahan preflop and was called. Axabaxa showed pocket tens and was up against Aldahan's
. The flop came
, giving Aldahan the nut flush draw and two overs. The turn was the
, which completed Aldahan's flush draw and sealed Axabaxa's fate as the seventh-place finisher.
DEEZ_NUTS, who earlier had had great chip control over ansuz, became short-stacked after doubling up ansuz. DEEZ_NUTS called to see a flop from the small blind while ansuz checked, and the flop brought
. What didn't appear to be an action flop quickly became one, as ansuz checked, DEEZZZ_NUTS led out for 76,800 and ansuz pushed all in for over four million in chips. DEEZZZ_NUTS made the call and showed
for a pair of fours and a flush draw, and found himself facing ansuz's
for top pair. The turn brought the
and DEEZZZ_NUTS moved ahead, but the
on the river finished DEEZZZ_NUTS in sixth.
The last elimination of the final eight came when postbear raised pre-flop and was put all in by wired_c4. postbear made the call and showed
going into the flop while wired_c4 had
. The flop came
, giving postbear top pair with a straight draw while wired_c4 also had the straight draw. The
was the turn, and the river brought the third jack, which gave postbear trips and eliminated wired_c4 in fifth place.
The final four saw ansuz versus postbear and Aldahan versus ugotmeyet?. ansuz made quick work of postbear, with their match ending almost an hour before Aldahan and ugotmeyet?'s match ended. The final hand came after a short-stacked postbear raised preflop to 153,600 and was called. The flop came
and postbear bet another 153,600 into the pot after ansuz checked. ansuz made the call and the
on the river was reason enough for ansuz to lead out for 358,400. postbear called and the
spiked on the river, to which ansuz to bet out for 1,024,000 and postbear pushed all-in for his remaining 1,267,200 on top. ansuz called and showed
for a queen high flush, which was good enough to top postbear's
flush.
In the longer semifinal, Aldahan started out quickly. dominating ugotmeyet? very early in their heads up match and gaining a three-to-one lead. But after ugotmeyet?'s pocket queens held up against Aldahan's
, they were right back at even money. Eventually ugotmeyet?'s aggressive style took control of the table and Aldahan became the underdog. The final hand occurred when Aldahan moved all-in preflop for 1,920,000 and was called. Aldahan showed
and faced ugotmeyet?'s pocket eights. An eight hit on the flop and secured his hold on the hand. The
turn and the
river didn't help Aldahan and he was eliminated in third place.
After ten rounds and 15 hours of play, ugotmeyet? and ansuz finally began their final heads-up match. After playing one hand, both players agreed for a deal to chop the prize pool. They would split the remaining money, $65,054 for each, and leave $17,000 in the middle to play for, as well as the bracelet.
It didn't take long for things to get aggressive between the two and ansuz quickly picked up the chip lead until he ran a flush draw against ugotmeyet?'s pocket queens. The queens held up and ansuz's lead quickly deteriorated. However, within just five hands, ansuz was able to recover the lead and had ugotmeyet? at a five-to-one disadvantage before ugotmeyet? surged again to take the lead. The final hand of the tournament came when ansuz raised pre-flop for 921,600. ugotmeyet? moved all-in for 13 million more and ansuz called for his remaining 6 million. ansuz showed
and was up against ugotmeyet?'s
. The board came
, pairing ugotmeyet?'s ace, and ansuz was eliminated in second place.
Final Results:
*1. ugotmeyet? - $82,054
*2. ansuz - $65,054
3. Aldahan - $31,119
4. postbear - $31,119
5. wired_c4 - $15,559.50
6. DEEZZZ_NUTS - $15,559.50
7. Axabaxa - $15,559.50
8. ActionJeff - $15,559.50
* reflects two-way chop for remaining money, $416,000 to eventual winner