WCOOP – Event #11, $215 Razz: 'OnlyPlayRagz' Takes Razz Championship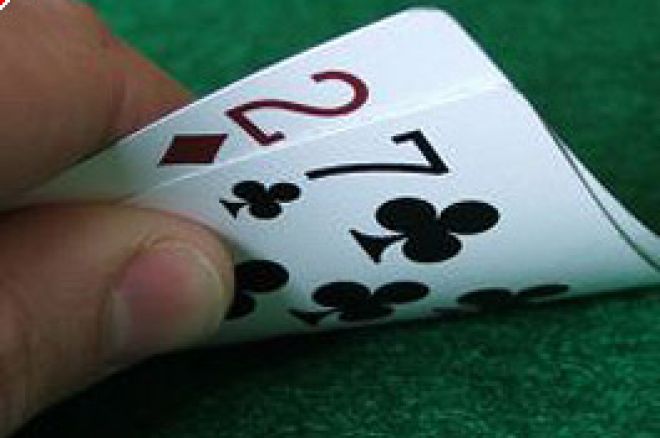 Last year, the PokerStars World Championship of Online Poker (WCOOP) saw a phenomenal turnout for its $215 Razz event which brought in 1,297 entrants. All eyes were on Friday's Event #11 as to whether or not the stunning attendance would be a repeat. While the 1,176 players that turned out for this year's razz event didn't break last year's record, it was still an incredible turnout.
Only two players from last year's final table played this year, 'solody' and 'BadgerDawg,' and neither of them placed in the money. The top 112 places were paid out in Event #11 and it took only seven hours for 'ALPHApoker' to bust on the bubble. After just 12 hours of play, the tournament ended up at two tables of eight while players fought their way to the final table.
The final table was reached when 'j catlett,' with only 21,479 in chips left, was all in on a door card of nine. Both 'JAMEST1' with a five showing and 'lvestraddle' (with a three) made the call. Fourth street brought a ten for j catlett, a queen for JAMEST1, and a seven for lvestraddle. Both players checked and fifth street brought a seven for j catlett, a four for JAMEST1, and a six for lvestraddle. Again both players checked and sixth street brought a king for both j catlett andJAMEST1 and a six for lvestraddle. On sixth street, lvestraddle bet and JAMEST1 folded. lvestraddle showed J-2-3-7-6-6-4 and j catlett was eliminated in ninth place as he couldn't beat the 7-6 low.
The final table consisted of lvestraddle, JAMEST1, 'OnlyPlayRagz,' 'larki1,' 'needabanana,' 'tsudnerves,' 'atactor,' and 'Ima_QT.' Ima_QT was eliminated after just a few hands when a 6-4-3-2 draw missed and made a 9-6 low against larki1's 8-6-4-3-2. Larki1 was freerolling after sixth and Ima_QT just couldn't catch up. needabanana had come along for the ride until sixth street, but got out of the way when his board paired fives.
The second elimination of the final table came when OnlyPlayRagz went heads up on third street against tstudnerves. OnlyPlayRagz started with a deuce while tstudnerves showed a five. Both players then caught high cards on the next two streets. tstudnerves had been raising the entire hand into OnlyPlayRagz, even though OnlyPlayRagz's board looked a lot better. Both players ended up with a nine low, with OnlyPlayRagz's 9-6 good enough to win the pot over tstudnerves' 9-8. tstudnerves was eliminated in seventh place.
OnlyPlayRagz continued to rule the table as he quickly eliminated lvestraddle a few hands later. lvestraddle raised on third street and put himself all-in showing a deuce and was called by OnlyPlayRagz, showing a five. By sixth street, lvestraddle had managed to catch mostly high cards, while OnlyPlayRagz was looking at two pair. He needed any card that didn't pair his holdings and caught a ten on seventh. OnlyPlayRagz ended with a 10-8 against lvestraddle's K-J low, as lvestraddle continued to catch high cards after his all-in.
OnlyPlayRagz continued to do all the elimination work at the table as he completed on third street with a deuce showing and was re-raised by atactor, who moved all-in. OnlyPlayRagz called and was up against atactor's queen door card. Fourth street brought a second deuce for OnlyPlayRagz while atactor caught an eight. Fifth street gave OnlyPlayRagz a six, while atactor caught the ten. Things looked even worse for atactor when he caught a king on sixth street. By the time it was over, OnlyPlayRagz showed a 8-6-5-4-2 low against atactor's Q-10 low, trimming the field to four.
Amazingly, OnlyPlayRagz eliminated JAMEST1 in fourth place just a few hands later when the two got in a raising war with OnlyPlayRagz's king showing against JAMEST1 nine on third street. After catching high cards on third and fourth, OnlyPlayRagz went on to catch all low and eventually showed a 6-5-4-3-A against JAMEST1's Q-9 low.
After JAMEST1 was eliminated, the remaining players were very even in chips. They asked to see the numbers for a three way chop and liked what they saw. OnlyPlayRags would get $34,136.80, with larki1 getting $29,759.09, and needabanana netting $37,296.11. All players agreed to the deal and play continued on for the bracelet, as well as $7,000 that was left in the middle for the eventual winner.
A few hands after the deal was reached, OnlyPlayRagz moved out to a three-to-one chip lead over the other players. larki1 was eliminated in third place when he completed on third with an ace showing against needabanana's six. Fourth street ended up pairing each player's board, yet larki1 still bet out and needabanana called larki1's raise with two sixes showing. Fifth street was a decent seven for needabanana, but the king on sixth street was little help. Still, needabanana ended with a good-enough 9-7-6-3-2 low while larki1 had paired his ace and actually had a J-9 low.
Going into heads-up play, OnlyPlayRagz had about a two-to-one lead over needabanana, but after only 20 minutes, it quickly became a four-to-one lead. OnlyPlayRagz finished off needabanana when OnlyPlayRagz showed an ace on third street against needabanana's deuce. OnlyPlayRagz completed and was raised by needabanana. OnlyPlayRagz made the call and caught a seven on fourth against needabanana's king. OnlyPlayRagz bet out again, putting needanabana all-in, and needabanana made the call. OnlyPlayRagz ended with a 7-5-4-2-A against needabanana's J-6-5-3-2, putting this one in the books.
Final Results:
*1. OnlyPlayRagz - $41,136.80
*2. needabanana - $37,296.11
*3. larik1 - $29,759.09
4. JAMEST1 – $15,240.96
5. atactor - $12,456.60
6. lvestraddle – $10,113.60
7. tstudnerves - $7,761.60
8. Ima_QT - $5,409.60
* represents three-way chop for remaining prize money, $7,000 to eventual winner