WCOOP – Event #12, $215 H.O.R.S.E.: 'jaliks' Claims Title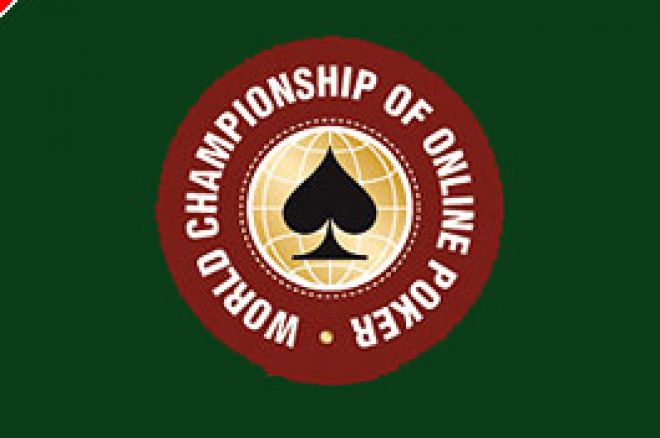 The PokerStars World Championship of Online Poker (WCOOP) saw yet another fantastic day on Saturday with Event #12, $215 H.O.R.S.E. The attendance was slightly down this year compared to last, but even with the decrease, the event still continued the trend of shattering the guaranteed prize pool. With $327,800 generated for the purse, the top 176 players were paid, including a lucrative $72,116 for first place. The rounds of play rotated every thirty minutes for this event, so players had plenty of time to enjoy each game fully.
'Herb_12' was the bubble boy for this event, which took nine hours to reach the money. It would take another two hours to get down to our final 16, of which PokerStars' own Lee 'LeeNelsonP' Nelson was in a solid fourth place going into the thirty minute break of the final two tables.
The final table was reached during the Razz segment, when 'Cactus Benny' completed with a four showing and 'zolie,' the short stack, called with a deuce. Fourth street brought a nine for Cactus Benny while zolie found an eight; Cactus Benny bet out and zolie called. Fifth street gave Cactus Benny a queen and zolie paired his eight. Cactus Benny again bet out and again zolie called. Sixth street gave Cactus Benny an ace while zolie received a jack. Cactus Benny led out again, but this time was raised by zolie, who was all-in. Benny made the call and by seventh street made a 9-7 low while zolie was eliminated with a J-8 low.
The final table consisted of Cactus Benny, 'Hikkespett,' 'TheBigViking,' 'JJJanet,' LeeNelsonP, 'Phillyho,' 'BBwinz,' and 'jaliks.' jaliks started out as the chip leader at the final table, with over 1.2 million in chips.
The first elimination of the final table came just three hands into the Stud hi-lo segment, when BBwinz, the short stack with 98,000, called the bring-in of 6,600 with the
showing. Cactus Benny completed the bet to 22,000 with the
and BBwinz raised it. Cactus Benny raised back, and BBwinz capped the betting. Cactus Benny made the call and caught the
on fourth street while BBwinz caught the
. With only 3,408 left, BBwinz called Cactus Benny's raise and was all-in. BBwinz showed
for two pair while Cactus Benny held
for a better two pair.
The next elimination came during the Limit Hold'em round, when Cactus Benny, the chip leader at the table with 1.5 million in chips, raised preflop. Phillyho re-raised and Cactus Benny called. The flop came
and Phillyho led out and Cactus Benny called. The turn brought the
and while Phillyho led out, Cactus Benny raised, and Phillyho three-bet all in. Cactus Benny made the call and showed
while Phillyho showed
. The river was the
and Phillyho was eliminated in seventh place.
Lee 'LeeNelsonP Nelson was eliminated in sixth place during the next Razz round. Nelson, short-stacked with 34,000, started with a deuce and called a raise by JJJanet, who showed a five. jaliks made the call as well, showing an ace. Jaliks and JJJant checked it down to sixth street, until jaliks had A-9-3-2 showing against JJJanet's 5-10-J-7. JJJanet laid it down and jaliks was heads up against Nelson's 2-10-9-K. jaliks showed A-6-A-9-3-2-4 for a 6-4 low while Nelson ended up with 6-8-2-10-9-K-7 for a 9-8 low.
JJJanet was eliminated in the Razz round as well when four players all called a completion bet by Hikkespett. Hikkespett, JJJanet, Cactus Benny, and jaliks were all involved in the hand, however Hikkepett and Cactus Benny both got out of the way when JJJanet had 5-A showing against jaliks' 8-3. JJJanet paired her ace on sixth street, but still called a bet by jaliks to see seventh street. On seventh, JJJanet raised jaliks' bet and was all-in. JJJanet had 5-A-8-A-5 showing, but ended up with two pair for a J-10 low against jaliks' 9-8 low.
After the five minute break, Hikkespett was marked as "sitting out." PokerStars staff, fearful that Hikkespett had misunderstood the length of the break, actually called him over the phone via his registration information to make sure he knew the game had started back up. As it turned out, he had misunderstood the break time and quickly returned.
The next elimination came during the next Stud Hi segment, when Cactus Benny, after being short-stacked over the course of a few hands, raised after jaliks posted the bring-in and Hikkespett completed. jaliks called the raise, but Hikkespett capped the betting and both Cactus Benny and jaliks called. jaliks got out of the way on fourth street when Cactus Benny had
showing against Hikkespett's
. Cactus Benny raised all-in and Hikkespett made the call. Hikkespett held a pair of jacks against Cactus Benny's pair of tens. Neither player's hand improved and Cactus Benny was eliminated in fourth place.
TheBigViking, short-stacked with just 112,668 chips, put those chips in moments later with the
showing against Hikkespett's
and jaliks'
. Both players made the call and jaliks stuck around until fifth street when TheBigViking paired fives on the board and Hikkespett bet into him. Hikkespett showed
for two pair while TheBigViking was eliminated, holding a lesser two pair with
.
jaliks quickly took control of the game when the 7-Card Stud H/L segment started, winning several hands back-to-back and gaining a four-to-one chip lead over Hikkespett. The final hand of the tournament came when Hikkespett had the
showing against jaliks'
. jaliks led out but was raised by Hikkespett. jaliks called and caught the
on fourth while Hikkespett received the
. Hikkespett led out this time and was called by jaliks. The
on fifth for jaliks allowed him to bet into Hikkespett who caught the
. Hikkespett raised and jaliks made the call. Sixth street gave Hikkespett the
to pair his board, while jaliks caught the
. The two quickly got into a raising war until it was capped and Hikkespett was all-in. After seventh street Hikkespett showed
for two pair, queens and tens, while jaliks showed
for the wheel, winning both the high and the low and eliminating Hikkespett in second place.
1. jaliks - $72,116
2. Hikkespett - $42,614
3. TheBigViking - $27,863
4. Cactus Benny - $20,651.20
5. JJJanet - $16,717.80
6. LeeNelsonP - $13,112
7. Phillyho - $9,834
8. Bbwinz - $6,883.80