WCOOP – Event #9, $215 NLHE: 'ruthan' Wins Rebuy Title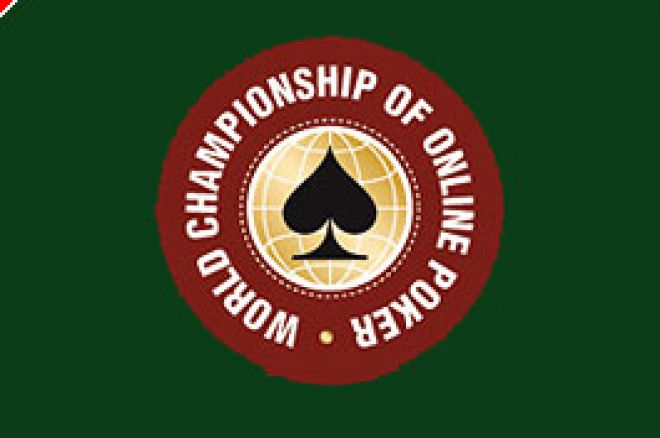 PokerStars' World Championship of Online Poker (WCOOP) completed its first week of events today with the $215 + Rebuys NLHE tourney, Event #9. This year's event had a total of 2,188 entrants and even though there was a guaranteed prize pool of $1,000,000, for the ninth straight WCOOP event it wasn't needed as the purse generated was $1,322,800.
This year's event saw an increase of over 100 entrants compared to last yeas and some noteworthy players in the field included SCTrojans, ElkY, Luca Pagano, monster555, Greg 'FossilMan' Raymer, Chris 'LUHMAN' Martin, t soprano, THAY3R, and Joe Hachem. Both SCTrojans and Luca Pagano went deep in the event, nearly making it to the final two tables.
With 2,188 entrants, 2,852 rebuys, and 1,574 add-ons, the tournament was primed to take several hours to complete. The money was reached just outside of ten hours, while it took over 16 hours to reach the final. The final table was reached when 'Rich_Fish' moved all-in pre-flop with the blinds at 25,000/50,000 and a 5,000 for his remaining 610,133. 'kiwid10' made the call from the big blind and showed
against Rich_Fish's
. The board came
and kiwid10 took it down with king high, with a better kicker.
The final table was made up of '777NMC,' LUHMAN, kiwid10, 'ruthan,' 'Blinda74,' 'puffinmypurp,' 'OlliPolli,' 'Qcity1,' and 'yojje.' LUHMAN had a two-to-one chip lead at the table and just before reaching the final table actually had over seven million in chips, totaling over 25% of the chips in play. The first elimination of the final table came only a few hands in, when puffinmypurp was facing a 123,000 raise by ruthan and moved all-in for his remaining 610,306. Ruthan showed pocket aces while puffinmypurp showed pocket eights. Puffinmypurp didn't find the two outer he needed to stay alive and was eliminated in ninth place.
With the blinds at 30,000/60,000, 777NMC moved all-in for his remaining 854,686 preflop and LUHMAN, from the small blind, doubled it to isolate. He succeeded and the two players were heads up with LUHMAN holding
and 777NMC holding
. The board came
and 777NMC exited in eighth.
OlliPolli was eliminated next in seventh place when he moved all in pre-flop after a raise from ruthan. OlliPolli showed
against ruthan's
. The board came
, which was good news for OlliPolli if the board paired again, since they'd chop the pot with two pair, ace high. Unfortunately for OlliPolli, things didn't work out that way when the turn brought the
and the
on the river.
The next elimination came just after a break, when Blinda74 raised pre-flop in late position with
and was called by kiwid10 from the big blind. The blinds were 50,000/100,000 and Blinda74 had just 1,337,680 remaining. kiwid10 held pocket sevens as the flop came
. A second nine on the turn gave kiwid10 a full house and left Blinda74 drawing dead.
After Blinda74's elimination, the chip count between all the players remaining was tightened, with all players between two and seven million in chips. Qcity1 was eliminated next when he raised to 1,100,000 pre-flop and was called by kiwid10. The flop came
and kiwid10 led out for 300,000 and Qcity1 quickly called, which put him all in for his remaining 217,440. Qcity1 showed
for middle pair while kiwid10 showed
for ace high. Unfortunately for Qcity1, the
fell on the turn and with the
on the river, Qcity was eliminated in fifth place.
Immediately after the hand, players agreed to pause and discuss a deal. The numbers came back as follows: kiwid10 (8mil in chips) $144,539, ruthan (6.8mil in chips) $132,126, LUHMAN (4mil in chips) $109,241, and yojje (3.8mil in chips) $107,109 with all players receiving over $100,000. All players quickly agreed to the deal and played on to determine who would be the first-place winner, who would receive the $66,000 left from the deal, plus the bracelet.
After 20 hands, kiwid10 raised pre-flop to 300,000 from the button and ruthan raised back to 1,000,000. kiwid10 re-raised to 2,500,000 and ruthan moved all-in for another six million and had kiwid10 covered. kiwid10 made the call, then showed
while ruthan showed pocket tens. The board came
and ruthan's pocket pair held up to eliminate kiwid10 in one of the biggest pots of the night. kiwid10 had ruthan covered, but not by much. Kiwid10 was left with only a couple hundred thousand and would be eliminated three hands later.
The next elimination happened when yojje, short-stacked, decided to make his move. ruthan raised pre-flop to 250,000 and yojje made the call. The flop came
and ruthan led out for 330,000. The turn was the
and ruthan checked, while yojje made it 575,000 to go. ruthan came over the top for an additional 11,164,094. yojje called for his remaining two million and showed
for top pair and a low flush draw whereas ruthan showed
for nut flush and straight draws. The turn brought the
for the nut straight for ruthan.
Going into headsup play, LUHMAN started as the underdog with 7.5 million in chips to ruthan's 15 million. But things quickly changed and LUHMAN, who had been dominating the tournament for most of the afternoon, soon pulled even. The final hand came when LUHMAN raised to 276,450 pre-flop and ruthan pushed back for one million. LUHMAN quickly moved all-in for his remaining ten million and was called by ruthan, who had him covered. LUHMAN showed As10s while ruthan showed pocket kings. The flop came
and ruthan's kings were still in the lead. The turn was
, leaving LUHMAN drawing for an ace on the river. Instead, a third jack fell, giving ruthan a full house, jacks full of kings, and ruthan claimed the title.
Final Results:
*1. ruthan - $198,126
*2. LUHMAN - $109,241
*3. yojje - $107,109
*4. kiwid10 - $144,539
5. Qcity1 - $59,126
6. Blinda74 - $44,578
7. OlliPolli - $31,350
8. 777NMC – $19,445
9. puffinmypurp - $11,640
* represents four-way chop for remaining prize money, $66,000 to eventual winner