Women's Poker Spotlight, September 20th - Canseco, Others Enter Women's Only Tournament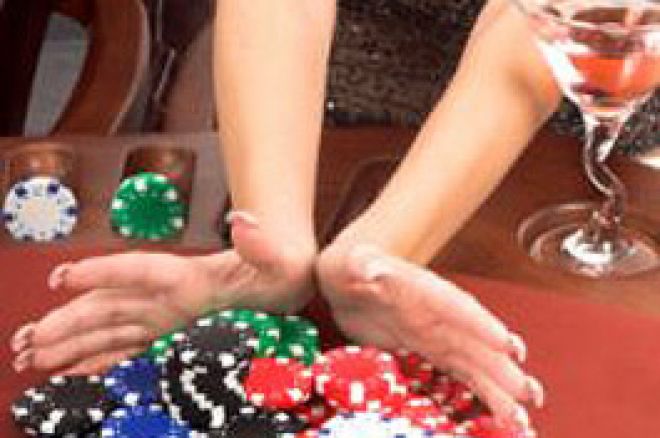 The California State Championships have been running at the Commerce Casino in Los Angeles this month, and the ladies event scheduled for Saturday, September 15th didn't quite go off as planned. Six men insisted on being allowed to play in the event, including former baseball slugger Jose Canseco. Because of anti-discrimination laws, the Commerce Casino was bound to allow the men to register and play.
Tournament Director Cheri Dokken tried to make it abundantly clear the event was a ladies only event but to no avail. Apparently, the "men in trees" have come down and want to be known as a competitor and champion of ladies events. How more demeaning could it get if a man were to hold the title of "California Ladies State Champion"? It certainly brings a smile to one's face to visualize Jose Canseco, retired professional baseball player, who was one of the six men, posing in a mini skirt and makeup for his moment in history. I'm waiting for a falling 10-ton can of Milwaukee's Best Light to land on these guys. You know, "Men should act like men"? Where's ESPN when you really need them?
A look at the situation presents many problems facing card rooms in continuing to host ladies events, if men want to enter. While women's only events are promoted and sponsored as such, men cannot be turned away; discrimination simply cannot be condoned. So what, if anything, can be done?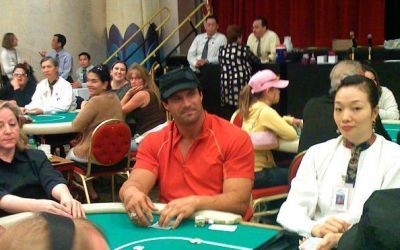 Canseco plays in the ladies event. (pic courtesy London Gallagher)
One solution comes to mind. If women's-only events are made private and sponsored by women's-only organizations for their members, men would not be members and therefore not allowed to play in a sponsored event. Several organizations exist, such as The Ladies Poker Association, The LIPSTour, The Women's Poker Club and several others. If these organizations are a member-supported association it appears that they could offer and run women's-only events while excluding men totally. As to whether this is a legal move that hosting card rooms could abide, only an attorney or judge could answer.
Tournament Director Cheri Dokken commented, "The Commerce Casino has supported women's poker for several years. What saddens me the most is how any woman knocked out of the tournament must feel being eliminated by a man that was not supposed to play. We have all taken such long strides in bringing more women into the casinos where they feel comfortable playing and I hate to think that even one avenue may be closed to us."
Women's-only events were originally created and supported by casinos and specialty groups to provide an inviting and comfortable environment for inexperienced ladies to try their hand at poker. While the tournaments available at most card rooms are made up of predominately male players, the women's-only events take away the intimidation factor and allow ladies to play and learn the game on a more social level.
Strong supporters of the growing women's market in poker have worked hard to bring more events and higher buy-ins to ladies who are enjoying success and the laid-back environment of women's only events. With the intrusion of men who want to be known as a ladies champion, it takes away all the hard work to create a successful venue open to women only. One player commented at this event, her first, that had she known men would be playing she would not have spent the $335 entry fee. Her choice to play in a women's-only event had been taken from her.
Several events at the WSOP exist that exclude players if they do not qualify. Is this also discrimination? What about the senior's event? You must be 50 years old or older in order to play. There is also a casino employee's event; you must prove employment before you are allowed to register for this event. My question is this, why have any segregated events at all if they are not all going to be policed and enforced as such? This is something all the casinos and card rooms should take into consideration when planning future events.
Amid all the hubbub surrounding Canseco and the others, the tournament itself was overshadowed. Congratulations to the winner, Gabriela Wagner, the new 2007 California Ladies Champion!
I will continue to follow the progress of this situation to report the final rulings of the casino and card room staffs on the future of women's-only events.